Kim Kardashian Broke Kanye's Heart Before They Got Married, But Here's How She Fixed It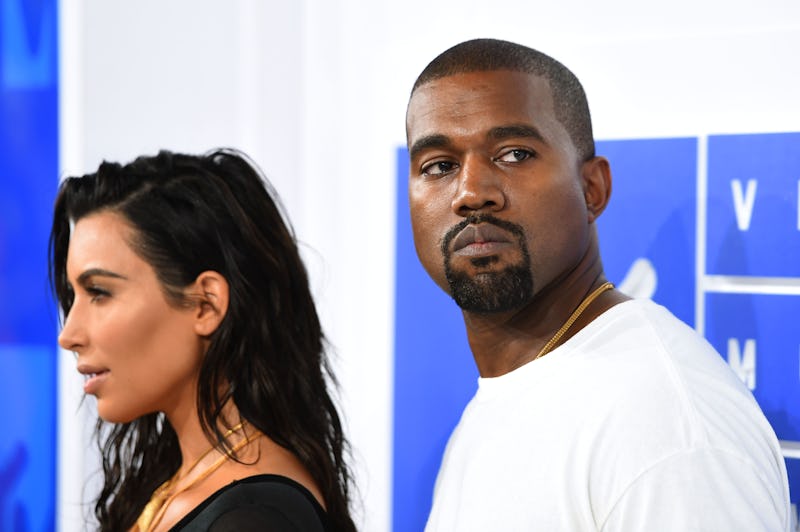 Larry Busacca/Getty Images Entertainment/Getty Images
Before there was Kimye, there was Kim and Kris — no, not Jenner — Humphries. Remember those days? They were short-lived, but wow, they were something special. Shortly after Kim Kardashian and Kris Humphries got married back in August 2011, Kardashian broke Kanye West's heart just by wearing jewelry, the mogul confessed during an Aug. 9 interview with the Big Boy's Neighborhood radio show, according to Us Weekly.
OK, so, that's not totally true. It wasn't a piece of jewelry, per se, that broke West's heart. Seeing Kardashian's wedding ring, though, did really bum the rapper out at the time. Of her marriage to Humphries, Kardashian told the radio show, "I f*cked up and went a different direction and realized that I f*cked up pretty soon."
Kardashian then told a story — one that she said she's never told before — about running into West shortly after she and Humphries tied the knot. "So I'm presenting an award," the reality star began, "and Kanye was nominated. So I see him backstage, we end up both at the SoHo House and he sat at my table ... and I had my big ring on, because I was married."
By the way, I don't know if you remember what that "big ring" looked like, but let's just say that "big" is an understatement. It was like, comically ostentatious, but I digress.
So, Kardashian and West are at the same table at the SoHo House and, "I'm like, talking with my ring, and I talk with my hands a lot," Kardashian continued, "so, I'm talking and I just see [West] looking at my ring, and his face would just like, get heartbroken." Aw, poor guy. He probably thought she'd be with Humphries forever.
Apparently, Kardashian couldn't stand to see West all sad like that, "so, I sat on my hand for the rest of the dinner," she admitted during the interview, "and spoke like this [motions] with one hand." Considering the size of that ring, that was no small feat. Truly, though. How unbelievably uncomfortable, but also really sweet.
Kardashian and Humphries ended up parting ways after a whopping 72 days of wedded bliss. She and West reportedly reunited in Paris a few months later, and in December 2012, West announced during one of his concerts that he and Kardashian were expecting their first child.
Flash-forward almost six years later, and Kardashian and West are still going strong. She and the rapper welcomed their third child, Chicago, via surrogate back in January — joining 5-year-old North and 2-year-old Saint — and just celebrated their fourth wedding anniversary in May.
By all accounts, it seems like Kardashian and West were, in fact, meant to be. It may have taken her a 72-day marriage to the wrong person — not to mention an extremely lengthy road in getting said marriage eventually dissolved — but at least they found their way back to each other in the end. Ah, love. What a beautiful thing.