Kim K Avoids Confirming Surrogacy Rumors, Sending A Strong Message In The Process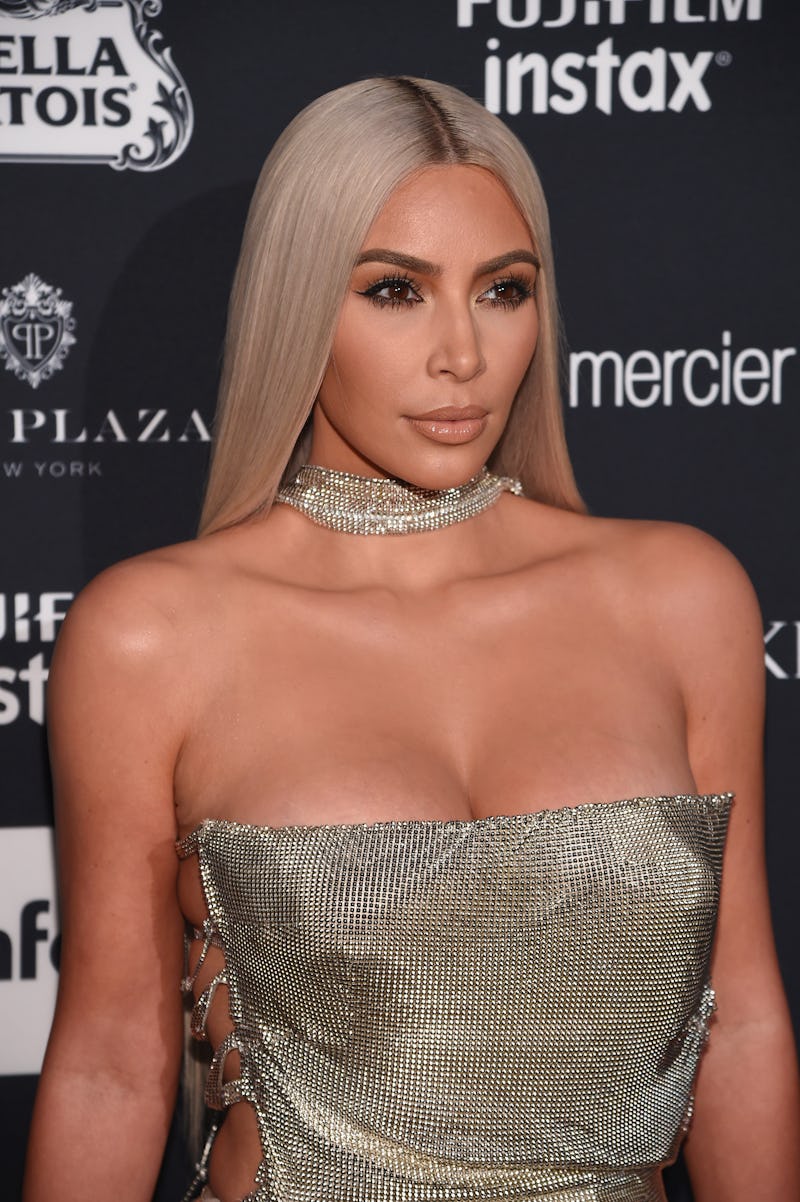 Dimitrios Kambouris/Getty Images Entertainment/Getty Images
On the surface, Kim Kardashian's life seems like an open book. The reality star documents her every move on Snapchat, answers fans' burning questions on Twitter, and shares selfie after selfie on Instagram. But there's one thing she's not discussing — at least not yet. Kardashian addressed the surrogacy rumors in an interview with E! News on Friday, but in a way that avoided actually confirming anything. Instead, she called the endless headlines "super invasive" and she makes a solid point. She told E! News,
"I've definitely seen a lot of things, we've never confirmed anything, So, I think when we're ready to talk about it we will, and I think it's super invasive when people are just... So many details out there, and like I've never heard this, I've never heard this. Like whatever. We have not confirmed it, and that's that. I'll let you know when we're ready."
The fact that she reiterates twice that she and Kanye West haven't confirmed baby number three really hits home the idea that no one should jump to conclusions. Since she says, "when we're ready to talk about it we will," that's not the same as denying the rumors, yet it shows that it's her business and her prerogative to decide when — or if — to share any news on the matter.
Considering how open Kardashian has been about baby news in the past, this just further highlights that people should back off this time. Expanding a family is undeniably exciting when it happens, but it should also be the family who shares the news — not gossip spreading before they've even let the news sink in themselves. In a way, it takes away Kardashian's agency in the situation, especially a situation that's incredibly personal.
The Keeping Up With The Kardashian star's comment comes just days after TMZ reported Kimye is expecting a baby girl via surrogate. The publication also announced earlier in the week that the baby is reportedly due in January. (Bustle reached out to Kardashian's rep at the time, but did not receive an immediate response.) It was in July that Us Weekly first shared Kardashian's surrogate was reportedly pregnant and three months along at the time. Ever since, people have speculated about who the surrogate could be and how much money they're making, which are honestly two details that are no one's business.
While this is the first time she dubbed the news "invasive," this isn't the only time Kardashian addressed the surrogate rumors. Just a few weeks ago, she spoke to The Hollywood Reporter about the possibility of a third child and said, "There have been a lot of things said and Kanye and I have not confirmed anything. We're definitely trying. We are hoping so."
Regardless of whether you love or hate Kim K, it's hard not to respect the fact that she tends to address subjects head-on and open up about her personal struggles. After giving birth to North and Saint, Kardashian spoke out about having placenta accreta, a condition that complicated her pregnancies and endangered her health. She's also raised her voice on everything from supporting DACA to implementing stronger gun control. Basically, she's not one to stay quiet when she's passionate about something, which is invaluable, given her massive platform of more than 55 million followers on Twitter alone.
So, if surrogacy isn't something she's ready to share with the world just yet, give her a break. As she said herself, she'll open up when she's ready — not on anyone else's watch. And if the rumors are indeed true, you can bet she'll share endless baby details on social media and KUWTK when the time feels right.