Now You Can Chat With Kim K In Her Mobile Game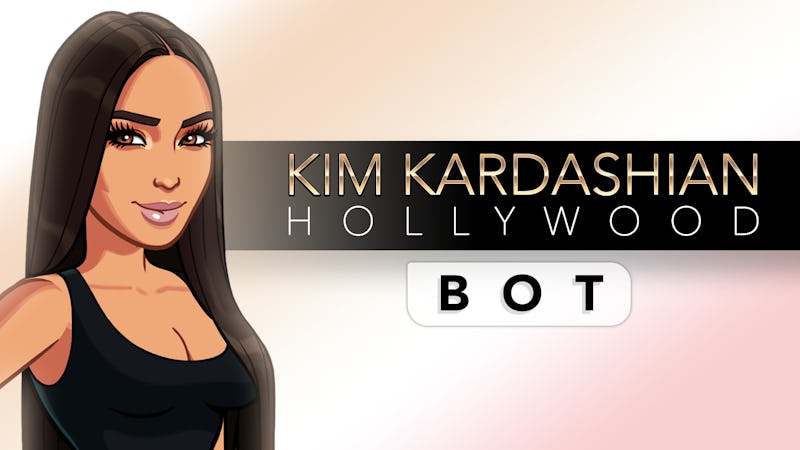 Glu Mobile Inc.
Want to chat with Kim Kardashian? Now you can do just that, dear reader. Er, I mean you can chat with her Kim Kardashian: Hollywood avatar. (I suppose that is a rather important klarification. Sorry if I got your hopes up.) On Thursday, the hit mobile game launched Kimbot, a new feature that allows players to communicate with the Keeping Up with the Kardashians star's avatar. Through Facebook Messenger and KiK, your KK:H avatar can help Kimbot make important decisions about what to wear, where to go, what to eat, and so on. You know, klassic stuff friends text about. I did not realize until now, but I've been waiting for this moment since the game hit the App Store back in June 2014.
Oh, and there's another cool new feature: Your KK:H avatar can set up a double date in the game with basically any character that isn't Kim. So, if your avatar has ever found themselves wishing they could go on a date and go on a friend hangout at the same time, your avatar's wish has come true. I'm not sure if your avatar has to foot the whole bill, but hey, fun avatar memories are worth it, right?
Now, as far as the Kimbot situation goes, here is a sneak peek at what texting with Kim, er, Kim's avatar (again, sorry about that) is all about. You can help her figure out which jacket she should go with:
And when you're going to meet her at the club, you can let her know your ETA
Like I said, klassic stuff friends text about. Want to see more Kimbot text magic? You can watch a preview for the update here:
If you're feeling intrigued, you can check out the Kim Kardashian: Hollywood Kimbot over on Facebook Chat or KiK.