Kim Kardashian Cleared Up Rumors That She Inspired A Very Popular Drake Song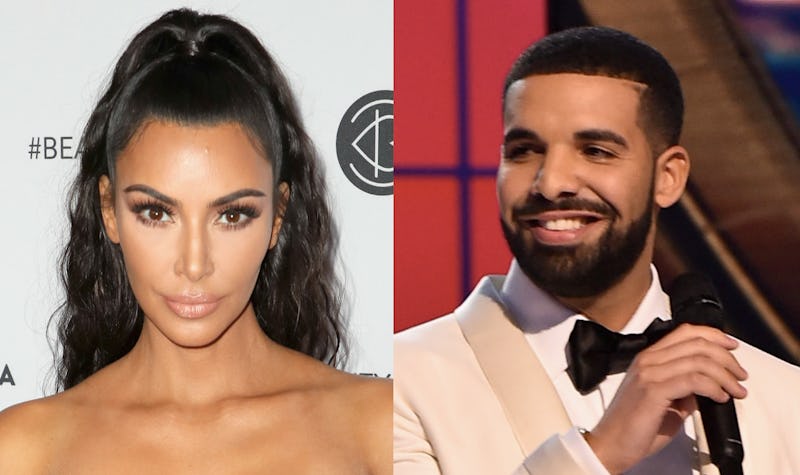 David Livingston/Getty Images Entertainment/Getty Images; Michael Loccisano/Getty Images Entertainment/Getty Images
Uncovering the true identity of "Kiki" has turned into one of the greatest mysteries of our generation. Who is she? Why does she have Drake in his feelings? Will Drake ever get out of his feelings? Who knows. What we do know, however, is that Kim Kardashian is not Kiki from Drake's "In My Feelings" track, E! News reported on Monday. Kardashian shut that recent rumor down real fast with a quick comment on Instagram.
If you hadn't heard the rumor yet, that's probably because Kardashian put a lid on it before it really even had a chance to spread. Here's the breakdown of the theory, though, as laid out by Twitter user @tmorrison24: In a nutshell, the fan purported, "Drake's been telling us for months now he slept with Kim K, we just haven't been listening."
They go on to speculate about several pieces of "evidence" that support this claim, most of which have to do with his interpretation of some lyrics from Drake's latest album, Scorpion. He also called out the (actual) fact that one of Kardashian's known nicknames is Kiki, as well as the close proximity of Drake's house to Kardashian and Kanye West's house in Hidden Hills.
So, to reiterate, this whole thing is just a fan theory, and a bit of a far-fetched theory at that. Regardless, Morrison's speculation got picked up by several outlets (Elle, Cosmopolitan, The Daily Mail, etc.), and was even a topic of conversation during an interview between DJ Akademiks and Kardashian's one-time boyfriend, Nick Cannon, on Complex's Everyday Struggle show.
The Shade Room posted a clip of that interview to their Instagram account on Sept. 3, and once Kardashian caught wind that she and Drake were being discussed, she jumped into the comments to make her truth known. "Never happened. End of story," the reality TV star wrote.
Well, there you have it. Straight from the horse's mouth. Sorry, Kardashian Konspiracy Theorists, but this one isn't going to fly — not on Kim K's watch, at least.
Kardashian is just one of many women assumed to be the "In My Feelings" Kiki over the last few months. Fans have been in a frenzy trying to figure it out, ever since they first heard Drake sing the lyrics, "Kiki, do you love me? / Are you riding? / Say you'll never ever leave from beside me / Cause I want ya, and I need ya / And I'm down for you always."
So far, the most seemingly believable guess has been about an Oakland-based woman named K'yanna Barber, but neither she nor Drake have confirmed or denied the assumption. In fact, Drake has kept quiet in regard to all the rumors around Kiki's true identity, so fans may never really know the truth.
It's also possible that there is no actual Kiki, and that it's just a few meaningless lines in a song. Knowing Drake's penchant for using real-life experiences in his lyrics, though, that's probably not the case. Regardless, Kiki definitely isn't Kim Kardashian, so fans will just have to keep on sleuthing.