Drake Just Released A Freestyle & The Lyrics May Have Revealed His Brand New Mindset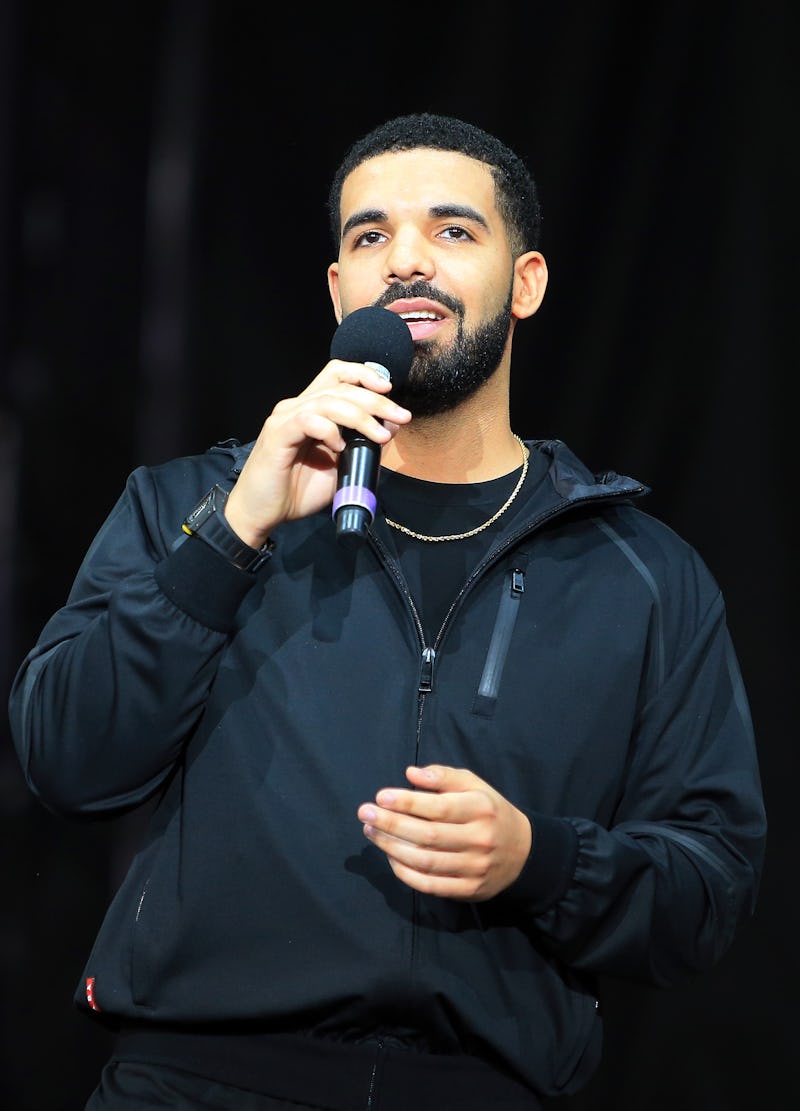 Vaughn Ridley/Getty Images Sport/Getty Images
Drake's penchant for giving back to fans didn't end with his "God's Plan" video. Just more than a week after gifting listeners with a whopping 25-track album Scorpion, Drake released a new freestyle via U.K. rap channel Link Up TV's "Behind Barz" on Saturday, July 7. And his newest lyrics show that Drizzy isn't just spitting bars for the sake of some Scorpion postscript ear candy; he's delivering a message.
Drake rapped in the video:
"I got way too big off Views
Back to the basics, I won't lose ...
I don't give a f**k about jeans or crap
Or going to Milan or going to the Met
I just wanna make these songs for the set..."
Of course he's referencing his 2016 project Views — which went quadruple Platinum, earned the rapper multiple Grammy nominations, including Album of the Year, and spawned bangers like "Hotline Bling," "One Dance," and "Too Good" — in the rhyme that he teased on his official Instagram page. ("COME ON ENGLAND!!!!!!!! Link Up Tv Behind Barz out NOW!!!" Drake captioned the post.)
Now, the "Nice for What" rapper seems to be saying he's not just trying to get a bag, he's in the game for the people. The act of dropping a freestyle — stripped of image, calculation, and production tricks — shows a return to the basics in and of itself. But it may also serve as an explanation of Drake's current mindset in his career. As many music critics have noted, Scorpion, which he released on June 29, reverted to the tried and true formula that gave the rapper cred separate from commercial success. (Side note: Drake's new album broke the U.S. one-week streaming record for an album — in just three days, according to Billboard.)
Even the aforementioned "God's Plan" music video itself shows a more carefree approach to his music career. Instead of putting out a big-budget clip, Drake shared the wealth, reportedly donating the video's $1 million record label allotment to fans and documenting the giving on camera. Among his contributions: $25,000 to Miami Senior High School, a $50,000 scholarship check for a University of Miami student, 50,000 to a women's shelter, and of course randomly picking up grocery shoppers' supermarket tabs.
As noted by Complex, Drake's new freestyle may also take a shot at Kanye West, among others. Pointing to the line, "They wanna link when they got no chunes/They too worried about selling out shoes," the magazine contends it's possible he was shading the Yeezy founder. The freestyle's "I know so much sh*t that I cannot expose, I keep it inside and I laugh on my own" line "may also raise an eyebrow," Complex wrote.
Of course fans wasted no time in analyzing Drake's Scorpion lyrics and coming up with theories about their meanings. Aside from guessing which Scorpion lyrics are about Rihanna ("Summer Games," "Jaded," "Finesse," are the top 3 guesses, FYI) or if Drake hinted he dated Bella Hadid on "Finesse," fans were ready for the beef. Most notably, many wondered how Drake would respond to his feud with Pusha-T on the new project after he warned his fellow rapper "don't push me when I'm in album mode," on his "Duppy Freestyle" Soundcloud diss track.
On Pusha-T's own diss track, "The Story of Adidon," he accused Drake of hiding the existence of a secret son. Well, as we now all know, Drake admitted to fathering a child on Scorpion's "Emotionless," rapping "I wasn't hiding my kid from the world, I was hiding the world from my kid."
And while others assumed Drake's song "March 14" seemed like a defensive "The Story of Adidon" response, with a source close to Drake telling Rolling Stone that "March 14" was recorded "way, way before" "The Story of Adidon," the magazine speculated that a leak (possibly from Kanye) is how Pusha-T got the paternity info to begin with. So that would explain if he was actually calling out Kanye.
While fans could spend days dissecting Drake's lyrics, they'll undoubtedly have no complaints having his new freestyle to add to their playlist of summer jams.