Kylie Jenner's Family Ran Into Tyga At A Concert, But Don't Worry, It Wasn't *Too* Awkward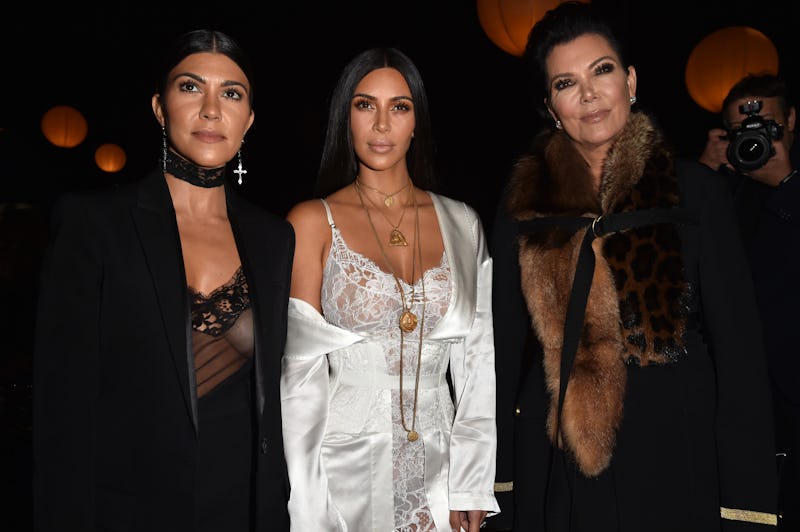 Pascal Le Segretain/Getty Images Entertainment/Getty Images
With so many members in the Kardashian/Jenner family, it's very likely that they will bump into each other's exes at some point. Sometimes they intentionally keep in touch with former flames, and others just experience coincidental run-ins. According to a recent article from People, Kim Kardashian and Kris Jenner ran into Tyga over the weekend, but don't worry. It's not as awkward as it sounds — seriously.
Apparently there were no issues when Kim and Kris saw Tyga at the Beyoncé and JAY-Z concert at the Rose Bowl in Pasadena, California on Sunday. People shared photos from the encounter, which show Kim, Kris, and Tyga all smiling when they talked during the show. Kourtney Kardashian was at the concert too, but doesn't appear in the pics with Tyga, so it's unclear if she chatted with him too.
Unfortunately, there's no word on what they actually talked about, but maybe the run-in was filmed for the next season of Keeping Up With the Kardashians. Now that would be an interesting episode for the viewers to watch. Yes, the rapper is Kylie Jenner's most recent ex-boyfriend, but it seems like everyone is in a great place these days. There is zero drama to "keep up with" here. Kylie seems very happy with rapper Travis Scott, the father to her daughter Stormi Webster.
Tyga's current relationship status is unclear, but he seems focused on his music these days. Tyga was on stage earlier in the night when he made a surprise appearance with DJ Khaled, who's Beyoncé and JAY-Z's opening act on their concert tour.
It's really not surprising that it went well when Tyga ran into Kylie's family members, since the rapper admitted, "We communicate here and there," when he was asked about keeping in touch with Kylie during a a February 2018 for Complex's #EverydayStruggle YouTube series. He did not clarify what he meant by "here and there," but it's enough to make it clear that there's not animosity between the exes.
Kylie has kept it positive when she discussed her relationship with the "Taste" rapper, too. According to E! News, during an episode of her short-lived spinoff Life of Kylie, the lip kit mogul shared, "There was absolutely not one thing wrong with me and T. He and I will always, always have a bond."
She also said,
"There was no crazy fight, we just decided... Well, I decided that I'm really young. I don't want to look back in five years from now and feel like he took something from me when he's really not that type of person."
Interestingly enough, during that same episode, the youngest Kardashian/Jenner family member also received flowers from her current boyfriend Travis Scott.
If Kylie is cool with Tyga and Tyga is cool with Kylie, then why wouldn't Kylie's sister and mother have a pleasant interaction with her ex-boyfriend during the concert? This probably isn't even the first time that they ran into the rapper and it probably won't be the last. There are just so many Kardashian/Jenner family members and they all have so many friends in the entertainment industry. A Tyga run-in is bound to happen again. Thankfully, it will (most likely) be devoid of drama.