Kim Kardashian Made A Horror Movie With The Cheetah Girls In 2008 — This Is Not A Drill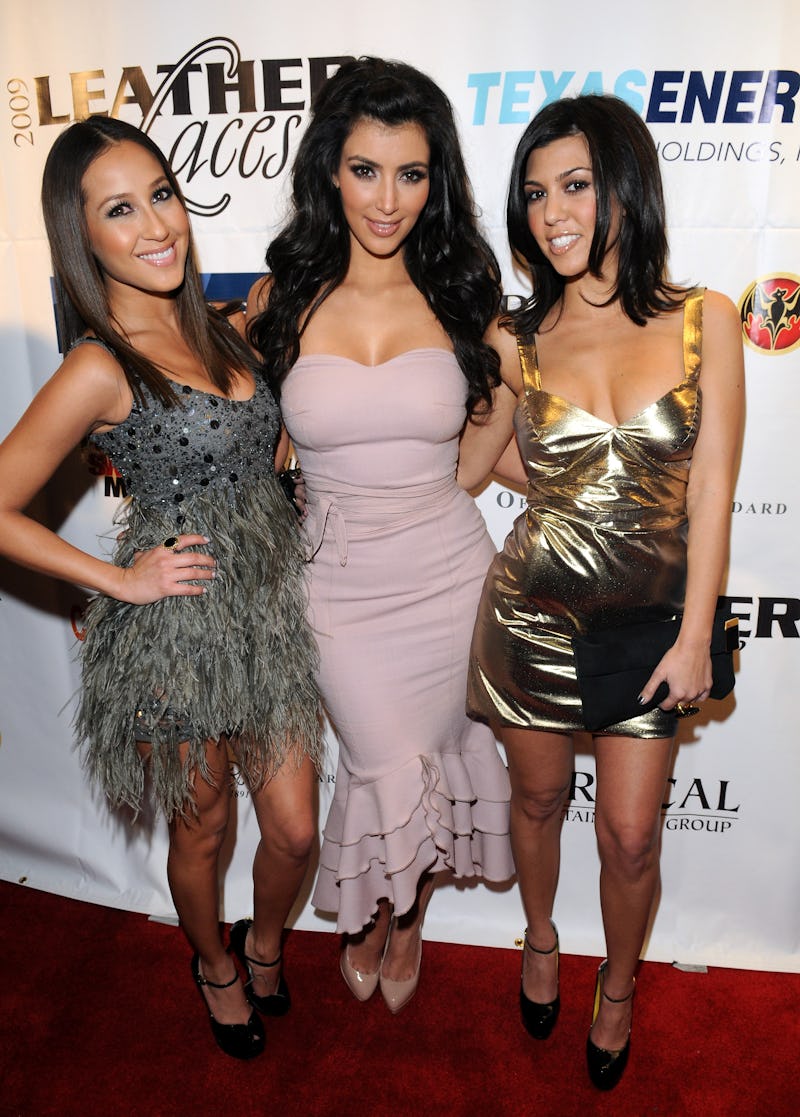 Gerardo Mora/Getty Images Entertainment/Getty Images
Sometimes videos or photos that you posted in the past come back to haunt you. In this case, that's literal, because Kim Kardashian made a horror movie with the Cheetah Girls in 2008 during the girl group's One World tour, and it's still online. The horror "movie" plays out in three parts on YouTube, which Kim's fans rediscovered after the reality star tweeted about the video on Monday night. First Kardashian tweeted about how her daughter with Kanye West, North, requested to watch the Cheetah Girls' movies. Then Kardashian tweeted the video, posted by a YouTube user named Wonder Ledezma, called Meow. "There's 3 parts! You have to watch," Kardashian said, and she's not wrong.
For longtime fans of Keeping Up with the Kardashians, it probably makes at least a little bit of sense that Kim made a video with the Cheetah Girls, which included Adrienne Bailon, Kiely Williams, and Sabrina Bryan. Bailon used to date Rob Kardashian, after all, and Kim and Bailon hung out a lot because of that. Y'know, back when Rob and his sisters were attached at the hip. Then again, seeing Kim act in anything is always a surprise. She had a small role in Disaster Movie in 2008 — the same year that she made Meow — but Kim usually plays herself in most of her TV and movie appearances.
Meow, which is essentially a home movie and 2008 time capsule, is even more of a treat since Kim doesn't just play herself, she plays the lead singer of a girl group called the Kitty Cats named Princess. In Part I of the three-part series, you see Kim as Princess, lounging on the couch backstage with Bailon, Bryan, and Williams. "Just please, leave me alone. I need to finish getting ready," Princess orders. Then she sits, staring at her Blackberry — a classic Kim portrait — but she doesn't see a man wearing a creepy white mask pour something in her drink. Spoiler alert: Kim dies within the first two minutes of the video, and it should be noted that she does an impressive job at dying on camera.
Even if you only wanted to watch Meow for Kim, her death at the beginning shouldn't stop you from watching the rest of the first video — or even the next two parts. A killer's on the loose, after all, and you need to find out what happens next. It turns out that Princess's band mates aren't too torn up about the lead singer's mysterious murder, because they hopped in the tour bus after getting an anonymous letter which said, "You have won a chance to perform for L-M-N-O-P Diddy on Halloween night." Can you imagine Kanye's reaction to that part?
The three part horror fest only gets better from there, because Part 2 features a cameo from none other than Rob Kardashian. Not only do you get to watch never-before-seen footage of young (and shirtless) Rob, but you get to see the youngest Kardashian sibling show off his acting chops, even if they mostly just involve sitting on the couch while Bailon does most of the heavy lifting.
The third and final part of the hilarious home-movie finally reveals who the killer is, and it turns out that their motives have to do with Kim's character, which explains why Kim, or Princess, was the first character to die. Fans will agree that, while it would have been great if she'd stuck around for more of the homemade horror, really everyone's just lucky that she was involved at all.
As for fans, they should be thankful to North West and her newfound Cheetah Girls fandom, without which 2018 Kim may have never even shared her hilarious role as Princess.