Kim Kardashian Apparently Thought Kanye West & Trump's Meeting Went Just Fine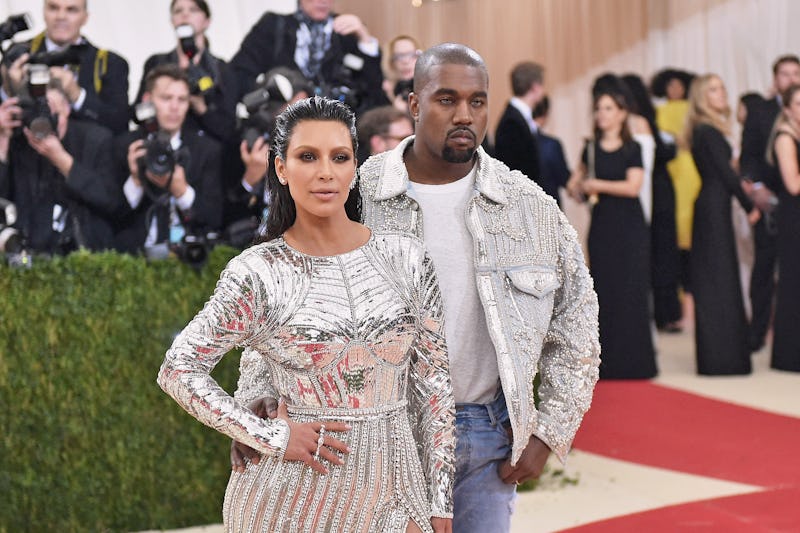 Mike Coppola/Getty Images Entertainment/Getty Images
Although it may have left some observers scratching their heads, Kim Kardashian thinks Kanye West and President Trump's meeting at the White House on Thursday went just fine, according to CNN. A source told the network that, mixed reactions to West's visit notwithstanding, Kardashian is "not embarrassed" about her husband's appearance in the Oval Office.
"Kim is incredibly supportive," the source told CNN. Bustle has reached out to a Kardashian spokesperson for comment on the report.
Kardashian herself met with Trump earlier in the year to discuss the case of Alice Marie Johnson, a 62-year-old black woman who, at the time, was serving a life sentence in prison for a nonviolent drug offense. Kardashian, a staunch advocate for prison reform, argued that Trump should commute Johnson's sentence, and he agreed to do so. Johnson was released from prison in June.
West drew headlines after his Thursday meeting with Trump for criticizing Democrats' economic policies, claiming that wearing Trump's "Make America Great Again" hats make him feel like "Superman," and discussing his theories of parallel universes. At one point, West unlocked his iPhone in full view of the press, revealing his passcode to the world.
What received less attention, however, is that West also used the meeting to lobby for the release of Larry Hoover, a 68-year-old former gang leader from Chicago serving an effective life sentence for murder, conspiracy, and several other convictions. Hoover is controversial: He and his supporters argue that he's reformed during his time in prison and is using his influence to coordinate community service efforts in Chicago, while prosecutors maintain that he's still running his old gang from behind bars.
"The reason why they imprisoned him is because he started doing positive for the community," West said of Hoover during the Oval Office meeting. "He started showing that he actually had power, that he wasn't just one of a monolithic voice." Trump asked several questions about Hoover's case and background, and West brought Hoover's lawyer with him to the meeting to help answer them.
Kardashian had expressed optimism before West's meeting with Trump, telling Extra that her husband "isn't the best communicator, but he has the best heart."
"I know what he wants to accomplish," she said, "and I can't wait to see that happen."
If it's true that Kardashian approved of her husband's summit with Trump, this would put her at odds with the unnamed White House aides who, according to the New York Times' Maggie Haberman, were "hugely embarrassed" by West's Oval Office appearance.
"I heard from other West Wing aides who were hugely embarrassed that that had happened, thought that was not a good look, that this is not a rock concert," Haberman said on CNN. "The main sentiment I have heard is, why have we taken what was a pretty good week for the president with [the appointment of Supreme Court Justice Brett] Kavanaugh, which is something that Republican candidates heading into the midterms would probably rather be talking about, and why are we now doing 'Kanye Week?'"