Rejoice: Kim K's Third Child May Be Arriving Just In Time For The Kardashian Christmas Cards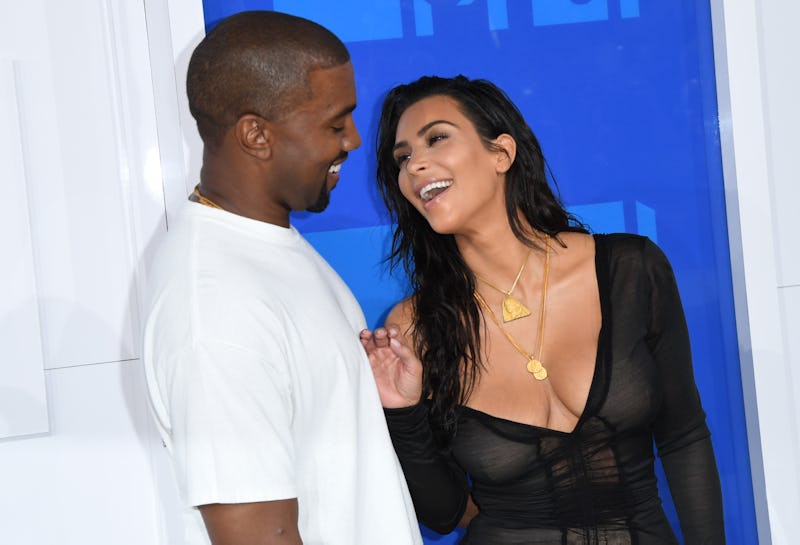 ANGELA WEISS/AFP/Getty Images
If you're the sort of fan who eagerly awaits the annual Kardashian Christmas card, then you should know that this year's festive celebration may include an extra special guest. US Weekly is reporting that Kim Kardashian and Kanye West's third baby is due before Christmas, and you know what that means. (Bustle has reached out to Kardashian's rep for comment, but did not receive an immediate response.) North and Saint's new sibling could be a beloved part of the Kardashian holiday greeting. West and Kim's third child is being carried by surrogate, and though early reports originally suggested that the baby would be due in January, the new report claims it could be arriving a little earlier than anticipated. Start decking the halls in Yeezy, because we'll hopefully get to coo over this baby on the Kardashian Christmas card this year.
Before we get too excited over that prospect, however, it's worth noting that there's every chance the newborn may be absent from the card. In 2015, for instance, Kim's second child, Saint, who was born on December 5, was notably missing from an adorable Kardashian Christmas card that featured four of the family's youngest. In all likelihood, that may have been because the picture was taken before Saint was even born, and, if that was the case, then it could mean the same for the upcoming newborn, too. But let's just continue to cling onto the hope that the family holds off on Christmas photography until after the baby arrives. Start writing your letters to Santa now to make this happen, folks.
Adding onto all of this baby excitement is also the news that Khloe Kardashian and Kylie Jenner are both rumored to be pregnant with what would be the first child for each of the respective women, if true. Though the rumors are yet to be officially confirmed, People Magazine reported that Khloe and Kylie's due dates are reportedly around the same time, with both women reportedly to be expecting to give birth in February. All things considered, even if we don't get to see the new Kardashian-West baby in this years Christmas card, then just imagine how cute the 2018 one could be with not one but three babies potentially being featured on it. That may be worth the wait.
Even if the Kardashian-West newborn isn't featured on this year's Christmas card, however, the baby will still be a tiny miracle celebrated by fans and tabloids alike. Not to mention, the baby will be given center stage alongside Kylie and Khloe's own rumored pregnancies and babies in the upcoming episodes of KUWTK, currently being filmed. As chronicled in former seasons of the show, Kim experienced major medical complications with her two pregnancies. After undergoing an unsuccessful procedure to help her carry a third child, Kim came to the conclusion that she couldn't carry anymore kids, and, after advice from sister Kourtney, became serious about using a surrogate, instead.
While it's heartbreaking for any woman wanting children to discover they're unable to carry a baby, it's been incredibly encouraging to see a high profile celebrity like Kim exploring other options. Especially when it's done in a realistic and relatable manner like on KUWTK, in which the pros and cons of surrogacy were weighed by the 37 year-old alongside her own initial fears regarding surrogacy.
For a woman who once believed that she may not be able to have a third child, it'll be heartwarming to see Kim, and the little girl due to be born soon, proving otherwise. So, if we don't to celebrate that with them on this year's Christmas card, at least we'll no doubt get to see plenty of gorgeous footage of the Kardashian-West family and their third addition to it all over social media and in the upcoming season of KUWTK.