Kris Jenner Opened Up About How Khloé's Doing & Her Comments Are So Sweet, You May Cry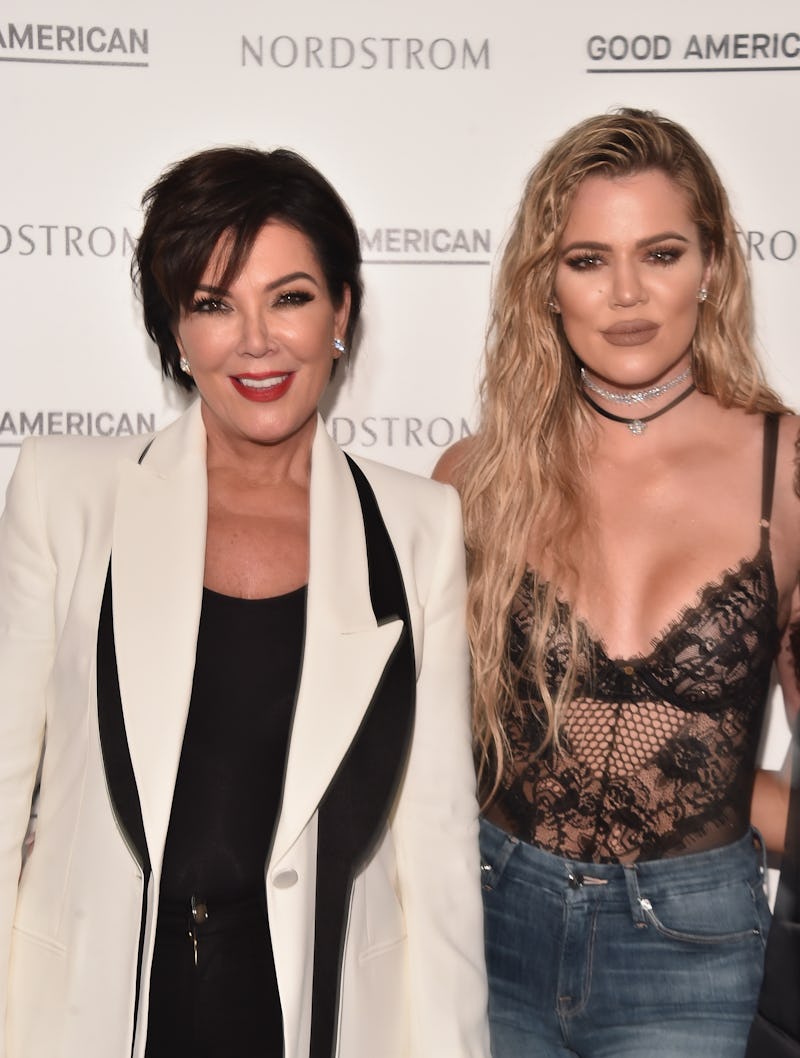 Alberto E. Rodriguez/Getty Images Entertainment/Getty Images
The Kardashian-Jenner family has had a pretty wild month — even by their standards. And in preview clips of the May 4 episode of The Ellen DeGeneres Show, the matriarch of the family opened up about this tough and exciting time. Kris Jenner commented on how Khloé Kardashian is doing after giving birth to her first child in the wake of the Tristan Thompson cheating rumors. The grandmother of nine wasn't as candid as Kim was when she was on The Ellen DeGeneres Show, but Jenner still gave insight into how Khloé's doing — and how much support she is receiving from her famous family.
Khloé gave birth to daughter True with Thompson on April 12. But just days earlier, footage of the NBA player allegedly cheating on Khloé was released. (Bustle reached out to reps for Thompson and Khloé at the time, but did not receive an immediate response.) The couple's status has been up in the air since then, and DeGeneres asked Jenner about the "whole thing with Tristan," which the momager confirmed was "unexpected."
But rather than focus on any potential wrongdoing that Khloé's boyfriend and True's father had done, Jenner kept the focus on her daughter. "Khloé is amazing. I'm so proud of that kid. I get choked up because she's such a good mom and honestly, I get so emotional," Jenner said.
Khloé gave birth in Ohio since Thompson is located there as a player for the Cleveland Cavaliers. And Khloé is still there with baby True, since Jenner said, "I was in Cleveland last week. It was snowing, and she was all nestled in the nursery and the baby." But even if she's not at home in California with the rest of her Keeping Up With The Kardashians family, Jenner noted that Khloé is focused on the new family she has created. "She's just concentrating on that — just being a mom, her baby. And I think that's what her sisters are doing as well. She's so excited about motherhood," Jenner said.
Jenner said that nursing has been "tricky" for Khloé. But that, "She's figuring it out one day at a time and she's just the best mom already. And that baby is so cute — little True." Jenner also said that she had flown with Khloé's doctor and nurse practitioner to Ohio when Khloé was already in labor. "She gave birth probably within hours after us arriving. It was crazy. It was very exciting though at the same time," Jenner said.
As for how the whole family reacted to the news about Thompson, Jenner said,
"I think we do what we always do and that's spring into action with love. We all hopped on a plane and flew to Cleveland because that's what we know to do. I'm there to support my kids no matter what happens. And I just do the best I can, just like anybody else would for their family. There's a lot of us, and we all get together and we do things together and we're a force to be reckoned with."
The Kardashian-Jenner family is certainly a "force to be reckoned with," as Kim proved when she spoke to DeGeneres about Thompson during the April 30 episode of the daytime show. "I don't even know how to describe it besides it's just so f*cked up," Kim said. "We really were rooting for Khloé — and we still are. She's so strong, and she's doing the best that she can. It's a really sad situation all over."
Speaking of Kim, DeGeneres also asked Jenner about Kim's husband — Kanye West. The rapper has received scrutiny for his tweets supporting President Donald Trump and his controversial comments to TMZ. When DeGeneres asked about Kanye's recent behavior, Jenner replied, "He always does things with really good intentions, so I'm gonna let him explain himself when the time's ready, and I just keep rolling on."
No matter which one of her daughters' significant others she was talking about, the overall message from Jenner on The Ellen DeGeneres Show was one of support for her family — as it always is. So while the family isn't acting like things are particularly easy for Khloé right now, Jenner made it clear that her daughter's number one concern is being a mom right now. So Khloé certainly seems to be following her own mom's example.