Kourtney Kardashian & Luka Sabbat Have Reportedly Split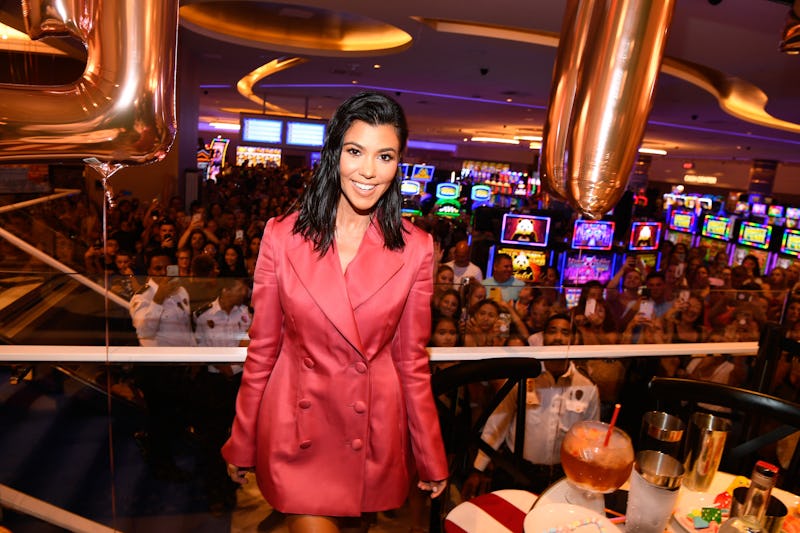 Dave Kotinsky/Getty Images Entertainment/Getty Images
They've been rumored to have been dating for months now, but it looks like the reported fling has come to an end. Kourtney Kardashian and Luka Sabbat have split, People reported Monday. Based on the magazine's sources, though, it sounds like neither of them are devastated about the news.
"Kourtney is no longer seeing Luka," an unnamed source told People. "It was a fun fling for her, but not a big deal." Kourtney and Luka kept their reported relationship out of the public eye, at least on social media, but it definitely seemed like the two of them were dating. Luka is friends with Kendall Jenner, and it seems like he's known the Kardashian-Jenner family for years now. (In fact, there have been rumors that Luka and Kendall were dating at one point, too.)
The rumors that Kourtney and Luka were dating started in September, when the two of them were seen grabbing dinner together. At the time, though, a source told Us Weekly that Luka knows the whole family and that there was "nothing romantic going on." Still, the reports persisted, especially after the two of them were seen out together again in October, that time at an art gallery.
If Luka's name sounds familiar, grown-ish fans will recognize him for his character, Luka, Zoey's friend and current boyfriend. Luka is also a model, so it makes sense why he's friends with Kendall.
The same source told People that Kourtney is focusing on her family and the upcoming holiday season, not on the breakup. "She has more important things to focus on, like her kids and work. Kourtney is doing great," the unnamed insider told the magazine. "She is looking forward to all the fun holidays."
Before the rumored relationship with Luka, Kourtney dated Younes Bendjima. The two of them reportedly broke up in August, after dating for almost two years. The breakup came weeks after Younes left a comment on Kourtney's Instagram that didn't sit well with fans — the now-deleted comment reportedly read, "thats what you need to show to get likes?" on a revealing photo — but that wasn't the reason they broke up, according to TMZ.
Still, it sounds like that relationship was fairly serious. A source told People last December that Younes had met Kourtney's kids, which suggests she was pretty comfortable with having him in every aspect of her life. It's not clear if Luka met them, but if he's close friends with the Kardashian-Jenner family, he might have already known the kids, too.
Kourtney, for her part, hasn't spoken out about the reports that she and Luka have called it quits. But she doesn't seem to be too heartbroken. She and her kids, along with Kim and Khloé, recently went on vacation in Bali. And based on the sisters' Instagram posts, it looks like they had an incredible time. Whether or not Kourtney chooses to comment about the reported relationship with Luka is her business, but it looks like she'll be just fine no matter what.