Kourtney Kardashian & Younes Bendjima Give Fans An Intimate Look Into Their Road Trip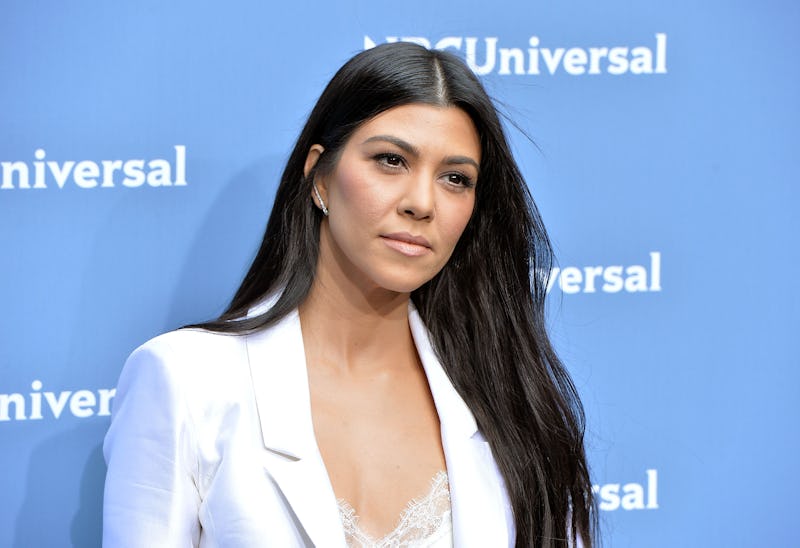 Slaven Vlasic/Getty Images Entertainment/Getty Images
From her cool style to pretty much being mom of the decade, Kourtney Kardashian is known for giving fans healthy doses of inspiration. And this time is no different. The Keeping Up With The Kardashian star and mom of three documented her recent getaway with her boyfriend Younes Bendjima, and the road trip clips are unbelievably endearing.
This isn't the first time the two lovebirds shared clips of their road trip with fans, however. Kourtney mentioned on KUWTK that spending time together out of town is kind of like their thing. She said, "I think going on a trip once in a while reminds me [of] the importance of being present and in the moment when I'm at home, and I think it makes me the best mom that I can be."
Fans of the show know that Kourtney's life revolves around her children, but it's also nice to know that the single mom sees the importance of getting her alone time every once in a while. In the same episode, Kourtney said,
I've definitely learned from my past relationship, where I really wouldn't travel without the kids and I think it is important to take time — especially because my relationship is important to me and those worlds aren't colliding right now — just making sure that I make time for both.
For their most recent trip, it seems as though the couple decided to take a short drive up the California coast instead of jetting out to an island. And honestly, it looked like a lot of fun. Younes and Kourtney shared the deets on their respective Instagram stories, giving fans doses of the amazing greenery, enormous trees, and the stunning blue, Pacific Ocean. It's obvious that the couple thoroughly enjoyed each other's company, too, as adorable videos of each other playfully hopping through the forestry filled up their story timelines.
According to E!, Kourtney and Younes met in 2016 during Paris Fashion Week, and in that following year, made their relationship public while attending the 2017 Cannes Film Festival together. Kourtney is more than ten years Younes' senior (Kourtney being 38, and Younes being 24), but the major age difference seems to hold no significance in their interactions. Not only do the two look adorably sweet together, but they seem to cherish the same things in life — with family taking precedent over all.
While chatting with PageSix in May 2017, the model said,
"My favorite things to do are spend quality time with people I love, take care of my family, work out every day and always think of how can I be a better than I am already."
And if that doesn't sound like a match made in heaven for the Kardashian sister, what on Earth does?
Kourtney, the eldest Kardashian sibling and mother to Mason, 8, Penelope, 5, and Reign, 3, is coparenting her children with her ex-boyfriend Scott Disick, after ending their nearly 8 year relationship for good in 2016. The former couple's relationship woes have been highlighted on the reality show since its inception, and though pretty tumultuous at times, Scott is definitely an intricate part to the Kardashian family mold. These days, the reality star can be spotted jet setting the world with his own love interest, 19-year-old model and daughter to music legend Lionel Richie, Sofia Richie.
Today, it's nice to see Kourtney enjoying time away with Younes. And even if you have doubts that the relationship with last much longer, you have to admit, seeing Kourtney happy and seemingly having the time of her life with Younes is the best part of this whole ordeal.