Kris Jenner's Cameo In Ariana Grande's "Thank U, Next" Video Is Total 'Mean Girls' Perfection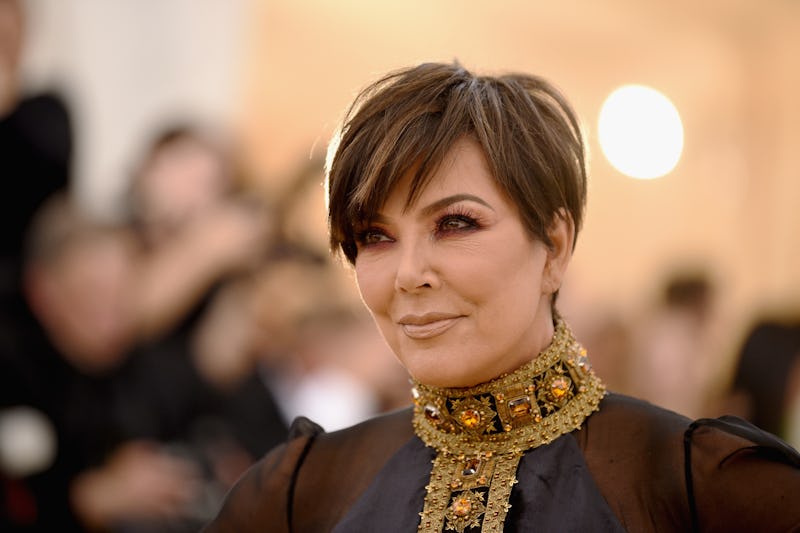 Jason Kempin/Getty Images Entertainment/Getty Images
On Friday Nov. 30, Ariana Grande dropped her highly-anticipated video for "Thank U, Next," and, as promised it featured many great throwbacks to movies from the early 2000s. While there are plenty of things about the project to take in, Kris Jenner's "Thank U, Next" cameo is a welcome treat for many. The visual, which is a revamp of several iconic teen movies including Legally Blonde, Bring It On, 13 Going on 30, and Mean Girls, features Jenner in Amy Poehler's role of the "cool mom" Mrs. George in Mean Girls and the casting couldn't be anymore perfect.
In the video, Jenner can be seen cheering along as Grande and her friends do the iconic Christmas talent show dance from Mean Girls. Wearing a pink velour sweatsuit and dancing along, Jenner is truly the perfect "cool mom." Jenner, who is best known as the "momager" and matriarch of the Kardashian family, was definitely a quick study for the role, having six children and several grandchildren of her own. Plus, the cameo plays on Jenner's own stage mom persona. With a camcorder glued to her hand and the dance moves memorized, she's the picture of a controlling mother. But, she doesn't seem to care. As she hilariously states at the end of the video, "Thank u next, b*tch!"
After the video's release, Jenner took to Twitter to share a clip of the project topping it off with an iconic caption from Poehler's character in the film. Along with the snippet, the reality star wrote, "I'm not a regular mom, I'm a cool mom."
Last week, Grande revealed on Twitter that she had to find someone to step into the role after her own mother, Joan Grande refused take part in the project. With Jenner, it seems that the 25-year-old singer found an amazing substitute.
While Jenner was a major draw for the video, the cameos throughout the project were certainly plentiful with Grande enlisting the help of Mean Girls stars Jonathan Bennett and Stefanie Drummond and Legally Blonde's Jennifer Coolidge. She also tapped past collaborators Elizabeth Gilles and Troye Sivan, along with YouTubers Colleen Ballinger and Gabi DeMartino for roles in the vid. The cast additionally includes some of Grande's closest friends, including backup dancer Scott Nicholson, as well as Tayla Parx and Victoria Monét, who co-wrote "thank u, next" with the singer. Grande seemingly left no stone unturned, adding her dog Toulouse to the mix as he steps into the role of Legally Blonde's Bruiser Woods.
Grande kept fans wanting more-and-more after dropping several nostalgic hints during the lead-up to the single's accompanying video. The former Nickelodeon star continued to release small tidbits about each movie, allowing fans to piece things together gradually until the premiere on Friday. During her social media tease-session, Grande received the support of many actors who played in the iconic films that were channeled in the vid.
Reese Witherspoon, who played Elle in the Legally Blonde film franchise, offered her stamp of approval by sharing a screenshot of the Grande dressed as Elle on her Instagram stories. The Big Little Lies star captioned the post with one of Elle's signature lines, "Whoever said orange was the new pink was seriously disturbed." Witherspoon also wrote, "serious Legally Blonde Vibes," while tagging Grande and adding series of heart emojis. Meanwhile, Gabrielle Union, who played the role of Isis in the film Bring It On, took to Twitter to share her well-wishes for Grande's project. In response to a photo Grande posted of a group of girls decked out in East Compton Clovers' uniforms, Union replied: "Why yes, I am an East Compton Clover! Are we meeting today @ArianaGrande I'll bring the punch."
While Grande's "Thank U, Next" video is iconic for many reasons, watching Jenner step into a role that imitates her real life was a legendary moment all its own.