Kristen & Ariana From 'Pump Rules' Are Suddenly Friends, But Why Is No One Talking About it?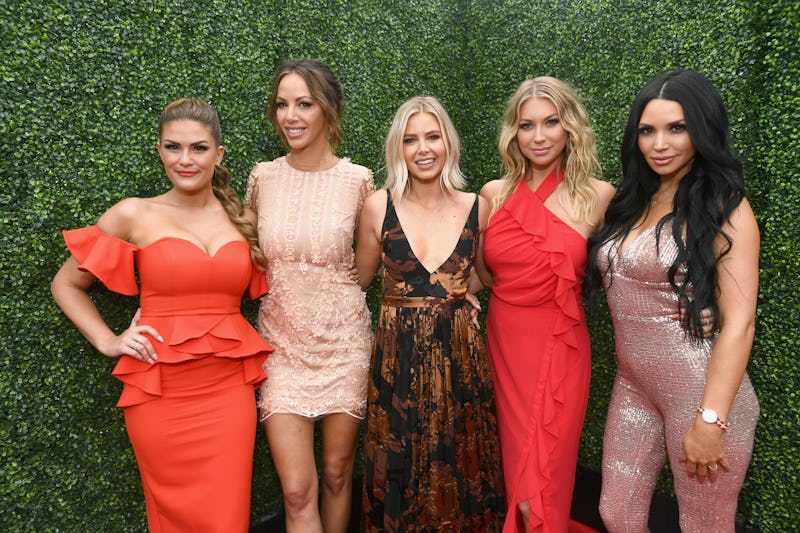 Emma McIntyre/Getty Images Entertainment/Getty Images
There are approximately 963,737,373 lead cast members on Vanderpump Rules, so it makes sense that some storylines wouldn't make it into an episode. Nevertheless, it's still shocking that Kristen Doute and Ariana Madix are friends, but pretty much no one is talking about it. This is monumental news for longtime viewers — and even the Vanderpump Rules cast members themselves. This is a twist that no one saw coming, yet it happened and the development got zero mentions during Season 6. It didn't even become a major headline. Kristen and Ariana's newfound friendship is the storyline that should have been.
Reality TV stars make up and break up all the time, but this is different. These two were never friends on the show and there is such an in-depth backstory here. There's a lot of Pump Rules drama to keep track of, so here's a refresher in case anyone needs to catch up on SUR history.
Kristen used to date (and live with) Tom Sandoval. During Season 2, Kristen found out that her then-boyfriend kissed Ariana during a trip to Las Vegas. Tom maintained that nothing else happened and the two stayed together for a while. Tom showed up to the Season 2 with Ariana by his side as his new girlfriend. That did not sit well with Kristen who spent most of Season 3 trying to break up their relationship in various ways. Kristen even orchestrated the infamous Miami Girl ambush, where she brought the woman who claimed she slept with Tom into SUR while he and Ariana were working behind the bar.
Kristen and Ariana have been shading each other and downright insulting each other ever since Season 2. The fact that they not only get along, but are actually genuine friends is mind-blowing news that should've been a huge deal. Yes, there is a lot of ground to cover on this show, but these enemies becoming friends, but it's just so shocking that this was never a story line.
There's just so much that the fans are missing out on when it comes to this relationship. On June 24, Kristen posted a birthday shoutout for Ariana. Who would have ever predicted that just a few months ago, let alone a few seasons ago? Definitely not Tom Sandoval.
In the birthday post, Kristen wrote, "happy one year hotter @ariana252525 ! this year is going to be even more epic than it already has been. ilysm" Yes, at the end there Kristen put "ilysm," as in, "I love you so much." Kristen loves Ariana so much, yet this still hasn't been addressed on the show? Let's just hope this friendship will be a part of Season 7.
Even before they started getting along, Kristen and Ariana attended many cast events together, but now they're taking photos together. And no, not just a group photo with Kristen on one end, Ariana on the other with 14 cast members in between them.
Kristen shared a group photo of the Vanderpump Rules girls celebrating Pride, and they're sitting next to each other with their arms wrapped around each other. Best friend alert? It sure seems like a possibility.
On May 3, Kristen shared a photo of herself, Ariana, Brittany Cartwright, and Katie Maloney enjoying a girls night out at a bar called Purgatory. Kristen captioned the photo with, "to purgatory, with love." The "with love" part definitely stands out, yet this love has never been mentioned on a single Vanderpump Rules episode. Injustice.
Back in the day, it might seem shady for Ariana to post this less-than-glamorous photo of Kristen. It could seem like one of those group photos someone posts where she looks perfect, but it's not the most flattering photo of a friend. Nevertheless, it just seems like more of a funny joke between friends since Ariana wrote, "Somebody dabbled in cannibalism last night" in the caption. Kristen and Ariana have inside jokes now? Again, why is this not a storyline?
Yes, there's so much going on with the Vanderpump Rules cast members, but Kristen and Ariana's journey from being enemies to genuine friends is a big deal. It is the storyline that should have been shown — and needs to be addressed next season.