Kristina Just Put The Colton & Tia 'BIP' Drama In Perspective With The Perfect Clapback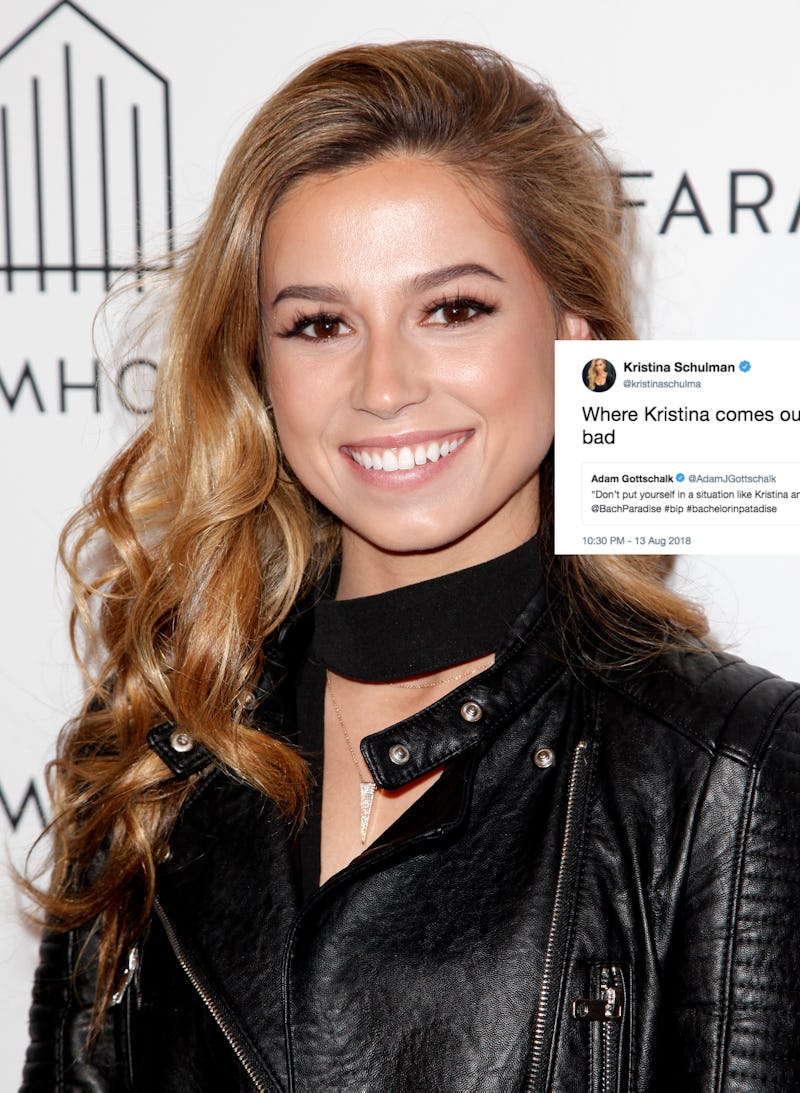 Tibrina Hobson/Getty Images Entertainment/Getty Images; Kristina Schulman/Twitter
It feels like Bachelor in Paradise Season 4 was a whole lifetime ago. Even so, people are still trying to bring the Dean, Kristina, and Danielle love triangle into the Season 5 narrative. There are some faint parallels between that and the Tia and Colton drama, but Kristina put the Bachelor In Paradise situation in perspective with an epic tweet. To put it mildly, both Colton and Dean were very indecisive during their time in Paradise. Nevertheless, it's apparent that Kristina does not want to be viewed as a victim when it comes to that whole situation. She's a woman with a strong sense of self and she's proud of it.
During the Aug. 13 episode of Bachelor in Paradise, Tia remarked, "I had multiple girls coming at me just saying, how could he not know what he wants? Don't put yourself in a situation like Kristina and Dean." And of course, this led to plenty of tweets comparing the two storylines and all of the cast members who have been involved.
Kristina's fellow BIP Season 4 costar Adam was one of those viewers who couldn't help posting a tweet. He wrote,
"'Don't put yourself in a situation like Kristina and Dean' - as told by Tia on @BachParadise #bip #bachelorinpatadise."
Of course, Kristina saw that. She ended up quoting the tweet and adding, "Where Kristina comes out on top... it's not so bad." Now that's a great tweet. After Tia's comment during the episode, there were plenty of people drawing comparisons between Season 4 and Season 5, and Kristina completely set the record straight.
She. Is. Not. A. Victim. She carried herself with class, stayed true to her character, and willingly removed herself from a toxic situation. Not only that, but she really did come out on top. That whole love triangle was a pretty messy situation, but she was probably the least polarizing cast member who was involved. Pretty much everyone was supporting Kristina and rooting for her to find happiness.
Just in case people are forgetful, or if there are some viewers who are new to Bachelor in Paradise this season, this is the brief summary of what happened last year: Dean and Kristina immediately coupled up. Filming shut down, and the two strengthened their connection away from the cameras. Kristina was under the impression they had a solid a connection and good future together.
Danielle entered Paradise and Dean had an interest in her. He went back and forth between both girls, was extremely indecisive, strung them both along, and then Kristina decided to save herself from the misery and leave the show on her own. She was being treated like an option instead of a priority, and she was understandably over it. Who wouldn't be?
This time around, Colton is just as indecisive as Dean, but more upfront with Tia about his confusion and interest in exploring other relationships in Paradise. This is far from the exact same situation, but Kristina recognizing her self-worth and removing herself from tough circumstances is something that Tia's friends and fans want for her as well. Tia did not walk out of Paradise, but she did give her first rose to Chris instead of Colton, which was a surprising power move.
Meanwhile on Twitter, Tia and Kristina's close friend/BIP Season 4 alum/Adam's girlfriend/one of the most connected people in Bachelor Nation, Raven, chimed in to reply, "Preach girl."
No one wants to be in a love triangle, let alone a very public one. That had to be tough for Kristina to experience and watch back on television, but she did gain a lot from the experience. She recognized her worth, learned to never settle, got a lot of fan support, and ultimately set a good example for some viewers in similar situations. How will things end up for Tia? Only time will tell.