Kylie Jenner Bought Her Own Magazine Covers In Such A Sweet Moment With Daughter Stormi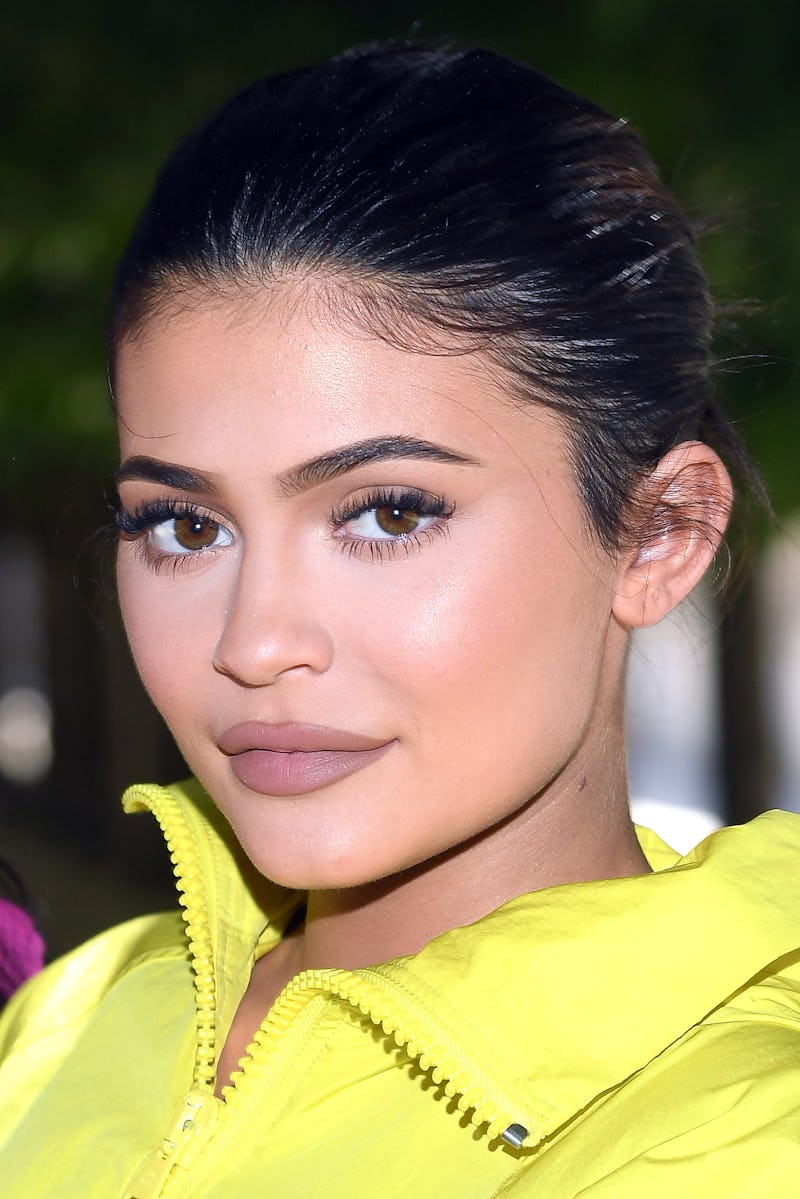 Pascal Le Segretain/Getty Images Entertainment/Getty Images
Here's one way to show you've got mother-daughter bonding covered. With 6-month-old daughter Stormi on her hip, Kylie Jenner bought her own magazine covers from a street vendor on Friday, July 28 — and documented the sweet outing on her Snapchat account so all of her followers could keep up, of course.
"OK, so Me, Stormi, and Jordyn are going to the closest magazine stand and picking up the Forbes situation," Jenner (with her BFF Jordyn Woods behind the wheel) explained in one Snap taken from the passenger seat of a car. In what could surely be a nod to how hot she is right now, the lip kit mogul (dubbed a "self-made billionaire" in said Forbes "situation") also used a burning flame filter.
Jenner has plenty to be proud of. Having turned her lip kit idea into a $900 million business in less than three years, she has officially surpassed big sis Kim Kardashian West as the most profitable member of the family, per the Forbes cover story. And taking her fans along for the ride to the shopping excursion may have been a thank you of sorts. "Social media is an amazing platform," Jenner told the magazine. "I have such easy access to my fans and my customers."
In a followup Snapchat posts, Woods documented her pal approaching the newsstand, as well as Jenner making a grab for GQ's August issue which features her sitting on the lap of her man (and Stormi's dad) Travis Scott. And she just couldn't get enough. "Gotta get these ... all of these," she added, clearing out the inventory.
In Jenner and Scott's GQ interview, the couple gave a candid look behind the scenes of their relationship, revealing when they first began dating, among other things. After forming an instant bond with the rapper at Coachella in April 2017, Jenner took a leap of faith, joining the rapper on tour.
"I really jumped on the bus," she told GQ. "And then we rode off into the sunset. I did the whole tour with him."
One day before her magazine-buying outing, the Life of Kylie star also posted several more sweet videos of Stormi on social media, while celebrating her grandma MJ Shannon's 84th birthday at The Beverly Hills Hotel's Polo Lounge. As revealed by People, Jenner shared a Snapchat video of her sister Kendall holding Stormi, as well as mom Kris rocking her grandbaby. Because Jenner has decided to keep pics of her 6-month-old girl to a minimum (and even deleted some of her Instagram photos of Stormi), the posts were quite the treat for fans.
Last month, Jenner reportedly removed her daughter from an Instagram photo, and according to Entertainment Tonight, that prompted one fan to comment "she cut her baby out." Jenner's response? "Yeah I cut my baby out. I'm not sharing photos of my girl right now." Now, most photos of the infant on social media don't show Stormi's face.
Jenner's face, however, can be seen from cover to cover at any newsstand and will most likely continue to do so for some time. Stormi may still be too young to realize how famous her mom is, but it's only a matter of time before she learns the family business.