Kylie Jenner Just Tried Blunt Bangs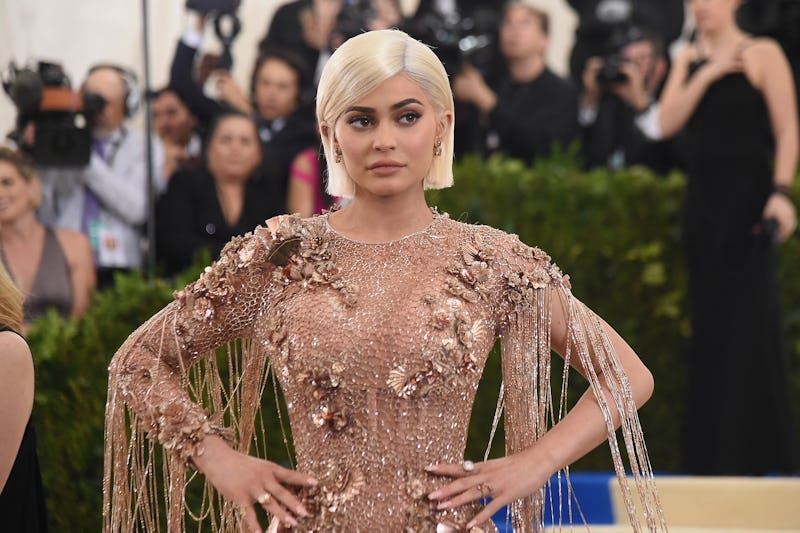 Nicholas Hunt/Getty Images Entertainment/Getty Images
The youngest Jenner/Kardashian sister seems to always make waves when it comes to the hair department, and often inspires her fans to scramble to the hair stylist to copy her latest whim. And her newest trim isn't going to break that cycle. Kylie Jenner tried blunt bangs, and the results are going to make you want to mimic them ASAP.
While Jenner is known to shake up her look almost on a weekly basis, this newest tweak is exciting because it's super relatable. While she looks amazing in everything from waist-long extensions to orange wigs to pixie cuts, not everyone has the funds to invest in hair pieces or the guts to permanently chop or color their hair that way. But just about anyone can go into a salon and request a fringe makeover. And that's exactly what this was — though it's a relatively small hair update, it completely transforms Jenner's look.
Jenner debuted the new hair on Instagram, where she appeared to be at a zoo, casually sharing her newest hair update. She was sporting shoulder length hair and heavy, blunt bangs that nearly touched her eyelashes, looking flirty and low-maintenance all at once. But, knowing her penchant for switching up her tresses, you can't be too sure if these are her real locks or another wig. "Kylie is the queen of wigs, clip-ins, temporary color, and the like, so it has yet to be confirmed whether her bangs are a real snip or a false addition," Allure pointed out.
Real or not she looks fabulous, and if this is making you want to update your own fringe, you might be wondering what the upkeep of such a look might be. After all, bangs can be a commitment, so it's good to know what the facts are when it comes to trimming and growing them out.
"Blunt bangs will have to be trimmed more frequently — they are heavier so as they grow out they will be more bothersome," Sarah Ramos, the hairstylist and manager at MacKenzie Hair Parlor, tells Bustle. "I think three weeks would be a great trim schedule for blunt bangs." If you want to copy Jenner's look, be prepared to stop by the salon at least once a month to get them shortened. But seeing how most salons charge anywhere from five to 10 dollars for a bang trim, that's not too bad. (And sometimes your long-term hairdresser even offers to do it for free!)
But what if you're like Jenner and don't like to stay committed to one look for too long? The grow out phase doesn't have to be painful. "If you're going to grow them out make sure that you find a stylist who can work with you to create your desired end result style. When I have a client who's growing out her fringe I like to gradually angle and frame them around her face so that they can be worked into layers and eventually not look like bangs anymore," Ramos shares. "This could take a few months depending on how fast your hair grows. Hair skin and nail vitamins such as BioTen or prenatal vitamins can help slightly speed up the growing process, and will also make your hair stronger and shinier."
Try something daring this summer and make like Jenner and go in for the chop!