Kylie Jenner's Beauty Advice For Stormi Isn't What You'd Expect From The Lip Kit Queen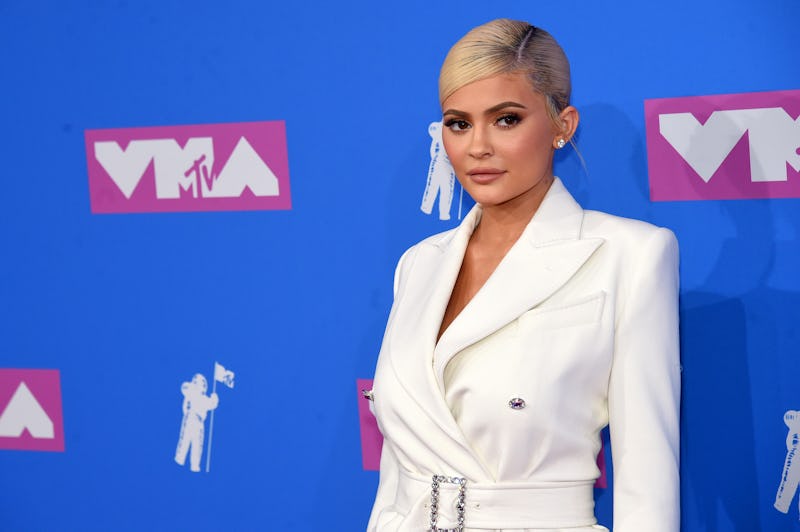 Jamie McCarthy/Getty Images Entertainment/Getty Images
It's hard to believe that this time last year, many Kardashian-Jenner fans had no idea that Kylie Jenner was about to become a mother, but now, it's hard to imagine the world without Miss Stormi Webster. And now, she's imparting a little wisdom for her daughter. In a new video for Vogue Australia, Jenner shared her beauty advice for Stormi, and it's definitely not what you might expect coming from someone who's built a massive cosmetics company — in the best way possible.
She started off her video by saying that to her, beauty means being yourself, and then, she began talking about Stormi, and what she'd want her to know as far as beauty advice goes. Being that Jenner is the queen of Lip Kits at Kylie Cosmetics and grew up with the whole world watching on Keeping Up With The Kardashians, you'd almost assume that she would be ready to offer up some tips for avoiding beauty blunders she ran into when she was younger. But no, what she wants to tell Stormi is actually more based on inner beauty than anything else.
"A beauty lesson that I want to pass on to Stormi is probably just be carefree and experiment, and let her experiment with her look and who she wants to be," Jenner said.
Since becoming a mom for the first time earlier this year, Jenner has been all about Stormi, and this advice she has for her is just another example of that. Jenner herself is probably full of tricks on how to get the perfect eyebrow arch or how to subtly over-line your lips without overdoing it— and that's something she may eventually end up sharing with Stormi when and if she's into makeup someday. But what's far more difficult to master is that inner peace within yourself, and it sounds like helping Stormi find that is Jenner's priority.
And speaking of how dedicated she is to her daughter, Jenner said in the video that "creating life" was one of the most beautiful moments she's ever had. "It's hard to explain why," she said. "It's just when you've experienced it, you understand."
She also opened up about what inner beauty means to her, and it sounds like she's taking what her family has done for her as she grew up to heart when it comes to raising her own baby. She said:
"I feel like inner beauty is something I was born with, that my family instilled in me. I felt the most confident when I was probably a child and had no care in the world. My family has let me just be a free spirit and let me be who I am."
From what fans know of the Kardashians, this isn't surprising in the least. Kris Jenner has always been the kind of mom who encourages her kids to chase their passions while being supportive of their dreams, and it sounds like by allowing Kylie to do that, it's helped her find who she really is.
Jenner ended the video by sharing her goals for the future. "10 years from now, I just want to be happy, whatever I'm doing," she said.
Well, 10 years from now, Jenner will be a 30-year-old mom to a 10-year-old Stormi — and who knows? Maybe she'll even have more children, and maybe her Lip Kits will have taken over the world even more than they already have. But no matter what's in store for her, it's going to be so much fun finding out.