Kylie Jenner's Family Vacation Pics Are Gorgeous, But Stormi Steals The Spotlight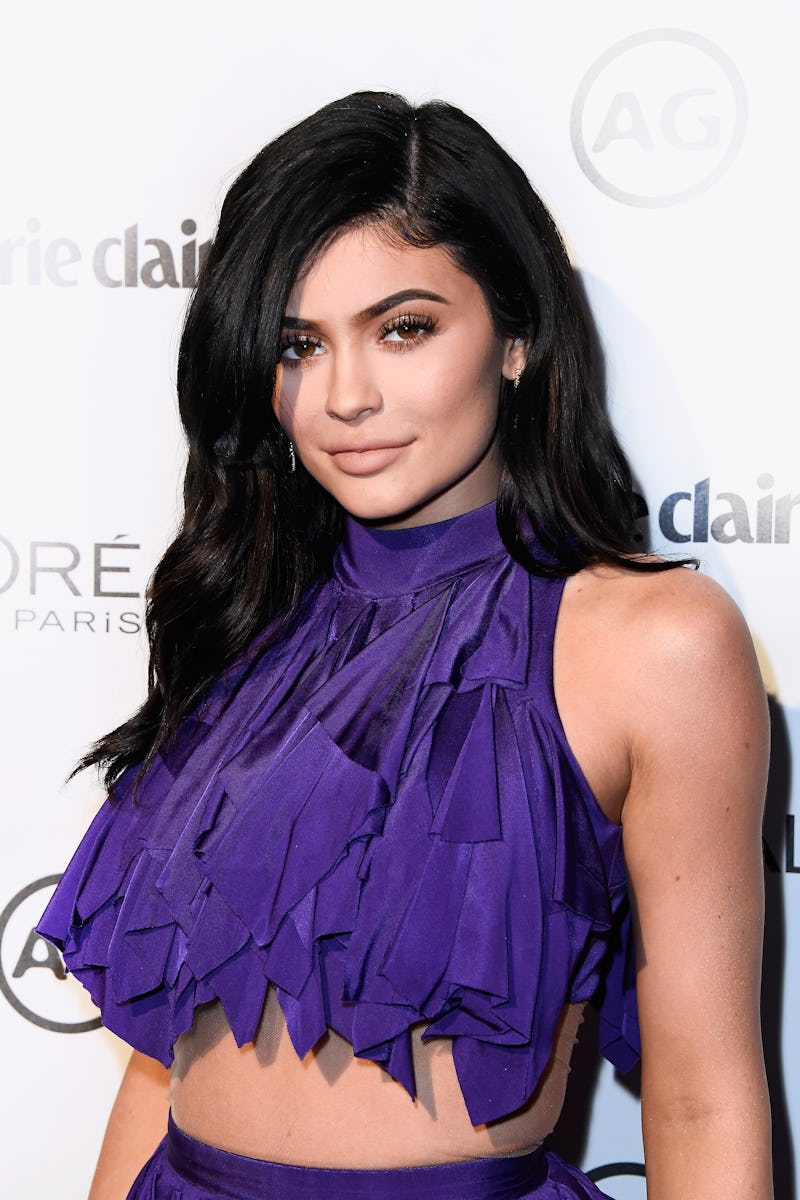 Frazer Harrison/Getty Images Entertainment/Getty Images
If you so badly want to live the life of a Kardashian/Jenner, just wait until you see these photos of Kylie Jenner on family vacation with Travis Scott and their baby girl, Stormi. This is their first trip together as a family — and they did it right. According to Elle UK, Jenner, Scott, and Stormi are currently living it up in Turks and Caicos. Based on the many Instagrams the Life of Kylie star shared Tuesday and Wednesday, they are having the time of their lives in the Caribbean. Not to mention, the tropical location is beyond gorgeous.
It appears Jenner and Scott are celebrating the rapper's 26th birthday, per a source who spoke with People Wednesday. The source also revealed the couple is staying at Amanyara, a luxury beachside resort, which is on the northwest coast of the island of Providenciales.
Jenner shared a photo (taken by photographer rayscorruptedmind) on Tuesday of the couple embracing on the beach and she captioned the Instagram simply with an emoji of a present. This seemed to be her way of not only wishing Scott a happy birthday (his was on April 30), but revealing they're celebrating his special day in paradise.
The Keeping Up With the Kardashians star has pulled out all the stops for her man's birthday. On April 28, Jenner rented out Six Flags Magic Mountain in Los Angeles for Scott's birthday. That's right, she rented out an entire amusement park for her boyfriend. Now that's love. Those who were lucky enough to attend, including Kim Kardashian, Kourtney Kardashian, Jordyn Woods, and Kanye West, all wore matching hoodies with Scott's birthdate printed on them.
Scott's cake was also really special. It was a cake shaped like a roller coaster with miniature versions of Jenner, Scott, and Stormi on the ride. The Kardashian/Jenners always go big for birthdays, don't they?
Now, the happy family of three is in Turks and Caicos. You seriously need to see these photos.
Posing On A Boat
That must be the life.
It's Like A Postcard
Do you see that water?
Stormi Is So Relaxed
She seriously looks so chill.
Gotta Get That Beach Pic
It's basically a photo shoot.
Here's Another
Yep, a photo shoot.
Mother and Daughter
How adorable is this picture? Also, happy three months, Stormi!
Ever since Jenner gave birth to Stormi, she's been opening up more and more about her life as a new mom. For example, Kim interviewed Jenner for the Evening Standard, where they talked about the early stages of motherhood and the challenges that come with it.
In their sisterly chat, which was published Wednesday, Jenner told her older sister about being a mom, "I feel like it's just been so amazing, and so much fun. I'm learning so much more about myself and life, and it's been such a great experience."
That said, the 20-year-old reality star has struggled, too. "Of course there's hard times and stuff… even in the beginning, just not sleeping, the nights, like, baby blues… and all the ups and downs." She added, "And also even when I'm here it was so hard to leave this morning. I'm like, 'I'll be right back, I'm so sorry, I have to leave!' and she doesn't even know what's going on. I think about her all the time, anywhere I am."
Jenner also revealed to Kim how they chose Stormi's name. "I really don't know how we thought of Storm ... And that kind of just stuck with us," she said. "I didn't really like just Storm — I didn't feel like that was her name. So then it became Stormi. And it just stuck. I feel like there were a lot of other names that I might have even liked better to be honest, but I feel like Stormi picked her own name, like it was just her name."
It's clear she's head over heels in love with Stormi, who is seriously the cutest baby — and knows how to take the perfect vacation photo. Yeah, she's definitely her mother's daughter.