The Kardashian Family Members You Didn't Realize Were Missing From The Christmas Card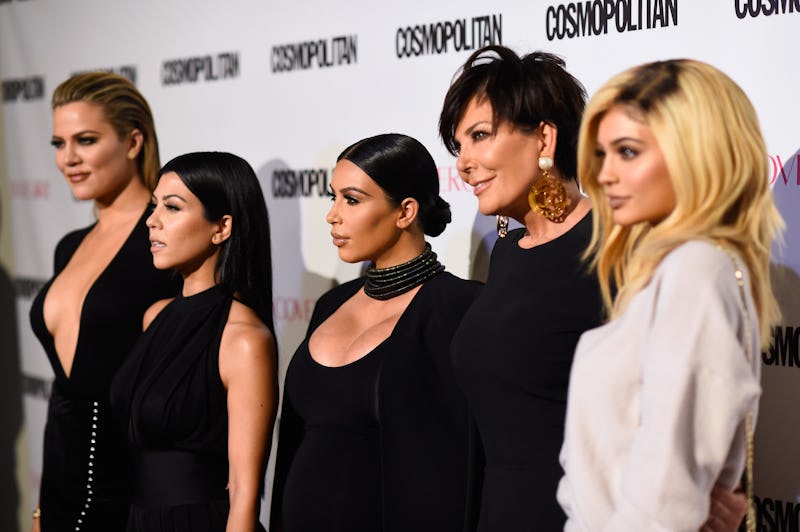 Frazer Harrison/Getty Images Entertainment/Getty Images
Christmas may be behind us, but that doesn't mean the most joyful part of the holiday season doesn't still lie ahead: obsessing over who's missing from the 2017 Kardashian Christmas card. (Oh goodness, please excuse the typos — the 2K17 Kardashian Khristmas Kard.) The reality television clan had been releasing their cards in a 25 Days of Christmas set-up, with the finale image being released to social media on Christmas Day. And with so many photos and so many family members, it can be hard to spot the absences right away. Unless you know where to look, it's just a blur of denim, white cotton, running children, and all-around beautiful humans.
But get out your pop culture magnifying glass, and it becomes clear that there are some pretty heavy-hitters who never made an appearance. The final card in the series is missing not one, not two, but 12 family members. There are flesh-and-blood kin missing, of course, like Kylie Jenner and Rob Kardashian, as well as every significant other aside from Kanye West. But there are also more emotional absences, like any evidence of a baby bump and the light in Kendall Jenner's eyes, fueling rumors that the 22-year-old was Photoshopped in. (The Kardashians have yet to publicly respond to that rumor, of course, but that hardly stops fans from talking.)
In short, there are plenty of no-shows to pick through, so let's get to it. 'Tis the season to over-analyze, and you won't want to miss a single moment.
1. Caitlyn Jenner
The family hasn't been on the best of terms with Caitlyn Jenner ever since she published her book The Secrets of My Life, so it isn't shocking that she didn't make the card. But feud or no, her absence is still major enough that it does stand out.
2. Kylie Jenner
We've all been so patient waiting for the 20-year-old to confirm her rumored pregnancy, and we can't even get a shot of the baby bump? Naturally, Kylie deserves her privacy, but some fans took her absence as a personal attack.
3. Any Baby Bumps At All
We were already resigned to not seeing evidence of Kim Kardashian's growing family, as she's been very open about using a surrogate this time around. But no shot of Kylie Jenner or a bump on Khloé Kardashian at all? These photos were likely shot by Eli Linnetz before either sister was showing, but still. Thank goodness the latter confirmed her pregnancy on Instagram a few days before Christmas, or this blow would be too much for fans to take.
4. Tristan Thompson
The NBA player and Khloé Kardashian might not be engaged yet, but, with a kid on the way, Tristan Thompson is about to be part of the family in a big way. And, based on the above Instagram post, Khloé is head-over-heels for him, so where was he?
5. Travis Scott
Speaking of the father of Kardashian-Jenner children, only one was in attendance, and that was Kanye West. Yes, even with an rumored baby together on the way, Kylie Jenner's boyfriend, rapper Travis Scott, was nowhere to be seen.
6. Scott Disick
If current boyfriends didn't make the cut, things weren't looking so hot for Scott Disick, whose relationship with Kourtney Kardashian has been over for a while now. But he's also the father of their three children together, who were pictured on the card, and he's joined family vacations post-breakup, so it could've gone either way.
7. Rob Kardashian
Rob isn't the biggest fan of the spotlight, so it isn't shocking that wasn't pictured in the series. But his daughter Dream is front and center in many of the snaps, which only underlines his absence.
8. Blac Chyna
Likely no one is wondering why she didn't make the photo after her tumultuous relationship with Rob Kardashian. But Blac Chyna and Caitlyn Jenner were the only women whose children were pictured without them
And there you have it: enough Kardashian-Jenner conspiracy theories to last you into the new year. Or maybe even until next year's holiday offering, if you play your 25 cards right. (Pun absolutely intended.)