Lana Condor Addressed Her 'To All The Boys' Co-Star's Offensive Tweets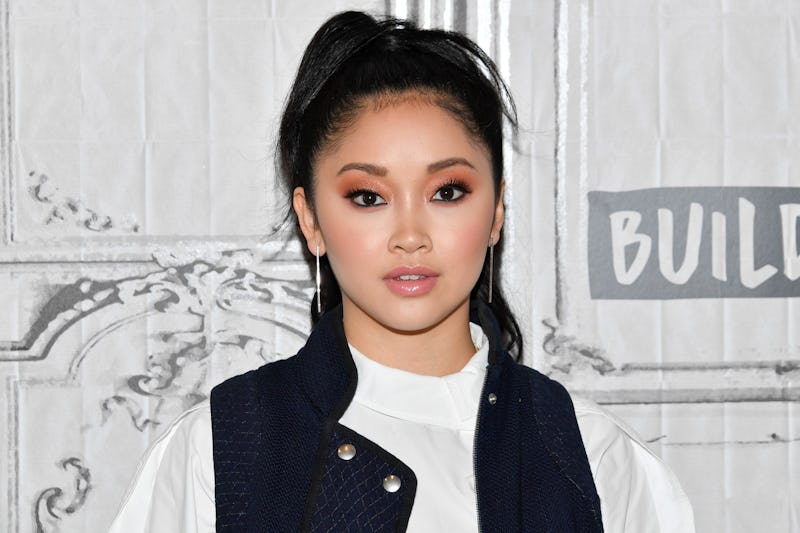 Dia Dipasupil/Getty Images Entertainment/Getty Images
To All the Boys I've Loved Before is the internet's new obsession for good reason. The teen rom-com is sweet, heartfelt, and a major win for representation. Unfortunately, one castmember's Twitter remarks have stirred up controversy. Now, the film's star, Lana Condor, has reacted to Israel Broussard's offensive tweets, and her remarks will remind you why she's your new favorite actor.
Condor, who plays the romantic Lara Jean, is the face of To All the Boys I've Loved Before. Her character is the film's heart, and she isn't taking that responsibility lightly. In a new interview with Elle.com, Condor discussed the upsetting tweets shared by her co-star, Broussard, that were unearthed by fans shortly after the film made its debut on Netflix. The actor told Elle of Broussard's tweets,
"It's very, very, very disappointing. And hurtful. Particularly for all the obvious reasons. The things he said are totally and completely wrong and upsetting. For me personally, I'm the one that has to answer these questions. That's really unfair given that it should be him speaking on behalf of his actions. It's very upsetting and unfortunate. I hope that he learns from this and grows to be a better person. I couldn't imagine him not being better."
As Condor pointed out, it's frustrating that she's having to speak on her costar's behalf — especially when To All the Boys I've Loved Before is proving to be such an important film. Broussard's offensive tweets shouldn't take the focus away from the power of the film, or Condor's groundbreaking starring role.
In addition to allegedly sharing racially insensitive tweets, Broussard, who plays Josh in the film, also reportedly liked a number of problematic tweets, according to BuzzFeed. On Aug. 21, the actor apologized on Twitter, writing,
"I am deeply sorry for my inappropriate and insensitive words and likes on social media. I take full responsibility for my actions and I sincerely apologize. This has been a pivotal life lesson for me. I am dedicated to becoming a more informed and educated version of myself. Much love -- Israel."
Hopefully, Broussard's apology is sincere, but regardless, the focus of To All the Boys I Loved Before's success should remain on Condor, and how meaningful her leading role is for young Asian women who may not have seen themselves represented in such a pivotal way onscreen before. In addition to addressing her co-star's tweets, Condor's interview also highlighted why the film seems to be resonating with its fans.
"My hope is this character will change the way writers decide to depict Asian-Americans," Condor told Elle. "We get pretty much the same roles of being the nerd or the awkward person. I think Lara Jean just being your average girl...we're not focusing on the way that she looks. She is a universal character; she also happens to be Asian. We're normalizing it. We're not making us an "other" anymore."
Condor's words would no doubt make Lara Jean proud. They also serve as a reminder that Broussard's offensive tweets aren't Condor's responsibility, and her amazing workis what matters the most in the To All the Boys I've Loved Before conversation.