Lance Bass Celebrated *NSYNC Day With A Priceless Throwback Picture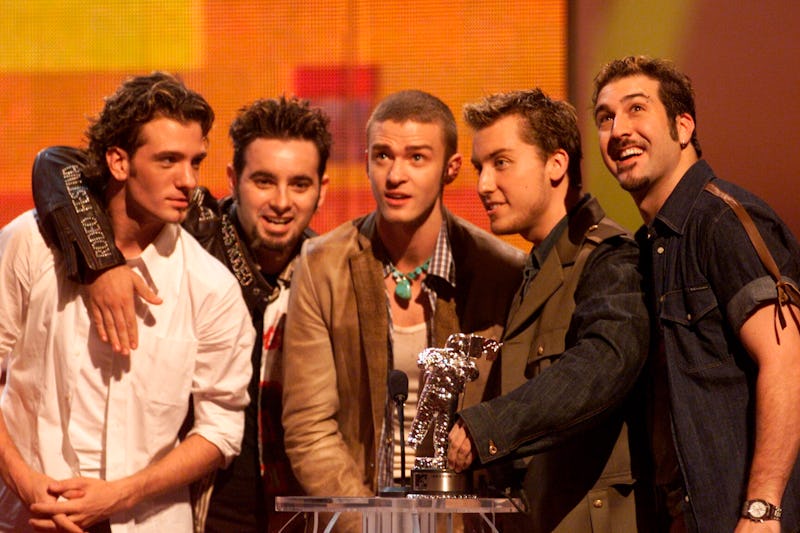 Scott Gries/Getty Images Entertainment/Getty Images
Why-yi-yi-yippie-yi-yay, today sure is a very special *NSYNC anniversary. As he noted on Instagram, Lance Bass joined *NSYNC 23 years ago today. The Finding Prince Charming host was the last person to join the boy band, which means that on Oct. 1, 1995, *NSYNC was officially born. Watch out, April 30, because Oct. 1 is the real *NSYNC Day.
In the IG post, Bass wrote,
"October 1, 1995. I met these a**holes. We took this picture a couple of weeks later. We had no idea what was about to happen to our lives. Happy @nsync day! And yes that is a very sassy pose I'm giving. #NSYNCDay"
Yes, the five dudes who would go on to gift us with jams like "Bye, Bye, Bye," "I Want You Back," and "Space Cowboy" really did become a boy band that long ago. All the way back in '95, Chris Kirkpatrick wanted to put together his very own Backstreet Boys-esque boy band, and so he did just that. As Bass recounted on a 2015 episode of NPR's Wait Wait… Don't Tell Me,
"It all started in 1995 in Orlando. Chris Kirkpatrick, who started *NSYNC, he was friends with Howie Dorough from the Backstreet Boys and he saw how Transcontinental Records there in Orlando put them together. And so he went to Lou Pearlman, who was the president of the label and said hey, if I put a band together, will you support us too? And so Chris went out and signed us all and yeah, that's how we all became a band."
Well, that's almost how they all became a band. The first version of *NSYNC featured Kirkpatrick, Joey Fatone, Mickey Mouse Club alums Justin Timberlake and JC Chasez, and a bass singer named Jason Galasso. Bass, as you might've deduced, was not part of the original group. However, that would change when Galasso quit a few weeks later, leaving the spot in the band reserved for a bass singer open.
And Timberlake's vocal coach had just the recommendation: a 16-year-old kid from Mississippi who wanted to be an astronaut and could really hit those low notes. The future Oscar nominee reached out to Bass, Bass hopped on a plane, and *NSYNC's final lineup was set. And a couple weeks later, they snapped this incredible photograph together:
Bass recalled to Entertainment Weekly in 2015,
"When Justin [Timberlake] called me and said, 'Hey, we're putting a group together, we'd love you to come down to Orlando and meet the guys and sing in this group,' I didn't think it was real at all, [but] I left the homecoming dance early so I could go to bed early and leave early the next morning for Orlando."
And from the jump, Bass, Timberlake, Chasez, Fatone, and Kirkpatrick were, well, in sync. Bass told EW,
"When we all sang together, I mean, I just got goosebumps. It was just this magical sound and I looked at my parents, I'm like, 'I don't think I'm going back to Mississippi.'"
Just three weeks after Bass touched down in Orlando, *NSYNC performed together for the first time. And a little less than 23 years after that, the quintet accepted their star on the Hollywood Walk of Fame.
You know what they say: One moment, you're planning your high school's homecoming parade, the next, you're part of one of the biggest boy bands of all time.