Do You Know How Big The Wage Gap Is Between Latinas And White Men?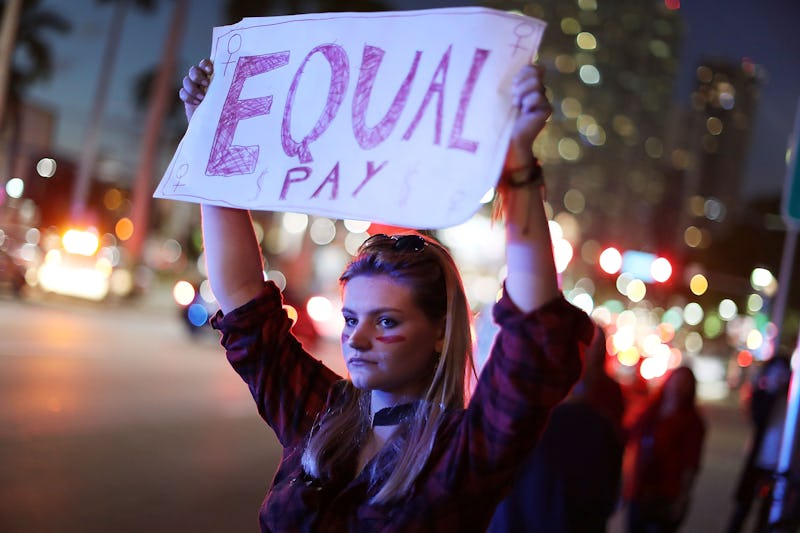 Joe Raedle/Getty Images News/Getty Images
The average Latina worked until Nov. 1 before being paid the same wages her white counterparts made in 2017, as Latinas are paid 47 percent less than white men and 31 percent less than white women. Newly released data on Latina Equal Pay Day highlights one reason the gap still exists: A large portion of the nation isn't even aware of the problem.
Nearly one in three Americans doesn't know about the pay gap between Latinas and white men, according to a survey conducted this year by LeanIn.Org, SurveyMonkey, and UnidosUS; and more than four in 10 Americans don't realize there's pay a gap between Latinas and white women. The #47PercentCounts campaign aims to change that with the help of companies such as adidas, Lyft, P&G, and Reebok that are raising awareness this week.
"It is a profound injustice that Latinas contribute so much to our economy and in return are paid less than just about everyone else," said Sheryl Sandberg, COO of Facebook and founder of LeanIn.Org, in a press release announcing the #47PercentCounts campaign. "We need to take real action to address the discrimination that Latinas and other women of color face and make sure every woman is paid fairly and treated equally."
Latina women face a much larger pay gap than other women, as Equal Pay Day for all American women fell on April 10 this year, while Black Women's Equal Pay Day was on Aug. 7. The survey from LeanIn.Org, SurveyMonkey, and UnidosUS found that Latinas start experiencing pay inequality as teenagers — and the gap only grows as they get older.
Discrimination against immigrants likely plays a large role in keeping Latinas' paychecks considerably smaller than those given to white and black workers. Over two-thirds of Americans believe bias against immigrants contributes to the pay gap between Latinas and white men, according to the survey.
The current political climate has only pushed immigration issues further into the spotlight with President Donald Trump saying this week that he plans to issue an executive order ending birthright citizenship, which grants citizenship to anyone born in the United States. Though legal experts have pointed out that a president doesn't have the power to alter a constitutional amendment, his comments boosted what was already a strongly anti-immigrant White House agenda.
LeanIn.Org President Rachel Thomas agrees with the majority of Americans that anti-immigrant biases directly impact Latinas' wages.
"These compounding biases contribute to the Latina pay gap and help explain the inequality Latinas experience in the workplace," Thomas said in a press release. "More people — and more employers — need to understand the barriers Latinas face so they can take steps to level the playing field."
Paying Latinas less ultimately hurts their families and entire communities, especially considering more than half of Latina mothers are the breadwinner of their household, according to the #47PercentCounts website.
"When they're paid less, it's harder to pay for groceries, childcare, rent, tuition—all the costs of supporting a family," the website reads. Closing the wage gap for Latina women would have an immediate and significant impact on day-to-day life, and it deserves more attention.