Lauren Bushnell Never Got Over That 'Bachelor' Finale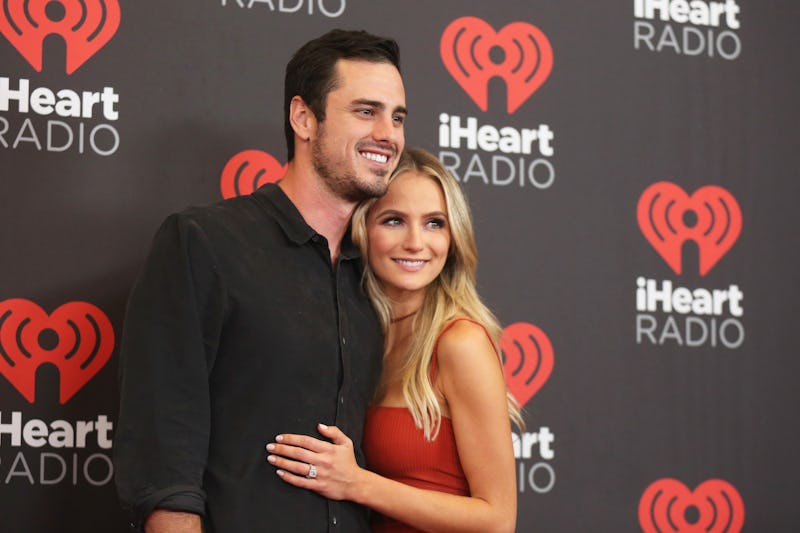 Isaac Brekken/Getty Images Entertainment/Getty Images
I don't want this to sound insensitive, but I think it's good that Lauren Bushnell and Ben Higgins broke up. It's not because I love pain and suffering; it's because it sounds like their engagement never had a chance. A newly-single Bushnell opened up to People about the relationship and acknowledged that they never fully dealt with the dual "I love you" moment in the Bachelor finale. And I don't need to tell a Bachelor fan why that made me stop and go, "Whaaat?"
I'm referring, of course, to that infamous moment when Higgins told both finalists that he loved them. Traditionally, the star of the franchise doesn't return an "I love you" until the finale is wrapped and the ring is on a finger, but Higgins flipped the script. He revealed feelings not just to Bushell, but to JoJo Fletcher as well, before sending the latter home and proposing to the former.
It's a moment that the media has endlessly dissected — but mostly from Fletcher's point of view. She'd been broken up with by Higgins right after he'd revealed he was in love with her; everyone understood why that would hurt. But what about Bushnell, who was now supposed to start her engagement with a man who'd professed his love for another woman? According to the 27-year old blonde, it was excruciating.
"I don't think I've ever talked about how hurtful that was. I always try to be really strong because I wanted to move forward from it. But because I wanted to move forward from it, I don't think I ever really opened up about how hard that was just in terms of, like, I wanted to make that decision to get engaged one time in my life and I felt like I wasn't told everything that had happened."
Did you catch that? Bushnell got engaged without knowing what had happened with Fletcher. It makes perfect sense, of course, given the fact that the contestants are separated at the end, but I had never considered it.
It's a situation that would've been painful enough on its own, but it was amplified exponentially by Bushnell actually having to watch it go down.
"When The Bachelor aired, reliving that months later wasn't ideal either. I was still like, 'We're going to move forward from this,' but then the press, that's what everybody wanted to talk about. I've never shared with anyone, except for Ben, how hurtful that situation was and how hard it is to continually talk about it over and over again when you're trying to start a life with someone."
Um, yeah. I think the only way to get through something that tough is to talk all the way through it, honestly. Any question you have, any thought, it's gotta come out into the world and be addressed by your partner. Otherwise, it just sits inside you and festers, and then your relationship isn't built on a solid foundation. And we saw on their spinoff show that the moment was still a point of contention between Bushnell and Higgins long after the show was over.
So, I guess what I'm saying is that it's good that Bushnell and Higgins aren't still trying to make it work. It sounds like one or both of them was having to compromise in order to hold onto the relationship. And, sometimes, in situations like that, it's better to just let it go.