This First Look At Lifetime's Prince Harry & Meghan Markle Is Royally Adorable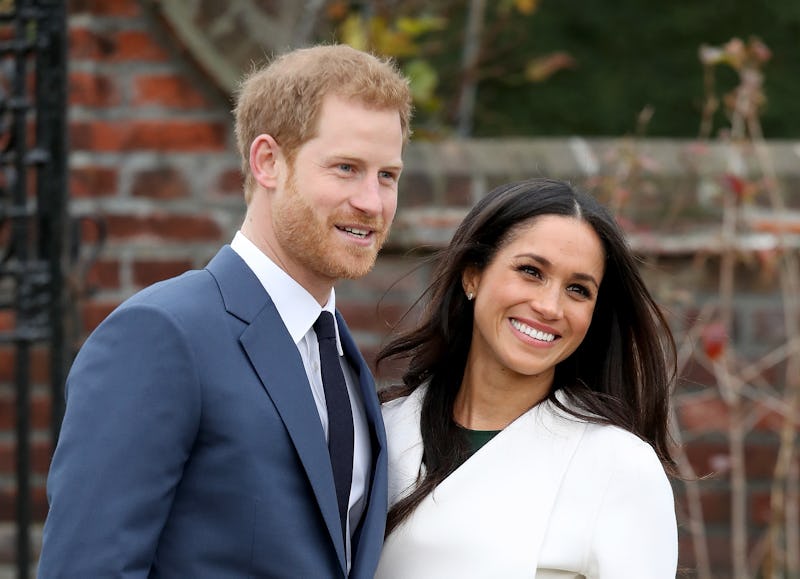 Chris Jackson/Getty Images Entertainment/Getty Images
The royal wedding isn't until May, but filming on Lifetime's Harry & Meghan: A Royal Romance is already underway. Just days after the cable channel announced it had found its royal couple, actor Parisa Fitz-Henley shared a behind-the-scenes photo of Lifetime's Prince Harry and Meghan Markle on Instagram, and — brace yourselves — it looks like day one of filming included the couple cuddling in bed.
Fitz-Henley is taking on the role of Markle, while British actor Murray Fraser will play her prince. Those who were concerned about Murray's lack of red hair in the first photo Lifetime released of the actor will be happy to know that's he definitely a ginger now. In fact, his TV partner in royal romance even mentioned his new look in the caption of her Instagram post. Fitz-Henley wrote,
"Sweet Dreams to you Love, #HarryandMeghan #ARoyalRomance @Lifetimetv #MurrayFraser Day 1 #gingerlove"
It must be said that Lifetime's depictions of real-life people aren't always factual — see 2011's William & Kate: The Movie — so there are plenty of ways this fictionalized version of Markle and Prince Harry's love story could go wrong. However, there's also no denying that Fitz-Henley and Fraser look absolutely adorable in the first photo from the set. If nothing else, Lifetime's casting choices should be praised, because these two could be the happy couple's royal doppelgangers.
According to Deadline, Harry & Meghan: A Royal Romance is set to explore all aspects of the couple's relationship. The movie is set to depict the initial setup that led to the Suits actor and the prince's romance, the period of time they were able to keep their status as a couple secret, and the media sensation they dealt with when the news went public. Curiously, the description also suggests that the movie will touch on Markle's life as a divorced, American actor — which seems to imply that the story may include scenes of Markle and Prince Harry's lives before they met, as well.
Honestly, both of these fascinating people's lives could warrant prequels, but it's best not to be greedy. One Lifetime movie about the newest royal couple will have to do — for now. And hey, there's definitely going to be scenes of the two snuggling in bed, so really, who could ask for more?
Now that filming has begun, eager fans of Markle and Prince Harry may not have to wait long before the movie has an official release date. If the scheduling for William & Kate: The Movie is any indication, then Harry & Meghan: A Royal Romance will make its world premiere before the real-life couple exchanges vows. Prince William and Kate Middleton's Lifetime movie aired 11 days before they walked down the aisle in front of the world, and the cable channel may take a similar approach when it comes to their latest unofficial royal film.
Even though the wait for the movie could be almost as long as the wait for Markle and Prince Harry's actual wedding, it sounds like Fitz-Henley is eager to share as much of the filming process as possible with her fans. In addition to the behind-the-scenes photo, the Jessica Jones and Midnight, Texas actor also shared first day updates through her Instagram story, and she sounds eager to take viewers on this journey with her.
In that way, Fitz-Henley not only looks like Markle, but she appears to share a few personality traits with the future duchess as well — namely, they both seem to have winning and open personalities. While this movie is very much an unauthorized retelling of the events that led to Prince Harry and Markle falling in love, it's nice to know that Lifetime found an actor who is clearly excited about portraying Markle. Since Markle has been in her share of made-for-TV movies too, it's fun to think that she might just secretly approve of her story getting the Lifetime treatment — especially with an actor as enthusiastic as Fitz-Henley portraying her.