Linda Thompson Reacted To Brandon & Leah Jenner's Split Like Any Supportive Mom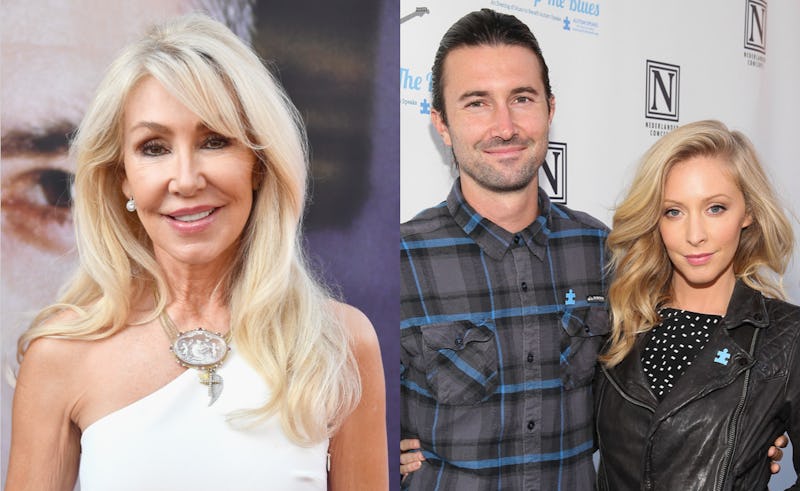 Frazer Harrison/Getty Images Entertainment/Getty Images; Imeh Akpanudosen/Getty Images Entertainment/Getty Images
After the sad news about her son broke on Monday, Linda Thompson responded to Brandon and Leah Jenner's split in a supportive statement she posted on Instagram on Tuesday. If you didn't hear, on Sept. 10, Brandon and Leah announced they were splitting after six years of marriage and a total of 14 years together as a couple. Like their fans, Thompson is also upset about the two going their separate ways. That said, she also respects their decision and continues to support them.
Brandon's mom Thompson wrote,
"Although I am personally saddened by the demise of the romantic love that @brandonjenner & @leahjames have shared for so many years, I have full confidence that they will continue to be exemplary parents to their beautiful little Eva, and will remain loving best friends who share a remarkable, memory filled history. We remain forever a family...#nothingbutlove."
She also captioned her Instagram by thanking everyone for sending love their way. "Life & Love are both unpredictable, yet beautiful gifts in any incarnation," Thompson wrote. "Thank you to all our friends & family, near & far, for your loving best wishes…"
On Instagram on Sept. 10, Brandon and Leah released a joint statement announcing their breakup. Just like Brandon's mom and Leah's former mother-in-law, they remained positive and made it clear they continued to have each other's backs, despite their separation.
Part of their lengthy statement read:
"Even though we have chosen to separate as a couple, we still love one another very, very much and remain a major part of each other's lives- as best friends, family and loving parents to our daughter. There has been no lying or cheating or fighting that prompted this change, just an expansion of our individual evolution which has inspired us to support each other in a new way. We are still, very much, a loving family and are bonded by a deep connection that is rooted in love."
As they said in their statement, they won't be discussing their split any further. And like they revealed, the reason they've decided to end their marriage simply stemmed from them growing as individuals, and had nothing to do with a third party, lying, or arguing. It also sounds like they came to what probably was a difficult decision mutually.
After knowing each other since they were in middle school, according to Entertainment Tonight, Brandon and Leah got married in May 2012. There's a lot of history between them and their families. They will forever remain in each other's lives, as Brandon, Leah, and Thompson have all stated, but especially for Eva James Jenner. Leah and Brandon welcomed Eva, their 3-year-old daughter, on July 22, 2015.
For many reasons, their bond will remain strong. It certainly appears Thompson still considers Leah family. After the two got married six years ago, Thompson told People, "Brandon and Leah are the most beautiful reflection of each other. They not only bring the best out in each other, they believe the best about each other."
It sure sounds like that's how they continue to view each other, even after breaking up. Actually, it seems that's how Thompson still sees her son and Leah to this day. The love and support they all have for each other is truly beautiful.