Lindsay Lohan's Response To Arianna Grande's "Thank U, Next" Video Is Classic Cady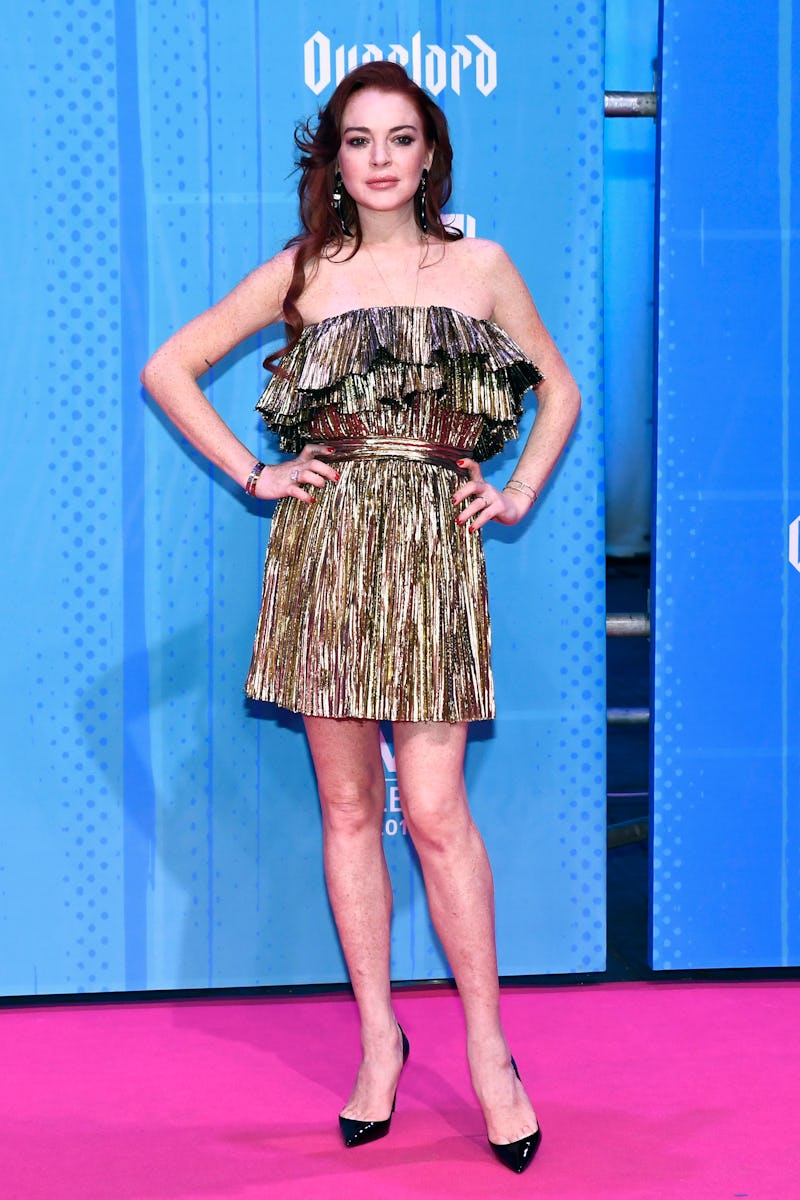 Carlos Alvarez/Getty Images Entertainment/Getty Images
Paying homage to a pop culture classic (the right way, at least) with your own art decades later is definitely no easy feat. But, after reading through Lindsay Lohan's response to the "Thank U, Next" music video, it seems clear that Ariana Grande — bless her cinematically savvy heart — did manage to do it. Commenting on all of those Mean Girls references that quite literally took center stage in Grande's "Thank U, Next" video, Lohan turned to Instagram Sunday morning, Dec. 2, with some welcome words of praise for the singer's newest project.
Captioning a clip from the original Plastics' history-making talent show routine, which Grande recreated in her music video, Lohan wrote on IG,
"@arianagrande I love #thankyounext video! All of the original Mean Girls are very flattered. ' tis the season"
Lohan is the only OG Mean Girl to comment on Grande's "Thank U, Next" video thus far. Rachel McAdams, Lacey Chabert, and Amanda Seyfried (AKA Regina George, Gretchen Wieners, and Karen Smith, respectively): Feel free to follow suit as you see fit. Until then, Grande fans and Mean Girls fans alike will just have to take Lohan's word for it about the "flattery" thing. Of course, for those who've seen Grande's "Thank U, Next" video, it's probably not so hard to believe.
In addition to recreating scenes from Legally Blonde, 13 Going On 30, and Bring It On, the widely anticipated music video — which finally, gloriously, saw its release Friday, Nov. 30 — threw it back to the socially cutthroat halls of North Shore high. Grande's "Thank U, Next" reimagined several of Mean Girls' most memorable scenes throughout its 5-minute run, though perhaps the funniest of them was the video's take on that "Jingle Bell Rock" routine.
"I bruised my thighs horribly from doing this slap," wrote Dynasty star Elizabeth Gillies, who played Cady to Grande's Regina in the singer's new music video, on Twitter Friday afternoon. Audiences who've now watched either iteration of the Plastics' timeless talent show performance probably know exactly which "slap" Gillies was talking about here. (Those who need a memory jog should take a look at the Tweet's accompanying GIF and/or Lohan's new IG post.)
Despite the injuries, it looks like Gillies (and Grande, and everyone else who made her "Thank U, Next" video possible) still snagged the original Cady Heron's stamp of approval. "Behind the scenes," wrote Lohan, captioning a super sparkly selfie shared to Instagram last Wednesday, Nov. 28, two days before the video was actually released. As most Grande fans know, Mean Girls' inclusion in Grande's "Thank U, Next" video was the subject of a whole medley of teasers in the weeks leading up to its full-fledged release, so Gillies' role in it had already been semi-revealed at the time.
Conceivably voicing her support for both the video itself, as well as Gillies' Cady Heron interpretation, Lohan wrote on IG,
"ain't nobody Lindsay Lohan like the real Lindsay Lohan. But so flattered by @arianagrande loving #MeanGirls so much! Also, I love #dynasty."
And that was before Grande's "Thank U, Next" video had even graced the internet. So, while the video is certainly an artistic triumph in and of itself, it's probably nice for the singer to know those who inspired it are enjoying the rom-com throwbacks just as much as the rest of us.