Ariana Grande's "Thank U, Next" Video Just Dropped To Fill All Your '00s Rom-Com Dreams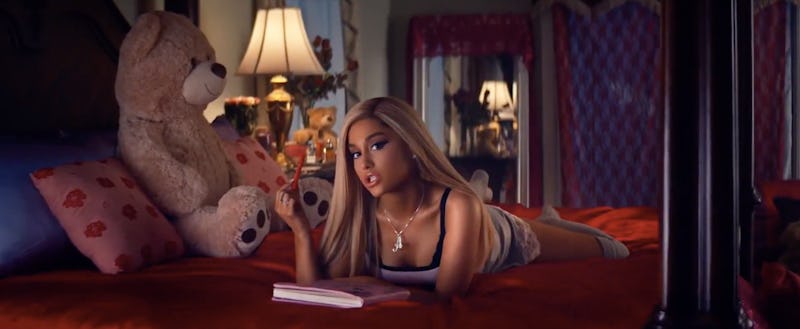 Ariana Grande/YouTube
In the market for a stylized mishmash of pop cultural classics, set to the tune of an ultra-empowered 21st-century banger? Well, as far as cinematic throwbacks and quality music are concerned, Ariana Grande's "Thank U, Next" video pretty much fits the bill on all fronts. After more than a week of teasers, the music video saw its highly anticipated release on Friday, Nov. 30.
And as any early-2000s romantic comedy lover will tell you, it surpassed even the highest of expectations. Fans who've watched Grande's "Thank U, Next" video — or, alternatively, kept up with the singer's periodic, albeit slightly vague, updates about it on social media these last couple of weeks — know this one really knocked it out of the park with pop culture references.
When Grande first performed "Thank U, Next" on television, during an appearance on The Ellen DeGeneres Show, she threw it back to the '90s with a First Wives Club-inspired performance. For the performance, the singer and her crew dressed as characters from the iconic '90s movie. She even recreated an iconic dance move from the film. But in her new music video, the singer is throwing it back to a slightly more recent decade.
Rather than throwing it back to the '90s, Grande's "Thank U, Next" video keeps things slightly more contemporary with several montage-style nods to the early-2000s. Suffice to say, if the singer's excellent taste in movies was ever up for debate, it definitely shouldn't be anymore. Grande's "Thank U, Next" video references some of the coolest rom-com treasures the 2000s have to offer, all rolled up in one. As Grande revealed on Twitter last week, her "Thank U, Next" video nods to four different rom-coms: Mean Girls, 13 Going On 30, Legally Blonde, and Bring It On.
But as her followers know, the "reveal" certainly didn't come all at once. In typical fashion for the star, she released a periodic string of teasers via social media instead. First up? Mean Girls. On Monday, Nov. 19, Grande sent fans into a full-fledged frenzy when she took to Instagram with a series of (mostly) context-less photos that alluded to the 2004 teen comedy movie.
"meet the plastics," read just one of several captions shared to both Grande's Instagram and Twitter accounts, alongside photos from what fans now know to be the Mean Girls-centric segment of her "Thank U, Next" video. At the time, Grande let fans know she was about to spill some tea, though she warned it was only "like 25% of the cup" in a message posted to her Instagram Story. In the days that followed, it slowly became clear that the cup's remaining 75 percent was comprised of three more rom-com references slated to make an appearance in the music video.
"whoever said orange was the new pink was seriously disturbed," Grande captioned another Instagram one day later. If the early-2000s iBook and "Harvard University" tag in the location spot didn't already give it away, she confirmed later via her IG Story that, yes, Elle Woods would be making an appearance in the "Thank U, Next" video as well. (That IG Story also confirmed 13 Going on 30's inclusion in the "Thank U, Next" lineup.)
And, last but certainly not least, Grande unveiled her fourth rom-com pick on Twitter the day before Thanksgiving, on Nov. 22. Captioning a tweet whose accompanying photo saw Grande looking a lot like Eliza Dushku's character from 2000's Bring It On, she brought back perhaps one of the most iconic lines in fictional cheer history: "i transferred from los angeles, your school has no gymnastics team this issaalast resort ........ ok i've never cheered before so what?"
So, obviously, Grande's "Thank U, Next" video saw quite a bit of pre-release enthusiasm. And now, after watching the video in full, it seems safe to say the buildup (agonizing as it felt at times) was totally worth it.