Ariana Grande's Latest "Thank U, Next" Music Video Photos Have A Fetch 'Mean Girls' Cameo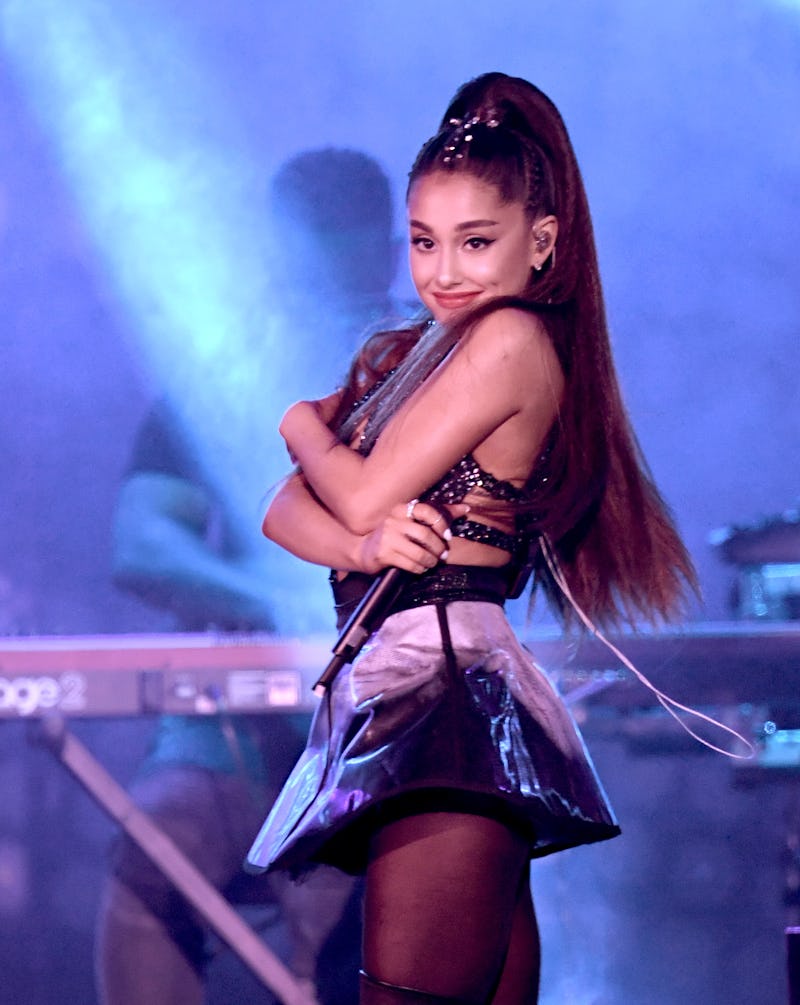 Kevin Winter/Getty Images Entertainment/Getty Images
The holiday season might have just kicked off, but Ariana Grande is making every day feel like Christmas as she continues to offer glimpses into the music video for "Thank U, Next." Another tease of the Mean Girls part of Grande's "Thank U, Next" video has the singer dressed as Regina George joined by her friends in the other iconic roles of Cady Heron, Karen Smith, and Gretchen Wieners. As Entertainment Tonight reported, Grande managed to get the actual Aaron Samuels himself — actor Jonathan Bennett — to reprise his role from the 2004 film. And, as if you had any doubt, the photos shared by Grande on social media just further prove that this "Dangerous Woman" is the ultimate Queen Bee.
Grande channeled the '90s film The First Wives Club for her first live performance of "Thank U, Next" on The Ellen DeGeneres Show. Then she revealed that she will recreate portions of Mean Girls, 13 Going On 30, Legally Blonde, and Bring It On for the song's music video. Grande had already posted photos dressed as Rachel McAdams' Regina writing in the "Burn Book." But the photos from Saturday feature Grande in the halls of North Shore High School with Elizabeth Gillies as Cady, Alexa Luria as Karen, Courtney Chipolone as Gretchen, and Bennett as Aaron. It's a truly glorious recreation that reminds you that the limit does not exist for Grande and company.
Luria and Chipolone are also in the Bring It On portion of the video and Grande goes way back with them and Gillies. Grande and Gillies were on Victorious together, Luria and Grande met in elementary school, and Grande has a pun-tastic tattoo honoring Chipolone on her knee. As PopBuzz noted, Grande and Chipolone may actually be cousins, but it's currently a topic up for debate. People are confused as Amanda Seyfried's Karen since Grande posted a photo of her Chipolone kissing with a caption that's a riff on one of Karen's most air-headed Mean Girls quotes (and that's truly saying something): "Yeah, but she's my FIRST cousin."
But biological family or not, Grande's social media shows that she has been surrounding herself with her supportive friends since her breakup with former fiancé Pete Davidson. For example, Grande wrote in an Instagram Story about Luria and some other friends, "I have no words to describe how much I love and am eternally grateful for these human beings who constantly help me turn lemons into lemonade and literally heal me and put me back together." So it's only right that some of these pals get a chance to play alongside her in the 2000s romcom fever dream that will be the "Thank U, Next" music video. Plus, people can't get over how much Gillies, who's currently on Dynasty, looks like Lindsay Lohan in the photo.
As for Bennett, he apparently was totally game to take on his Mean Girls character again for Grande. When Grande shared the original photos of her dressed as Regina, Bennett commented on Instagram, "You look just like her. (And I would know)" to which Grande replied, "thank you mr. samuels." Bennett's official involvement was then confirmed on Saturday with the photos of him on the set of the video. He also posted a selfie with Grande in costume where he wrote, "Aaron ❤️ Regina. Thank U, Next."
Even though she really does look so much like Regina George as Bennett said, Grande also revealed that she added her own spin to McAdams' costume. Instead of her shirt saying, "A little bit dramatic," like it did in the movie, Grande's version says, "A little bit needy." This is a nod to another new song that Grande has teased, "Needy," which contains the lyrics, "And I can be needy, way too damn needy."
The more previews that Grande shares from "Thank U, Next," the more excited fans get for this epic music video. (And the more theories are fueled, like could Kim Kardashian be playing Regina George's "cool mom" in the vid?) Because alongside her closest friends, Grande has perfectly encapsulated the essence of the characters that Lohan, Seyfried, McAdams, and Lacey Chabert created. So while you might not be able to sit with them, you'll definitely be able to watch them tear up the screen when Grande graces the world with the "Thank U, Next" video.