Camille Grammer's Reaction To Lisa Vanderpump Missing Her Wedding May Surprise You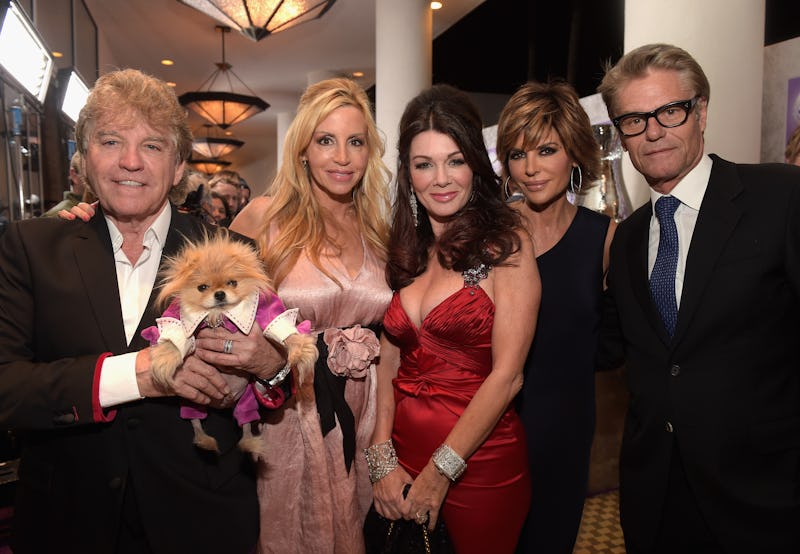 Jason Kempin/Getty Images Entertainment/Getty Images
If you didn't hear the news, Real Housewives of Beverly Hills star Camille Grammer got married to David C. Meyer in a stunning ceremony that took place in Hawaii on Oct. 20. Several of her costars were in attendance; however, Lisa Vanderpump didn't attend Camille's wedding. LVP's absence caught the attention of many fans, especially because all of the rumored drama that's supposedly been happening with her during the filming of Season 9. Well, Camille has since responded to Vanderpump not celebrating her special day in person, and believe it or not, but Camille has no hard feelings.
In an interview with People, not only did Camille say she "understands" why Vanderpump didn't fly all the way to Hawaii for her nuptials, but also added, "I respect her decision. Lisa was very apologetic about it."
Camille even praised Vanderpump for pushing her to find love again after her awful divorce from Kelsey Grammer and all of the other hardships she's faced. "She encouraged me to take a leap of faith on this journey," she said before adding about the Vanderpump Rules star, "She really did. She told me, 'You've got to take a leap!'"
A source told People that Vanderpump has been having a hard time lately, which may or may have not factored into her decision to skip Camille's wedding. The source claimed, "She's going through a lot right now. It's not been the best time for her," before noting that the death of Vanderpump's brother, Mark Vanderpump, "took a toll" on her.
In October, Vanderpump told E! News that losing her brother has made her "more emotional than I normally am." She continued, "It's not about putting on anybody else. I don't need support. I don't need sympathy. I just need to process it myself. It's been hard. Yes, I am a strong woman but I'm still emotionally vulnerable."
Whatever the case, Camille seems absolutely fine that Lisa couldn't attend. Thankfully, she had her other costars in attendance, including Dorit Kemsley, Teddi Mellencamp, Lisa Rinna, and Kyle Richards, who also served as a bridesmaid.
Many fans also inquired about Vanderpump's absence in Kyle's Instagram comments. As you can see below, one fan asked where LVP was and Kyle simply replied, "This is Camille's day." According to Us Weekly, Kyle also told other commentators that LVP "was invited" and that there's was no truth to the assumption that Vanderpump didn't attend because "none of [the women] are speaking to her."
As for Erika's lack of attendance, E! News reported on Oct. 21, she had a prior work commitment due to her Pretty Mess tour. E! News also reported that Denise Richards couldn't attend becuase she was filming a project in Connecticut.
Erika sent Camille a huge congratulations on Instagram, in which Camille replied, "Thank you! You were missed."
On Oct. 20, the same day as Camille's wedding, Vanderpump posted a throwback of herself from a 2015 Los Angeles Dodgers game, where she threw the first pitch. She captioned it,
"Now, let's concentrate on the important stuff... Go Dodgers!!! If you need me back to throw the first pitch, I'm available."
It's unclear if this was Vanderpump's way of responding to her missing Camille's wedding or simply a post celebrating the Dodgers heading to the 2018 World Series.
There's no denying Vanderpump not being at Camille's wedding has fans asking a lot of questions. That said, one thing remains clear and that is Camille isn't angry at LVP. So, let's focus on the good, which is Camille has finally found happiness and is head over heels in love. She certainly deserves it.