Lisa Vanderpump's Brother Mark Has Reportedly Died At Age 59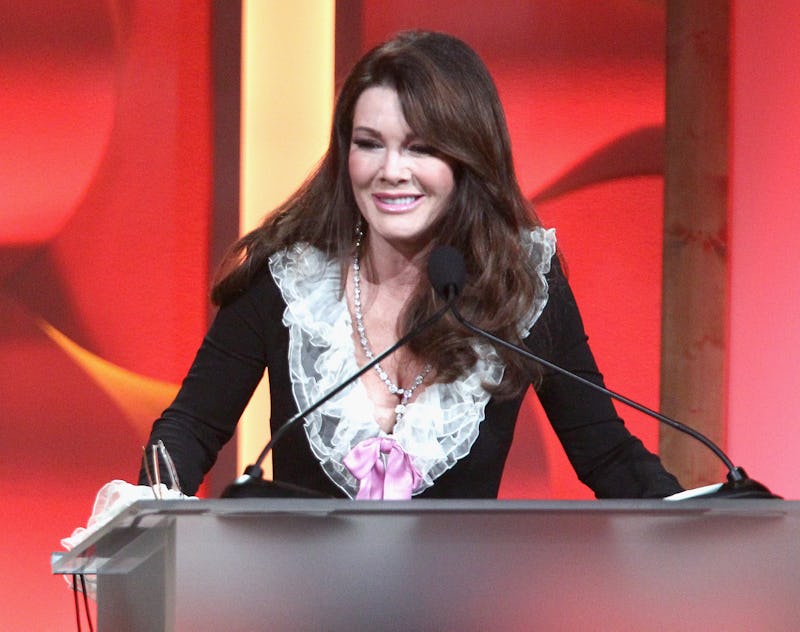 Tommaso Boddi/Getty Images Entertainment/Getty Images
Restaurant mogul and reality show icon Lisa Vanderpump has been uncharacteristically quiet on social media since April, and there may be a sad reason behind it. Lisa Vanderpump's brother Mark reportedly passed away at the age of 59. According to People, the star's older brother worked as a DJ in the United Kingdom for years, and was found at his home in Gloucestershire, England on April 30. Mark was Vanderpump's only sibling. Bustle has reached out to Vanderpump's representatives, but did not receive an immediate response.
In a statement to an online version of the UK paper The Daily Mail, Vanderpump reportedly said the following:
This has come as a shock to us all. My brother and I had connected the day before this tragedy and I was completely unprepared for this. He was my only sibling and I am shocked and saddened by his passing. I am trying to be supportive to his two young sons that he has left behind, and help them get through this tragedy. We appreciate your consideration in this private and extremely difficult family time.
Daily Mail also notes that Vanderpump has not been spotted out in public in recent weeks, nor has she posted on social media since April 30 — the day her brother was reportedly discovered to have passed away.
After decades of successful business and entrepreneurial partnerships with her husband, Ken Todd, Vanderpump rose to international prominence on the Bravo smash hit The Real Housewives of Beverly Hills in 2010. It later spun off into Vanderpump Rules, affectionately known as Pump Rules, which centers on the personal lives of employees at the West Hollywood restaurants owned by Vanderpump and her husband. The show frequently shoots inside of the Vanderpumps' Beverly Hills home, and entire seasons have followed her as she works to construct new businesses in the area. For all her family's publicity, though, she rarely mentioned her brother Mark on television. As is often the case, social media tells a different story about their relationship. Whenever the two were in the same city, they'd take photos together, whether they were dining out, having a drink, or just bonding like siblings do.
Vanderpump and Ken met, married, and began their businesses in the UK. They also raised daughter Pandora and son Max there together. Eventually, the family relocated to the Beverly Hills neighborhood of Los Angeles, but Lisa's extended family remained across the pond. The Vanderpumps' daughter Pandora manages aspects of the business, and she and her husband Jason have made appearances on the show. Son Max is frequently featured as well, as he's still working his way up through the ranks at SUR. Mark also worked in entertainment — he was a DJ, and he frequently tweeted pictures from nightclubs — so it must be a Vanderpump gene.
Though Vanderpump and Ken are high-profile entrepreneurs and star in two television shows on Bravo, they typically keep their personal lives private. Reportedly, Vanderpump has not made a statement to anyone other than Daily Mail. She has not addressed her brother's reported passing on social media, and has not made any personal or professional appearances since April 30. The Daily Mail notes that Mark is the father of two sons, and it's possible that Vanderpump is taking time out of the spotlight to be with family during this challenging time.
Despite her status as a well-known and beloved public figure, Vanderpump and her family deserve absolute privacy at this time. Vanderpump and her husband are also media-savvy, as the family has long been accustomed to the spotlight. If the family needs to make a public statement in addition to the one Lisa gave the Daily Mail, they will do so on their own timeline.