Lisa Vanderpump Finally Responded To THOSE Rumors About Her 'RHOBH' Future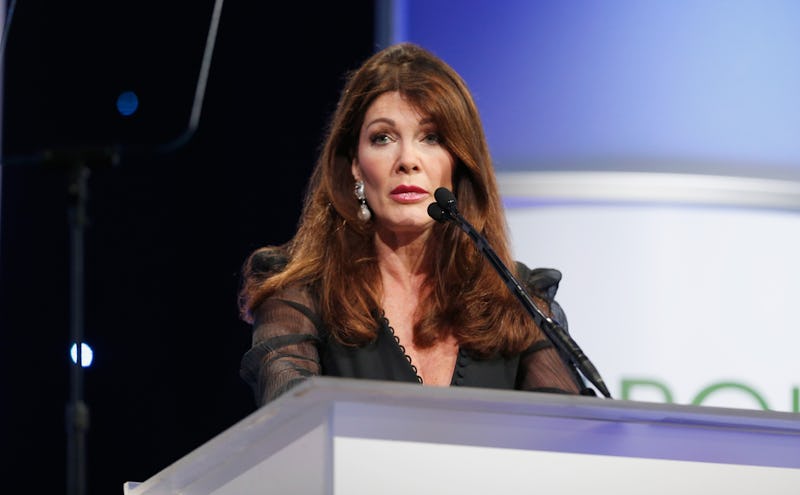 Rich Polk/Getty Images Entertainment/Getty Images
The crown is heavy, indeed, darling. As rumors that Lisa Vanderpump is leaving The Real Housewives of Beverly Hills continue to circle, LVP herself told Entertainment Tonight that she's not abdicating her RHOBH throne just yet. "I haven't said anything for two months. Now, everybody's been talking about this. I've just been going about my business and doing my things," the Bravo reality star told ET at her 3rd Annual Vanderpump Dog Foundation Gala in Los Angeles on Thursday, Nov. 15. "I am in the show. I have not quit, and if I did quit, it wouldn't just be a leaked story. I would be upfront, and I have a lot of loyalty to the production company and the network."
In true LVP fashion, the Vanderpump Rules restaurateur also tweeted a slightly more veiled message (along with an illustrated image of herself) one night earlier. "If you hear it from me...It has to be true," she wrote, likely in response to rampant speculation that she had quit RHOBH ahead of its early 2019 Season 9 premiere. "Until then, not so much." (When Bustle previously reached out regarding these reports, her rep had no comment.)
Even so, the SUR co-owner did also admit to ET that it has been a "difficult" and "very challenging" season. "I'm in a lot of it, but there are some parts I skip, and I think people have seen that," she added.
Back in September, fans began to question whether Vanderpump would return to the Bravo series she's starred in since the franchise's 2010 inaugural season. First, reports surfaced that LVP was miffed that her RHOBH costar Dorit Kemsley had rescued a four-legged friend from Vanderpump Dogs, only to later drop off the pooch at another shelter. (Vanderpump later defended Dorit, telling TMZ, "it didn't happen the way it's being reported.")
When a visibly annoyed Lisa Rinna and Erika Girardi (AKA Erika Jayne) appeared in an Instagram Live video the same month claiming a then-unnamed cast mate "won't come shoot with us," leaving the rest of the women to be "sequestered in a room," all signs pointed to LVP. (Girardi later confirmed those suspicions to E! News.)
From there, the rest naturally played out on social media. In light of various ambiguous posts and comments, Bravo stans began to read between the lines when Vanderpump stopped appearing in her cast mates' Instagram group photos, seeming to indicate she had not been filming at all. She was most noticeably absent from pal Camille Grammer's October wedding in Hawaii. ("I respect her decision," Grammer later told People. "Lisa was very apologetic about it.")
When Rinna, Girardi and Kemsley, along with Teddi Mellencamp and Kyle Richards, said bonjour to a cast trip to France earlier this month, LVP was, once again, nowhere to be found.
As Richards explained to Us Weekly of LVP's absences:
"If she's not there, it's because it's her choice. So, I mean, I love Lisa and I have to respect that it's her choice. People speculating or people saying, 'Oh, she's being bullied or excluded' is not true. That's not the case at all. So they're going to have to watch this season and see themselves but, you know, she's always included, and I guess if she wants to come around and show up, she will."
Vanderpump, whose brother Mark died suddenly earlier this year, somewhat echoed those sentiments to ET, saying fans will "have to watch the show" to find out the full story. "I think that's what's fascinating about the show, because you see the buildup, you see the story, you go on the journey, and for me to say, 'Well, this happened,' it would be kind of cheating you, really," she added. "You need to go on the journey."
As for whether Season 9 will be Vanderpump's last, however, she told ET that it "remains to be seen" and that she's "just concentrating on this season."
LVP is famous for her rosé, but fans will have to stay tuned if they want to get the tea.