This Company Wants To Change How We See Lube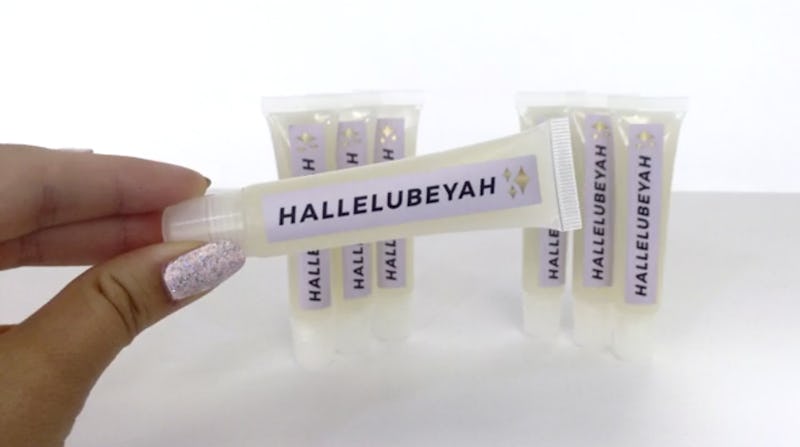 Courtesy of Lovability
Last fall, Tiffany Gaines set out to change how we use, carry, and think about condoms through her company Lovability, which sells comfortable lubed condoms in beautiful tins with empowering slogans like "talk feminist to me" and "babe with the power." Now, she's at it again with Lovability's "Hallelubeyah" lube, an organic, vegan, aloe vera-based lube that slips inside your purse like a lip gloss tube. Hallelubeyah serves a similar purpose to Lovability condoms: By making lube a fun, everyday item, Gaines wants us to get comfortable carrying sexual health products — and talking about sexual health.
Gaines sent me a few tubes, which cost $12 each or $20 for two, and an impressive amount came out of each 15 mL container. I was also impressed that I could barely feel it there. My skin is pretty sensitive, so some lubes irritate me, but this one felt almost like my natural lubrication. Gaines tells me she took extra care to make it this way. "It is totally different than other lubes in the sense that it is fragrance-free, chemical-free, and truly mimics the feeling of natural wetness," she tells Bustle. "It doesn't have that weirdly smooth oily feel."
The most unusual thing about it, though, might be the packaging — and that's intentional, too. Gaines grew determined to make lube purse-friendly when she realized a lot of people have insecurities about vaginal wetness. The same way some people with penises might fear disappointing their partners by not getting hard, many people with vaginas fear that by not getting wet, they're conveying a lack of interest or letting their partners down. "But most people with vaginas will tell you that wetness can be affected by a multitude of factors, like our hormones, cycles, environment, or it can be totally random," Gaines says.
I've definitely felt the stigma she's talking about. My partners always commented on how wet I got and seemed very pleased with it, so I took pride in that. When I've felt like I needed lube to help accommodate a larger penis or toy or keep myself going longer, it's felt like a wound to that image of myself.
Unfortunately, many still see lube as something you only need if you have some sort of sexual dysfunction. A scene in the movie Superbad perfectly illustrates this view: When Evan says he's bringing lube to a party where he might hook up, Seth responds, "What, you think Becca's going to be psyched that you brought a bottle of lube? 'Oh, Evan! Thank you so much for bringing that lube for my pussy! I could never handle your fucking four-inch dick inside my pussy without your gigantic bottle of LUBE!' These girls are 18 years old. They aren't dried up old ladies, man. They're good to go!"
If lube were just a normal thing for everyone to carry around, fewer of us would probably see it this way. But for those who are uncomfortable telling their partners they're using lube, Gaines points out that Hallelubeyah can be applied in the bathroom without your partner knowing, since it mimics vaginal lubrication. Carrying it around with you also opens it up for other purposes, like easing tampon insertion and soothing a dry vagina.
"We hope Hallelubeyah gives people a sense of control and power over their wetness," says Gaines, "and helps open up the conversation about the stigmas and inaccurate connotations surrounding vaginal wetness and its connection to arousal." Personally, I would love to see a day when lube and condoms are both standard pocket and purse items — because that would mean people are viewing them less like Seth and more like Evan.