'Love Island' Star Dani Dyer Has A Connection To Keira Knightley And We're SO JEL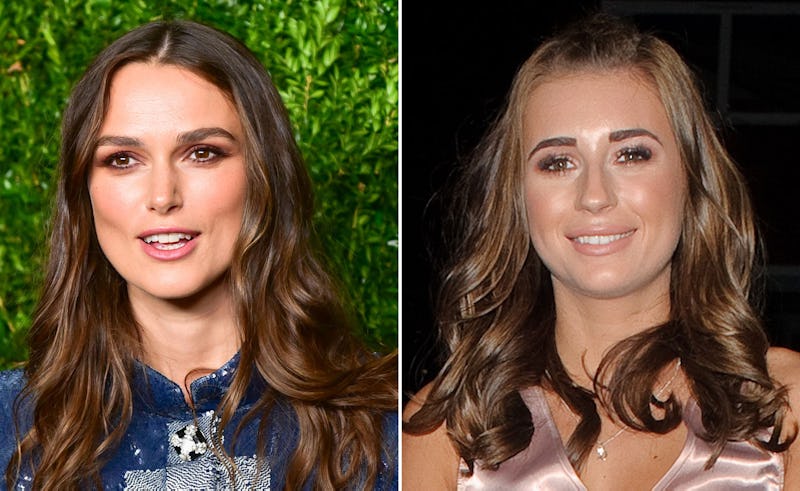 Sean Zanni/Getty GOR/Stringer/Getty
Love Island newbie Dani Dyer has a pretty impressive claim to fame — her dad is EastEnders star Danny Dyer. But most people already knew that. What fans probably weren't aware of however is her rather unusual connection to a certain Oscar-nominated actress. Before she shot to fame in Bend It Like Beckham, Keira Knightley babysat Dani Dyer. Yes, really.
Though she is only 22, the new Love Islander has some pretty interesting stories to tell about brushing shoulders with celebrities. Of course, being looked after by Knightley is hard to beat. So, what exactly was the Pirates of the Caribbean star like as a babysitter?
Before entering the Love Island villa, Dyer revealed all in an ITV press release. Spilling the beans, she said: "Keira Knightly once babysat me! Her partner at the time was in a film with my dad. I had no idea who she was. We went swimming together. It was only when I watched Bend It Like Beckham that I realised who she was."
During an interview back in 2015, the Mirror reported that Knightly was paid a few pounds for babysitting duties. The actress, now aged 33, was only around 17 when she kept an eye on the soon-to-be Love Island contestant until her parents got back from work. "She was really nice and fun, and let me stay up past my bedtime, but we didn't tell my parents," Dyer told the paper. "Sometimes she let me have sweets too. I would love to see her again and see if she remembered me."
If Dyer is any bit as inimitable as her dad, Knightley will definitely remember her. And if she does, the actress, who had her first child in 2015 with Klaxons musician James Righton, could always call on Dyer to return the favour and babysit her little girl, Edie. If the rising reality personality has time that is, given her schedule this summer is now full thanks to Love Island 2018.
Before signing up for the ITV2 reality show, Dyer had been single for two years. However, after a lengthy break from boys, she reckons she is now ready to settle down and get into a serious relationship. "I'm looking for someone really genuine," she revealed in an ITV press release. "In past relationships I have had so many mind games going on and I want someone who bigs me up as much as I big them up. I like paying compliments and I would like the same in return."
But despite deciding to take part in a dating show for the second time this year, Dyer insisted that it isn't her style. "It's such a personal thing but you're doing it on national television," she explained. "Falling for someone, not liking someone, letting someone's feelings down. I'm the sort of person that would rather be hurt than have to tell a boy I don't like them."
Of course, that doesn't mean she's not looking forward to getting stuck in once she enters the villa. In fact, she's looking forward to meeting the boys, going on dates having "normal conversations" — although, she would prefer an activity date as opposed to candlelit meal. "It's a good chance to get to know each other and have banter," she continued. "Something like crazy golf. That's when the flirting starts happening, when you have a laugh. I'm open to doing something different like that."
Hopefully, lounging around by a pool all day while working on your tan is also an ideal way to find love in Dyer's eyes, because once she walks through those villa doors, that'll pretty much be all she's doing.