Good News, 'RHONY' Fans: You Can See Luann's Cabaret Show Just In Time For The Holidays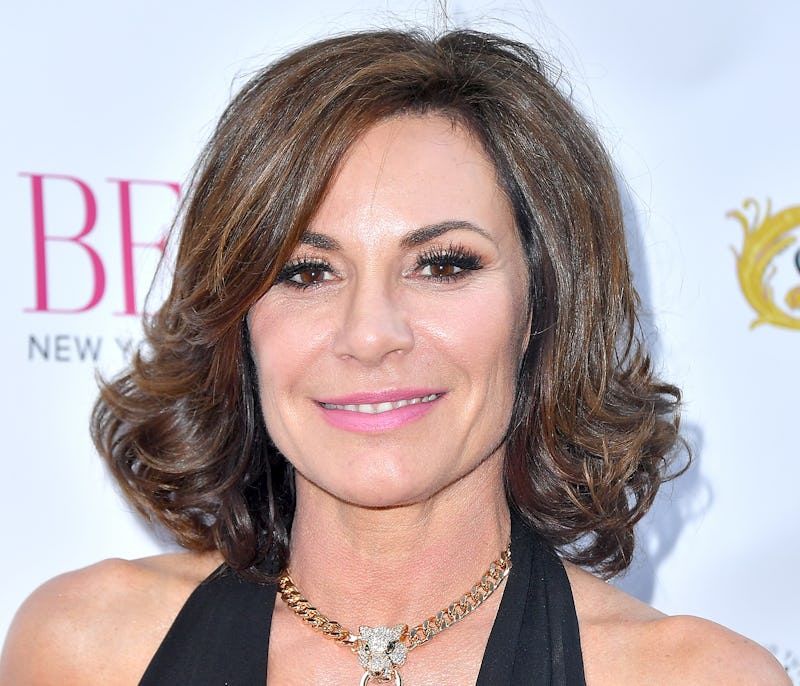 Michael Loccisano/Getty Images Entertainment/Getty Images
"Money Can't Buy You Class," but it can buy tickets to Luann de Lesseps' holiday cabaret show run, which the Real Housewife confirmed in an Instagram post. Yes, that's right, her hit act #CountessAndFriends has a run of shows just in time to celebrate the winter holidays this December. The Real Housewives of New York City cast member posted a photo of herself rocking a sparkling Jovani gown (of course) along with the big news.
On Wednesday, the "Girl Code" singer wrote,
"I know it's only September but I have a Christmas gift for you! We just added more dates for #countessandfriends. Go to my website for tickets."
It's never too early for a Christmas gift — or anything Luann-related, for that matter. The reality TV icon joked, "It's the perf gift for Christmas, either this or the nutcracker, right ?" Why not both? There's no such thing as too many holiday shows, right? (Budget dependent, of course.)
Nevertheless, it just doesn't get any better than Luann wearing Jovani gowns, singing "Money Can't Buy You Class," telling jokes at her own expense, and now there's a holiday twist thrown in. Luann really is the gift that keeps on giving, and that's why she has remained on Real Housewives of New York City since Season 1.
She also revealed the show locations and dates:
These holiday shows have been a long time coming. The New York Housewife recorded her first single "Money Can't Buy You Class" back in 2010. The song became instantly iconic among the Real Housewives super-fans. Some of Luann's costars gave her flack for trying to sing, but she just kept on going with her blissful enthusiasm. She recorded "Chic C'est La Vie" in 2011, and even included then-cast members Jill Zarin and Kelly Bensimon in the music video. Then in 2015, she was inspired by RHONY drama to record the song "Girl Code."
This past February, Luann had her #CountessAndFriends cabaret show debut. It was a triumphant moment for the mother of two. The show was well-received by critics, fans, and even her RHONY costars after a rough few months for the countess. Luann hit the stage soon after her December 2017 arrest in Palm Beach Florida and her subsequent rehab stint.
In an interview with the New York Times, Luann explained why she incorporated her public struggles into her cabaret. She kept it real, saying, "I can't avoid the whole story of what happened to me in Palm Beach." The mother of two shared, "I'm trying to keep it light while also taking it seriously. Obviously it was a really bad night for me and something I am not proud of." It's a very fine line to strike that balance, but Luann has succeeded.
Not only that, but doing the show has given the Real Housewife a much-needed pick-me-up after some tough times. In that same interview, she admitted, "To know that the show was totally sold out and people are still trying to get tickets is a really great feeling." Luann added,
"That I get to come back and have something creative to sink my teeth into has been really helpful for me, because it's been a rocky road, the past two years."
It really seems like this show has given the reality TV star a new purpose in life, helping her keep up the optimism when times were tough. Luann even shared an update from her second stint in rehab encouraging her fans to attend her summer performances.
Last month, Luann explained why her cabaret show has really changed her life and helped with her continued recovery in an interview with People. She revealed, "I feel like I've had a turning point." She also declared,
"I want to continue the success of my cabaret. This means everything to me. I'm not going to let drinking get in the way. It's too menial. I don't want to mess it up."
Luann's cabaret show has given her so much at this point in her life, and in turn, she's blessing her fans with performances during the holiday season. "Don't be all, like, uncool." Getting tickets for Luann's holiday shows is the perfect opportunity to see her thriving in her element and to celebrate a special time of year.