A New Interview With Luann de Lesseps Shows Her Getting Super Real About Her Arrest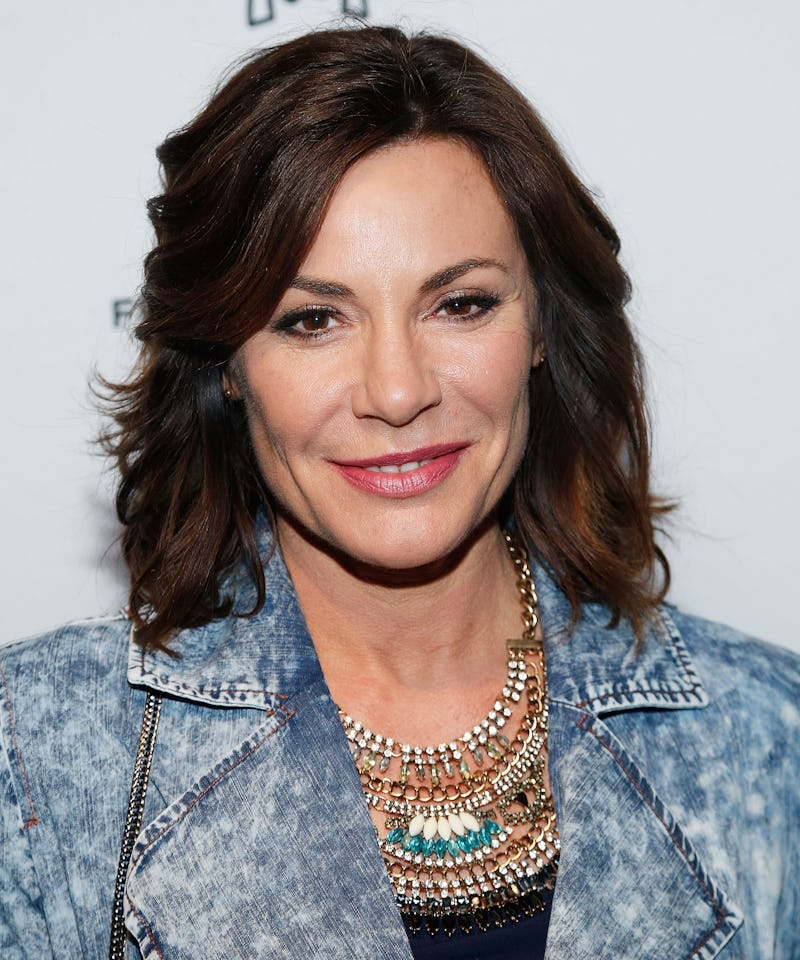 Lars Niki/Getty Images Entertainment/Getty Images
While appearing on The Dr. Oz Show Wednesday, Luann de Lesseps discussed more details about her arrest. The Real Housewives of New York City star didn't hold back and got very candid with Dr. Mehmet Oz about her side of what occurred in December 2017 at Palm Beach, Florida's Colony Hotel.
"So what happened was they come now to arrest me," she said. "Now, I'm a drunk woman in a hotel room — in my own hotel, but the wrong room, granted ... So they come after me and I was drunk, so I wasn't equipped to handle it. And I got scared and I ran like a child to the bathroom. OK, and so I locked myself in the bathroom and then he tried to open the door, and he opened the door and then I closed the door and it hit him in the forehead. So that's battery that I did on a police officer."
Dr. Oz also brought up the charges she's currently facing stemming from her arrest. The charges include alleged disorderly intoxication, battery on an officer, allegedly resisting arrest with violence, and allegedly threatening a public servant, the Palm Beach County Sheriff's Office confirmed to People on Christmas Eve 2017. At the time of her arrest, Bustle reached out to Bravo and de Lessep's rep for comment, but did not receive an immediate response.
Furthermore, on Jan. 25, the Bravolebrity was formally charged with a third-degree felony for allegedly resisting an officer with violence, according to documents obtained by Bustle from the State Attorney for Palm Beach, Florida. She was also charged with a misdemeanor in the first degree for allegedly trespassing in an occupied structure or conveyance and a misdemeanor in the second degree for alleged disorderly intoxication. Bustle previously out to a rep for de Lesseps for comment about the charges, but did not receive a response.
After Dr. Oz brought up the charges and said, "disorderly", "intoxication", and "resisting arrest", she responded, "Totally. I cop to it." She added, "Yes. It's all true. It's ridiculous, but it's true. And I feel so terrible, because it's so not me."
The Countess also went into detail about how many she drinks had that night. "I had rosé at lunch, with my girlfriend, we split a bottle of Whispering Angel, which is normal." She continued, "And then there were some people there that were fans, so they send me more rosé. So I drank more than I usually would."
She also said she and her friend had "not one martini, but two" before going back to the hotel. "So, by the time I get to the Colony, I was pretty sloshed." De Lesseps even said, "I almost think that somebody slipped me something, because I don't remember a thing after that."
Dr. Oz also asked the Housewife point blank if she thinks she's an alcoholic. "You know, it's a good question," she replied. "I don't really know. I think that I'm a self-medicator, that's for sure. I think that I was using alcohol to numb my pain and my emotions until it didn't work for me anymore, until it got me into a lot of trouble."
As for whether or not she'll quit drinking permanently (she's currently sober), the "Money Can't Buy You Class" singer told the daytime talk show host, "You know, I don't know. I live in the moment. I live for today. For today it's just not drinking and I don't really want to drink right now. I don't need it. I'm actually better without it, I'm so much better without it."
After her arrest was made public, de Lesseps took to Twitter and wrote, "I want to offer my most sincere apologies to anyone that I might have offended with my behavior. This was my first time in Palm Beach since my wedding and being here brought up buried emotions. I am committed to a transformative and hopeful 2018." She also confirmed she was entering rehab on Dec. 29 and announced she was home from rehabilitation on Jan. 23.
On Feb. 14, TMZ reported de Lesseps rejected a plea deal and a spokesperson for the State Attorney's office confirmed to Radar Online her team didn't accept the plea deal. The office's statement read: "We extended a plea offer. The defense has decided not to accept the offer, and to proceed with discovery." According to Radar Online, de Lesseps' attorney "waived a speedy trial and set a status check for April 13." Bustle reached out to de Lesseps' rep for comment, but did not receive a response.
No further details have yet been revealed about originally scheduled April 13 status check or anything else about de Lesseps' case.
When she appeared on Watch What Happens Live With Andy Cohen at the beginning of April, de Lesseps said she didn't think she would go to jail, but would probably receive community service, which she's "happy to do".