Everything 'RHONY' Fans Need To Know About Luann's Arrest Going Into The Season 10 Premiere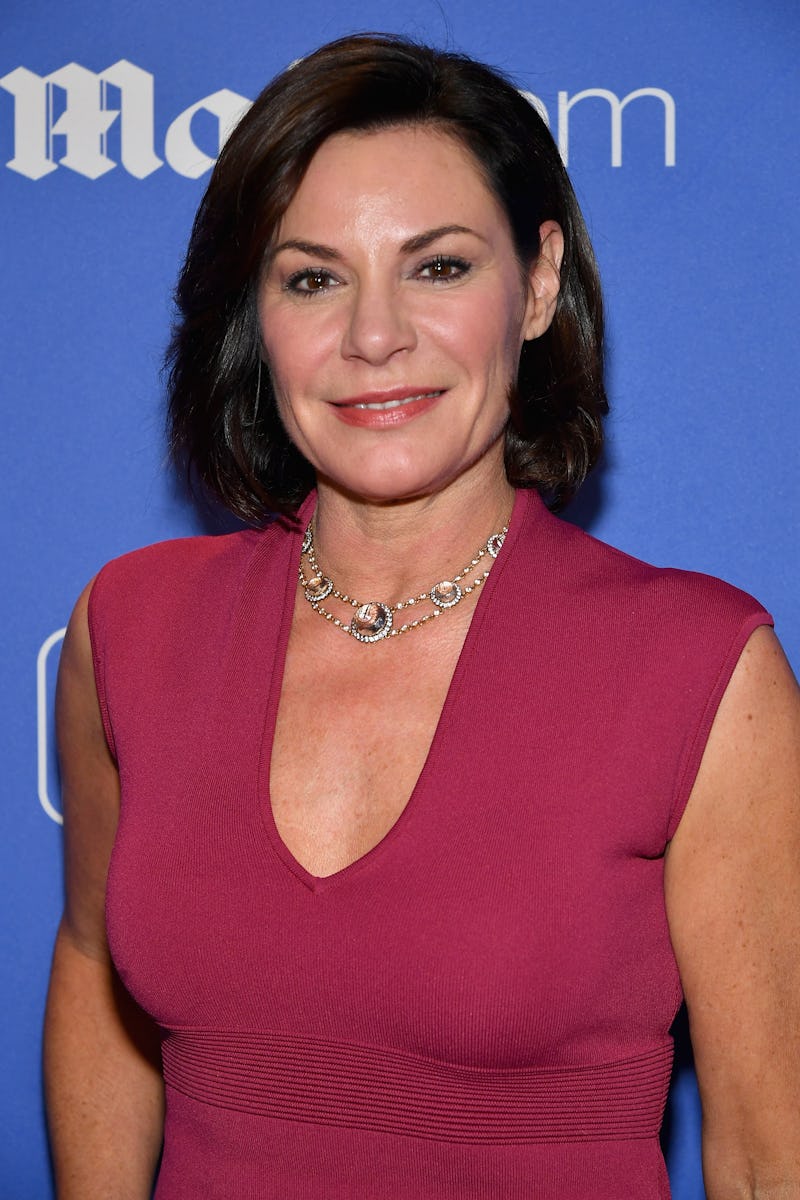 Slaven Vlasic/Getty Images Entertainment/Getty Images
In December 2017, Luann de Lesseps found herself in quite a mess. You may have read the headlines, but why did Luann get arrested, exactly? It all happened on Dec. 23 in Palm Beach, Florida, where de Lesseps was arrested and charged with alleged disorderly intoxication, battery on an officer/firefighter/EMT, allegedly resisting arrest with violence, and allegedly threatening a public servant, the Palm Beach County Sheriff's Office confirmed to People. At the time of her arrest, Bustle also reached out to Bravo and de Lessep's rep for comment, but did not receive an immediate response.
According to the police report obtained by Bustle from the Palm Beach Police, the 52-year-old RHONY star and a male friend allegedly entered the wrong hotel room at the Colony Hotel in Palm Beach, even though she had another room booked at the same hotel. The police report stated a security guard allegedly tried to make de Lesseps and her male friend leave, but ended up having to contact the authorities.
De Lesseps allegedly locked herself in the bathroom and refused to leave the hotel room, according to the police report. After eventually opening up the bathroom door, the Countess allegedly shoved the security guard in the chest and resisted arrest.
The police report also stated de Lesseps allegedly slipped out of handcuffs after she was arrested and tried to escape from the police car. The arresting officer allegedly had to remove her from the car and then put the handcuffs back on her. At this point, the police report also stated the "Money Can't Buy You Class" singer allegedly resisted again and allegedly yelled, "I'm going to f*cking kill you." According to the police report, de Lesseps allegedly tried to hold the police car door open by kicking it and the police officer had to physically place her back in the car. Bustle reached out to de Lesseps' rep for comment regarding the police report, but did not receive an immediate response.
According to a Dec. 24, 2017 report from the Palm Beach Post, de Lesseps was released on her own recognizance by noon on Christmas Eve. Also on Dec. 24, the Bravolebrity released a statement on Twitter (above) reading, "I want to offer my most sincere apologies to anyone that I might have offended with my behavior. This was my first time in Palm Beach since my wedding and being here brought up buried emotions. I am committed to a transformative and hopeful 2018."
The Palm Beach State Attorney's Office confirmed to Bustle that de Lesseps entered a plea of not guilty on Jan. 2 for all the charges. On Jan. 24, Bustle obtained documents from the State Attorney, which showed de Lesseps was charged with a third-degree felony for allegedly resisting an officer with violence. She was also charged with a misdemeanor in the first degree for allegedly trespassing in an occupied structure or conveyance and a misdemeanor in the second degree for alleged disorderly intoxication.
According to the Florida Department of Corrections and the Florida Legislature, a third-degree felony carries a sentence of no more than five years in prison. The Florida Legislature also states a misdemeanor in the first degree carries a prison sentence of no more than one year and a misdemeanor in the second degree carries a prison sentence no more than 60 days. Bustle reached out to de Lesseps' rep for comment on the charges, but never heard back.
Then, on Feb. 14, TMZ reported she rejected a plea deal. Details regarding the deal were not made available. A spokesperson for the State Attorney's office confirmed to Radar Online that the reality star's team didn't accept the plea deal. The office's statement read: "We extended a plea offer. The defense has decided not to accept the offer, and to proceed with discovery." Radar Online also reported de Lesseps' attorney "waived a speedy trial and set a status check for April 13." Bustle reached out to de Lesseps' rep for comment, but did not receive a response.
Following her arrest the Housewife entered rehab. "After the events of last Saturday night in Palm Beach, I am truly embarrassed," part of her statement announcing her plans read. "I have decided to seek professional guidance and will be voluntarily checking into an alcohol treatment center."
According to a Jan 23. tweet, she returned home from rehab and appeared to be doing much better. "It's good to be home," her tweet read. "I'm doing great. Spending time with friends and family. Thanking everyone for your continued good wishes and support."
Who knows what will happen from here on out, but the Countess is still staying front and center. From starring in her own cabaret show to appearing in RHONY Season 10, it seems like de Lesseps is going to keep on living her life — and a healthy one, too.
On Tuesday, de Lesseps spoke about her sobriety with Extra. She credits "sobriety, yoga, and cabaret" as three current important elements of her life. As for her drinking habits, she's done with alcohol. "At this point in my life, I don't want to drink, nor do I have interest in drinking," she admitted. "Rehab saved my life. It was the best thing that I could do for myself and I'm so glad I did that."
Despite everything she's been through, it sounds like de Lesseps is on the right path to a better, happier, and healthier life.