Madonna Posts A Short Film For Women Everywhere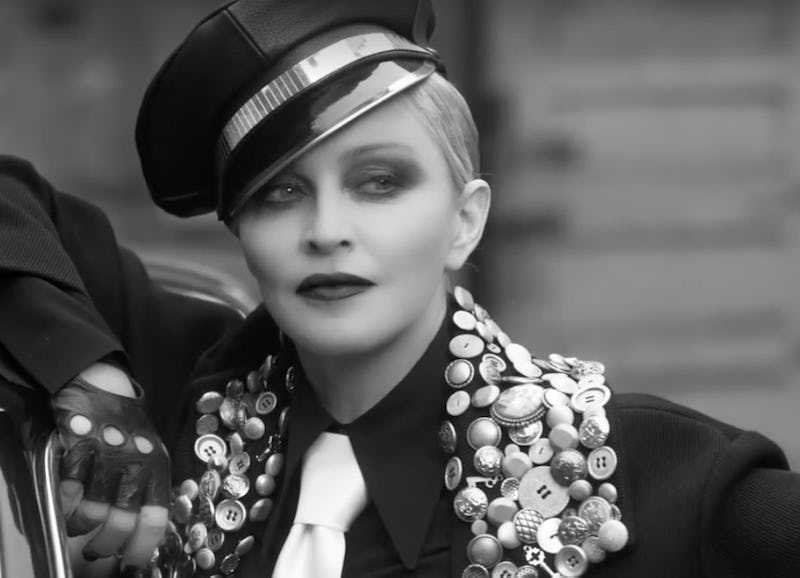 Madonna
International Women's Day on Wednesday inspired so many protests, opportunities for volunteering, and exciting statements of support from celebrities all over the world. Never one to shy away from controversy, Madonna's short film "Her-Story" was shared on Facebook with the caption, "Let's all celebrate #internationalwomensday with 'Madonna — Her-Story', a film dedicated to all women who fight for freedom!" Made by Vogue Germany and photographers Luigi and Iango, "Her-Story" is about women but aimed at everybody. In the video, Madonna's speech is a call to action, keenly focussed on human rights — particularly for any individuals who might be excluded or persecuted in society.
The entire film is shot in black and white, and the video begins with Madonna's narration as she smokes a cigar in the front seat of a car. The singer says,
"Welcome to the revolution of love, to our refusal as women to accept this new age of tyranny, where not just women are in danger, but all marginalized people, where being uniquely different might truly be considered a crime."
From the outset, "Her-Story" is totally in tune with the current political climate, especially the need for protests and a strong feminist attitude. As the Women's March on Washington, followed by A Day Without A Woman, proved, women's rights are crucial and under threat from the current government.
One of the most important statements in the video is the sentence, "not just women are in danger, but all marginalized people, where being uniquely different might truly be considered a crime." With outdated policies being reinforced under the new President, it often feels as though difference is being criminalized instead of celebrated. There are bills being implemented regarding access to healthcare and abortions, and the taking away the rights of trans people, so it's more important than ever for people to stand up for their beliefs.
Madonna's "Her-Story" is totally on brand for the singer, who often makes political statements in her work and in her life. In Jan. 2017, the singer spoke with Marilyn Minter at the Brooklyn Museum in New York and explained the reasons that she's a feminist, as well as the importance of protesting the current President: "I believe that women have the right to be treated with the same human rights as men. I feel like we are still very far behind." Although her sentiment seems basic, and women should absolutely be equal to men, it's often still not the case even in 2017.
The video ends with two extremely important statements. Firstly, after an angelic shot of Madonna wearing a pair of wings, a banner is unfolded that reads, "we should all be feminists." Secondly, the video is "Dedicated to all women that fight for freedom," which is the perfect message for International Women's Day and A Day Without A Woman. The fight continues, and Madonna is definitely on board.