Malala Has A New Book On The Way — And It's About An Important Global Problem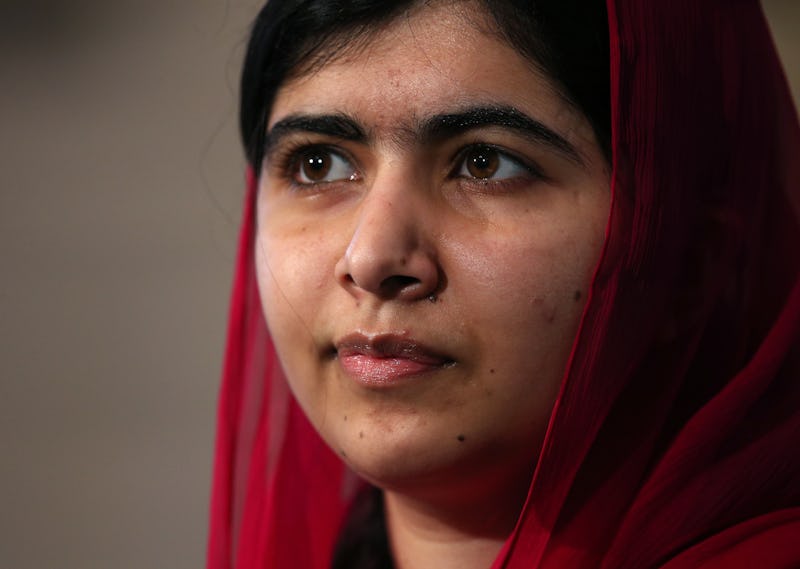 Dan Kitwood/Getty Images News/Getty Images
The world isn't all bad after all. Nobel Peace Prize winner Malala Yousafzai has a new book coming out this fall. We Are Displaced: True Stories of Refugee Lives collects "the personal stories of some of the incredible girls [Yousafzai] has met on her various journeys to refugee camps and the cities where refugee girls and their families have settled," according to the Monday press release from Little, Brown and Company. Malala Yousafzai's new book comes out on Sep. 4, and it is available for pre-order today.
Malala Yousafzai made international news in 2012, when she was shot in the head by a Talibani assassin who boarded her school bus looking for her. She had previously garnered attention as a student blogger for BBC Urdu, writing about her life as a schoolgirl living in the Swat Valley of Pakistan. Sometime after she continued to go to school in defiance of the Taliban's 2008 edict banning schools from accepting female students, and spoke out in defense of women's education on a Pakistani television program in 2009, the Taliban threatened her life. In October 2012, two men attempted to assassinate the then-15-year-old Yousafzai.
Following the attempt on her life, Yousafzai was airlifted to Peshawar, the capital of Pakistan, and later to the U.K., where she lives today. She addressed the United Nations nine months later, in 2013. At 17, she became the youngest person ever to win a Nobel Prize. Today, Yousafzai studies at Oxford University, where she is pursuing a degree in philosophy, politics, and economics — A.K.A. "the Oxford degree that runs Britain."
We Are Displaced: True Stories of Refugee Lives is not Malala Yousafzai's first book. In addition to her 2012 memoir I Am Malala: The Story of the Girl Who Stood Up for Education and Was Shot by the Taliban, Yousafzai has also published a picture book, titled Malala's Magic Pencil. The Young Readers' Edition of I Am Malala hit stores in 2014. You can read an excerpt from Malala's Magic Pencil here.
Regarding We Are Displaced, Yousafzai says: "What tends to get lost in the current refugee crisis is the humanity behind the statistics... We hear about millions of refugees, hundreds of migrants trapped on a boat or in a truck, but it's only when a truly shocking image appears in the news that people consider what's really going on. I know what it's like to leave your home and everything you know. I know the stories of so many people who have had to do the same. I hope that by sharing the stories of those I have met in the last few years I can help others understand what's happening and have compassion for the millions of people displaced by conflict."
Proceeds from the sales of We Are Displaced will go to the Malala Fund, a nonprofit organization dedicated to making primary and secondary education available to every girl.