Manny MUA's Dad Just Clapped Back At The Haters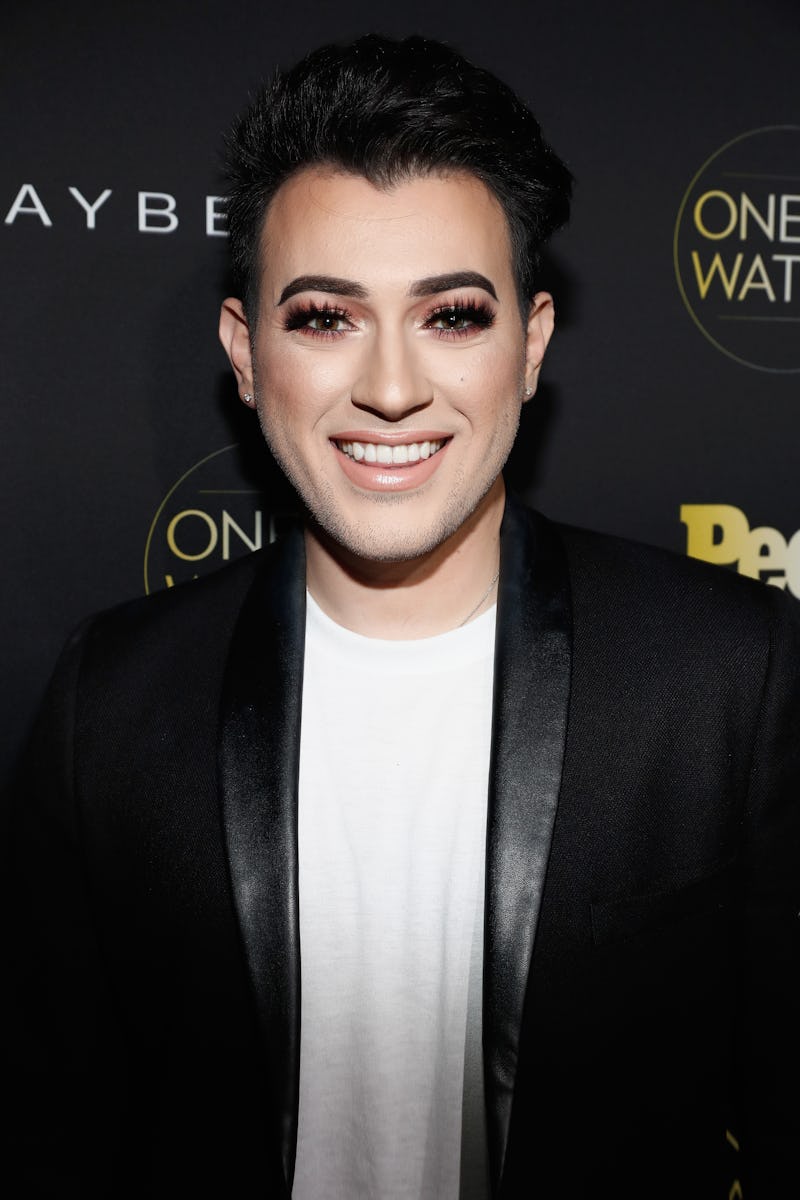 Rich Polk/Getty Images Entertainment/Getty Images
Maybelline New York started 2017 with a bang by naming beauty vlogger Manny Gutierrez (aka Manny Mua) its first male spokesperson. Though the brand's inclusiveness got plenty of people stoked, bourbon enthusiast Matt Walsh decided to let the world know he was not impressed.
That left the perfect opening for Gutierrez and his dad to clap back — which they did, with complete and utter class.
Walsh, who blogs for TheBlaze, a conservative site founded by Glenn Beck, and who has 82,000 Twitter followers, shared a picture of Gutierrez glammed up and commented, "Dads, this is why you need to be there to raise your sons."
The tweet garnered both support and ire, with one responder quipping, "While he inspires and uplifts countless people worldwide, you have a hateful blog that no one reads ¯\_(ツ)_/¯," and another agreeing with Walsh, saying, "my first (sarcastic) thought this AM. 'His dad must be so proud.'"
Gutierrez, who has 547,000 Twitter followers, was quick to respond, informing Walsh that not only is his dad super proud of him, he actually works for him.
And the Gutierrez family schooling didn't end with Manny. His dad, who calls himself Manny Sr., joined in too, telling Gutierrez via text that Walsh is "lucky there's no contact information [on his profile]," but that he had a few choice words for Walsh and wanted Gutierrez to share this short but poignant letter.
What a beautiful comeback.
Of course, Walsh couldn't quietly slink back into the darkness. He posted a response Jan. 17 on TheBlaze, commenting, "Manny's dad soon chimed in, understandably so. He told me that he supports what his son does, he did raise him well, and my comment stems from ignorance about the LGBT community, which is populated by some of the 'most real and most kindhearted people' on Earth."
Walsh added, "Anyway, I'm not actually interested in getting into an argument about how this particular makeup model was raised. As I said in the article I wrote on the topic last week, it's certainly possible that a boy could be raised by a good father and still end up living a confused and disordered lifestyle. That very well could have been the case with Manny. I have no idea. Maybe he's the exception to the rule."
Walsh wasn't willing to back down from his condemnation of Gutierrez's supposed "confused and disordered lifestyle," instead using the post to drive home his opinions: That "men shouldn't dress up like women because men aren't women; that "the increasing feminization of men is a symptom of a decaying culture;" and that liberals celebrate unnatural "gender bending."
No response yet from the Gutierrez fam, but while Walsh was busy with his blog, Gutierrez was keeping up his usual sparklingly positive Twitter timeline.
The outpouring of support from Gutierrez's dedicated enthusiasts hasn't slowed in the least.
While their tweets and tributes are truly excellent, no one can unseat Manny Sr. from his spot as Gutierrez's No. 1 fan.