These Marvel Fan Favorites Are Getting Their Own Spinoff Series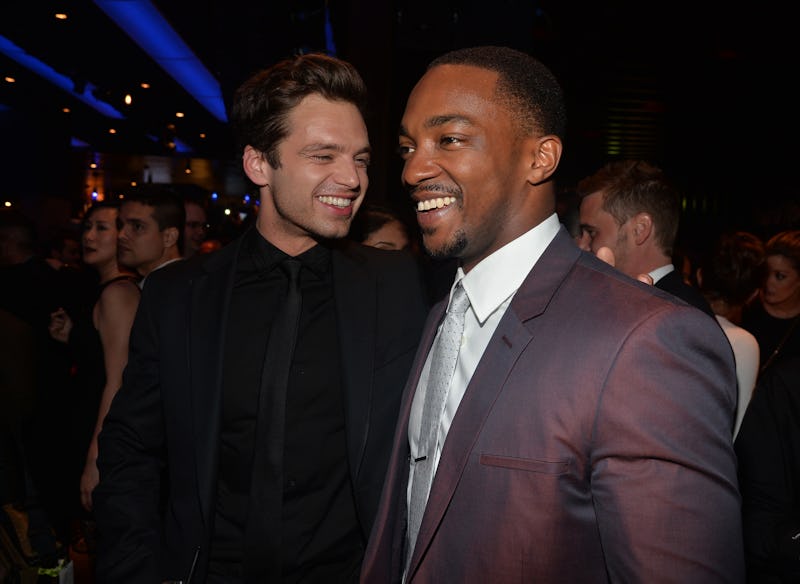 Alberto E. Rodriguez/Getty Images Entertainment/Getty Images
Looks like Captain America's sidekicks are finally getting their place in the spotlight. On Tuesday, Oct. 30, it was reported that Marvel's Falcon and Winter Soldier could be getting a limited series. According to Variety, the show, which would see Anthony Mackie and Sebastian Stan reprise their superhero roles for the small screen, will be written by Empire writer Malcom Spellman and, if picked up, is expected to find a home on Disney's upcoming streaming service. This is the first of several proposed Marvel limited series to land a writer. (Variety also reported that shows centered on Tom Hiddleston's Loki and Elizabeth Olsen's Scarlet Witch are also in development.)
The news of a Falcon and Winter Soldier series comes just weeks after Marvel cancelled two of its high-profile Netflix series, Iron Fist and Luke Cage. At the time, some fans speculated that the cancellations were part of Marvel's plans to move their programming over to the Disney streaming service; however, this new update seems to promise fans brand new content, centered around the heroes and characters that they know and love from the Marvel Cinematic Universe.
Falcon and the Winter Soldier are perfect examples of that trend, as both quickly became fan favorites after making their big screen debuts in the Captain America films. Stan's Bucky Barnes first appeared in 2011's Captain America: The First Avenger as Steve Rogers' (Chris Evans) charismatic best friend, who becomes brainwashed by Hydra into becoming an assassin, The Winter Soldier. Mackie's character, a former soldier named Sam Wilson who befriends Steve as he adjusts to living in the 21st century, made his debut in 2014's Captain America: The Winter Soldier. And the dynamic between sullen Bucky and wisecracking Sam became one of the highlights of the third film in the series, Captain America: Civil War.
In the film, the two developed a funny, passive aggressive friendship after they were forced to work together, providing many of the film's lighter moments. And while Marvel hasn't released any information about what fans can expect from a Falcon and Winter Soldier series, the pair's prickly, tentative friendship makes them the perfect candidates for a buddy comedy superhero spinoff.
A Falcon-Winter Soldier buddy series would allow fans to get to know more about the two superheroes, while also offering up a lighter, funnier take on heroics. And, if fan reaction to the news is any proof, that "odd couple" dynamic is clearly one that they've have been hoping to see onscreen for some time:
Playing up the opposites-attract dynamic of Sam and Bucky in this new limited series would be an easy and entertaining way to inject some more levity into the Marvel television universe, which is currently best known for its dark, gritty Netflix shows like Daredevil, Jessica Jones and The Punisher. And films in the MCU have also gotten darker, so it's no wonder fans are hoping for Marvel to add some levity to their repertoire.
Falcon and Winter Soldier have already proven their skill at injecting humor into even the most dramatic and intense moments. And allowing them to goof around with each other while fighting crime could be the perfect way to help add a little bit of balance to the darker side of the MCU.
Of course, a Falcon and Winter Soldier spinoff series does also raise some questions about Captain America's fate in the upcoming Avengers 4. In early October, Chris Evans tweeted a goodbye message to his famous character after wrapping production on the film, which led many fans to believe that Captain America's days in the MCU are numbered. Since both Sam Wilson and Bucky Barnes have taken over as Captain America in the comics, this could be an indication that the pair's limited series would focus on the two of them carrying on in the wake of their friend's death, or even competing to see who would get to take over as the new Captain.
It's impossible to know in which direction Marvel will choose to take these characters for their limited series — or even if they will both survive Avengers 4 — but one thing is certain: As long as Sam and Bucky have plenty of opportunities to make fun of one another in between punching bad guys, fans will be thrilled.