Marvel's Search For A New Captain America Has Begun, According To Chris Evans' Co-Star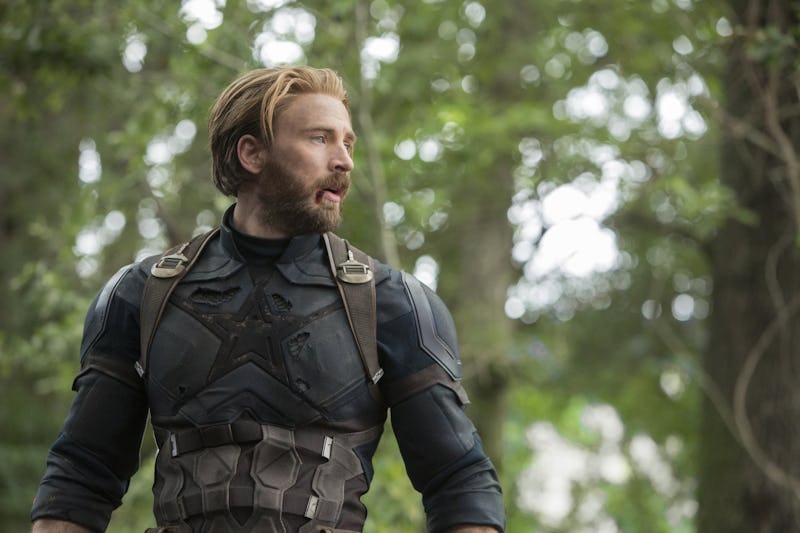 Disney
While many fans may have hoped Chris Evans' Avenger 4 goodbye tweet didn't mean forever, his Captain America co-star seemed to confirm that Evans is hanging up his shield for good. In a new interview, Frank Grillo – who plays Crossbones in Winter Soldier and Civil War – said Marvel is looking for a new Captain America. And it's quite possible that this new Cap will look a lot different than the last one. (When asked about Grillo's comments, a Marvel spokesperson told Bustle that the company does not comment on rumors and speculation.)
While chatting with Larry King on Larry King Now, Grillo admitted he wasn't surprised by Evans' tweet, which seemed to confirm he was done playing Captain America, even if Evans and Marvel haven't confirmed anything. "No, no," Grillo said. "That ran its course and those guys are getting a bit old."
But, that doesn't mean he isn't sad to see Evans possibly go. "I loved working with him," Grillo said. "He's a great guy, a Boston kid. He's a lovely man." Evans won't be easy to replace, which is why Grillo says he's heard that Marvel may be looking to go in a new direction with the character.
"There've been rumors that [the next] Captain America could be African American" Grillo said, not elaborating on where or who he heard these rumors from. "It could be a woman. You know? So they're looking."
And let's be honest, it's hard to believe Marvel won't give Grillo a stern talking to after saying this, even if they are just rumors. After all, the company likes to keep things hush-hush, even jokingly firing Mark Ruffalo for accidentally revealing the official title of Avengers 4 on The Tonight Show With Jimmy Fallon. Don't worry, it really was a joke since Ruffalo's words were bleeped out not just for viewers watching at home, but for those in the live studio audience, too.
But, what Grillo states sounds very plausible, at least about Evans wanting to leave the franchise now while he's still on top. For starters, Evans has been very vocal about Avengers 4 being the end of the road for him. His contract expires after the Infinity War sequel, which hits theaters May 3, 2019. And earlier this year, in an interview with the New York Times, Evans said he had no plans to return: "You want to get off the train before they push you off."
Grillo's other comments about who the new Captain America might be might be wishful thinking on the parts of Marvel fans who would like to see more representation in the MCU. In the comics, there have been iterations of Cap that aren't white and male.
In 2003, Isaiah Bradley, known as "Black Captain America," appeared in the limited series in Truth: Red, White & Black. Sam Wilson, better known as Falcon, also held the position for three years starting in 1999 after Steve Rogers lost his super-soldier serum.
Later, a few women got a chance to don Captain America's suit including Danielle Cage, the daughter of Luke Cage and Jessica Jones and, most recently, Peggy Carter became the new Captain America in the Exiles series.
While Evans hasn't officially announced he's leaving the MCU, it's hard to believe he wouldn't be happy to see Marvel move in a new direction without him. Even, if the rest of us will be sad to see him go.