Remembering Mary Tyler Moore's First TV Role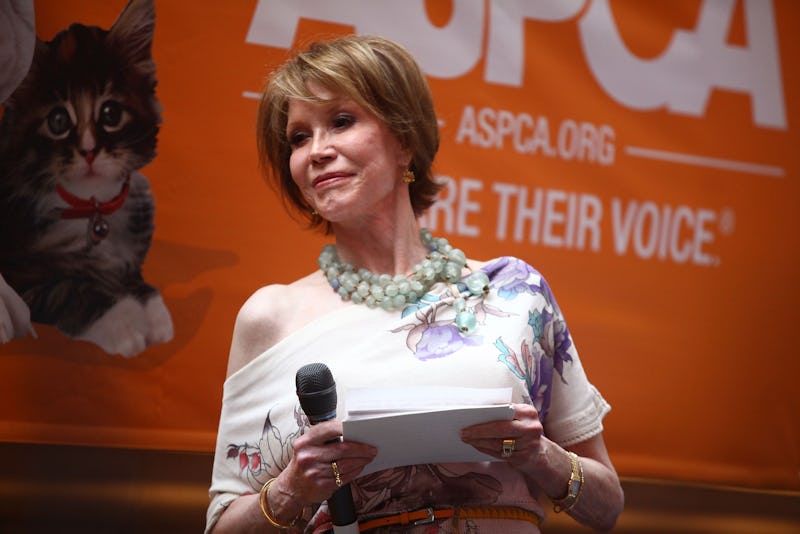 Astrid Stawiarz/Getty Images Entertainment/Getty Images
One of the great pioneers of television was lost Wednesday: Mary Tyler Moore passed away, her rep confirmed to Bustle. "Today, beloved icon, Mary Tyler Moore, passed away at the age of 80 in the company of friends and her loving husband of over 33 years, Dr. S. Robert Levine," Moore's rep said in a statement. "A groundbreaking actress, producer, and passionate advocate for the Juvenile Diabetes Research Foundation, Mary will be remembered as a fearless visionary who turned the world on with her smile." Indeed, Moore's career was long and prosperous, going to back to the days of black-and-white television, and perhaps you're curious as to what Moore's first role was.
It would be safe to loosely guess that it was as Dick Van Dyke's happy housewife Laura on the Dick Van Dyke Show. However, before that came Moore's first TV spot as the Happy Hotpoint girl. Starting back in 1953 when the actor was only 17, Moore popped up on the small screen in commercials for Hotpoint dishwashers, often aired during episodes of Ozzie & Harriet. As you can imagine, it is delightfully silly. Though you can barely see it, Moore is seen in a little dancing elf — boasting pointy ears, a cape, and some sick moves.
OK, so it certainly isn't the work that the actor was famed for. But it does show how she paid her dues within the industry. By the time she was 23, she had broken out of the commercial breaks and made it into the show as Laura, garnering two Emmys within the series' run. Following that Moore made waves fronting her own series, doing a character 360 as the ultimate single career girl Mary Richards on The Mary Tyler Moore Show. And let's not forget how she segued with ease into the pictures: she continued dancing (and singing) as Miss Dorothy Brown in the film adaptation of the classic musical Thoroughly Modern Millie, and won a Best Actress in a Drama Golden Globe for her role as Beth in Ordinary People.
In short, Moore left behind a hell of a legacy that all started with her dancing around trying to sell dishwashers... and that's the sort of amazing thing that makes us all believe we can make it after all — if we really, really try. So a moment of silence for the loss of Moore and all the characters she embodied, be it the cheerful housewife, the independent secretary, and yes, the Hotpoint Girl.