How Mary Tyler Moore Inspired Oprah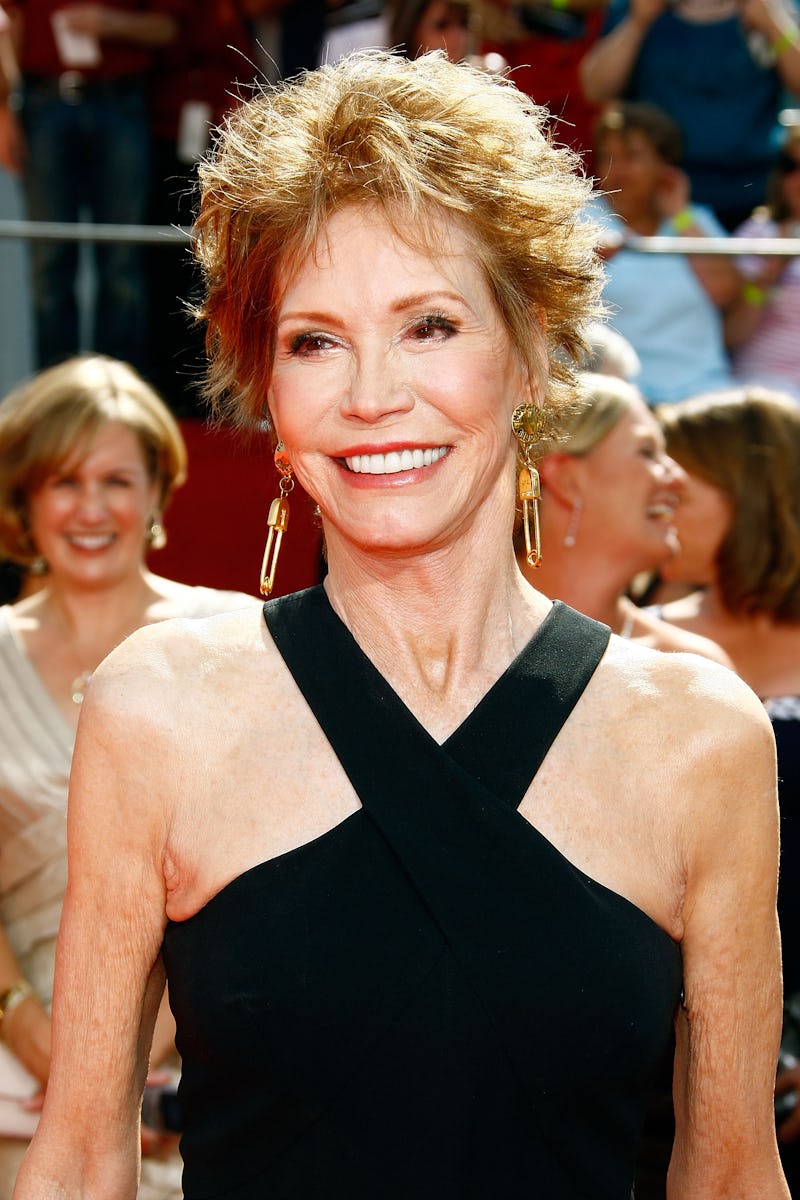 Frazer Harrison/Getty Images Entertainment/Getty Images
If you ever need a reminder that even your heroes have heroes, then watch Mary Tyler Moore surprise Oprah on her show in 1997. On Wednesday, Moore died at the age of 80, her rep confirmed to Bustle, but the actor's spirit will forever live on through the impact she had on the lives of her many fans. One of her biggest? A young Oprah Winfrey, who drew inspiration from Moore every single time she watched The Mary Tyler Moore Show when she was a young woman.
Oprah has always been open about her admiration for Moore. While thousands of women want to be Oprah today, before she was famous, Oprah just wanted to be Moore. In a candid interview, she revealed her love for the onscreen Mary's life led to her wanting to live in Minneapolis (where The Mary Tyler Moore Show was set) and put a big "O" above her fridge, just like Mary's "M" on the show.
Part of the talk show host legend's dream of being Mary came true when she filmed a shot by shot recreation of the '70s comedy's famed opening credits sequence for an episode devoted to TV's funniest moments. Moore surprised Oprah with a call after the segment aired, but the biggest surprise was yet to come. In a 1997 episode of The Oprah Winfrey Show devoted to Oprah's favorite famous women, Moore appeared on the show, and Oprah had no idea she was about to come face to face with her personal hero. Her reaction? She immediately burst into tears.
"You have no idea what you've meant to me," Oprah told Moore. In true Moore fashion, the Hollywood legend gave a hearty laugh and replied, "Yes, I think I do!"
For so many people today, Oprah makes them feel the way Moore made her feel: as if anything they dream is possible, if they work hard enough for it. Imagining an icon becoming so emotional meeting a hero of her own almost seems strange since Oprah is larger than life in the eyes of her many fans. The truth is, the lives of every person you admire have been touched by someone, in the same way they have touched yours — and if they get the opportunity to meet that special person it is a big deal.
There is no debating the fact that Moore and Oprah are two of TV's most important women. Knowing they had such a beautiful mutual admiration for one another should lift you up. The video of Oprah meeting Moore is a lovely reminder of all the little (and big) ways women impact each other's lives.