Maya Rudolph Jokingly Proposed To Amy Poehler At The Globes & Twitter Was Here For It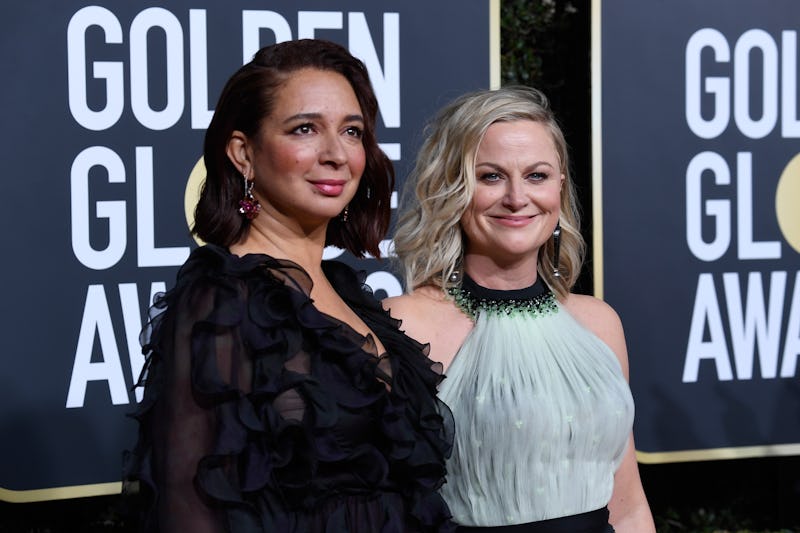 Frazer Harrison/Getty Images Entertainment/Getty Images
There was a surprising love story that unfolded at Sunday's Golden Globes: Before presenting the award for Best Screenplay, Maya Rudolph jokingly proposed to Amy Poehler on stage. The comedians parodied Glenn Weiss' headline-making proposal at the 2018 Emmy Awards with their bit, even joking that their romantic moment would "steal focus" from the awards.
After presenting the award for Best Supporting Actor in a Motion Picture to Mahershala Ali, Rudolph turned to her former Saturday Night Live costar and — while shaking exaggeratedly and pretending to hold back tears — held out a ring box and declared that Poehler was "the love of my life." In a quivering voice, Rudolph then asked, "Amy Geraldine Poehler, will you marry me?"
"Oh my god! I can't believe you're doing this!" Poehler responded. "Are we stealing focus from the next award?" In response, Rudolph deadpanned that it was "just Best Screenplay," before the Parks and Recreation star accepted her proposal.
"Yes, yes! A thousand times yes!" Poehler exclaimed. The pair then embraced and nuzzled their faces close together as they announced that the Best Screenplay prize would go to Green Book.
Naturally, Twitter quickly became flooded with messages "congratulating" the happy couple, delighting over the goofy bit and generally celebrating Poehler and Rudolph's talent and comedic timing. (And yes, there were quite a few calls for Rudolph to host the Oscars this year.)
Fans who loved their spontaneous romantic moment will also be delighted to know that Rudolph and Poehler will reunite onscreen in the upcoming Netflix comedy, Wine Country. According to The Hollywood Reporter, the film — which Poehler is set to direct — will also bring together Tina Fey, Rachel Dratch, Ana Gasteyer, and two former SNL writers, Paula Pell and Emily Spivey. The comedians will play a group of old friends who go to Napa, California for a wild weekend getaway in order to celebrate a 50th birthday party.
Though there are only a few details aboutWine Country available at the moment, Netflix did release a hilarious teaser video in March that featured the group of funny ladies all singing Kenny Loggins and Stevie Nicks' '70s hit, "Whenever I Call You Friend." In other words: It's basically poised to be the wine-filled girls' night of your dreams.
Poehler and Rudolph have remained close friends since their time on the legendary NBC sketch show in the early 2000s, which the latter has credited to the bond that all of the show's performers formed because of the long hours and late nights spent at the office. "My SNL family is truly family," she told Bustle back in 2016.
"When you go through an experience like SNL with other people, you're family for life. It's a very intense, wonderful, hyper-version of reality, and it's a job that requires all of your attention and focus," Rudolph said at the time.
Comparing the show to the way bonds are formed on The Bachelor, the star joked, "They feel like no one on earth understands. I would say that it's probably as similar, and just as traumatic," Rudolph said. "In the same way of a fraternity or a sorority, there are people I've never worked with on SNL but because we come from that place we're connected."
She continued, "During the time that I worked there, you were really holding each other up, because everyone is just exhausted."
With a friendship and working relationship that strong, it's no surprise that Rudolph and Poehler would want to take things to the next level and get engaged. And while we might not get to see the comedy wedding of the century happen in real life, we can always take comfort in the fact that Rudolph and Poehler truly are the greatest love story of the 2019 Golden Globes.