Meghan & Prince Harry May Be Pushing Back Their U.S. Tour — But For The Best Reason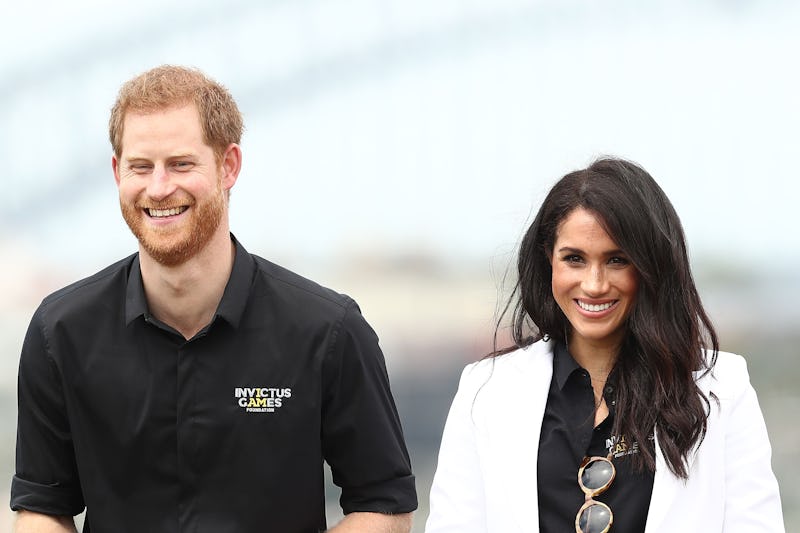 Mark Metcalfe/Getty Images Entertainment/Getty Images
If you're an American who's eager to catch a glimpse of the Duke and Duchess of Sussex on a U.S. tour, you may be in for a wait. As Elle reported, Meghan Markle and Prince Harry may push back their U.S. tour. But there's a really good reason behind this possible move.
According to TMZ, the reason for the reported tour postponement all has to do with the royal baby. Sources told the publication that instead of traveling to the States in the spring of 2019, Markle and Harry are reportedly heading to her home country in the fall of 2019 now. Seeing as though Kensington Palace previously announced on Oct. 15 that the couple is set to welcome their first child in the spring, it's understandable that they would want to take some time off around that time to enjoy parenthood.
That sentiment was shared by TMZ's sources, who claimed that Markle and Harry reportedly want some time to adjust to being new parents before heading out on another major world tour. Once they do head to the U.S., they might be joined by someone very special. TMZ also reported that when the Duke and Duchess do head to America they'll bring the royal baby with them, which would seriously make it the cutest royal tour ever.
Given their exciting pregnancy news, it's easy to see why Markle and Harry may postpone their U.S. tour. Prior to this update, Us Weekly reported in July that they were already planning to head to her home country in 2019. "They are so excited to head to the U.S.," an insider said, "Meghan is looking forward to introducing Harry to everything she loves about the U.S."
As for the possible locations that they would like to visit, New York, Chicago, and her home state of California are all options. The same insider continued to tell Us Weekly, "Meghan and Harry want to solidify ties between the U.K. and the U.S.," and added, "They want to highlight and foster these relationships." Although, it should be noted that Kensington Palace has not confirmed the news just yet, or even announced any plans for the pair to travel to the United States in an official capacity. Seeing as though Markle is, of course, an American herself, it's only natural that a trip to the States would be in the royal couple's future.
Right now, the Duke and Duchess of Sussex are quite busy with their first official overseas tour, in which they've already traveled to Australia and Fiji and will continue to head to New Zealand and the Kingdom of Tonga. Most recently, they pulled out all of the stops in Fiji, wearing some iconic looks and recreating some equally iconic snaps. One of those pics included a recreation of Queen Elizabeth and Prince Philip's own turn at the Grand Pacific Hotel in Fiji back in 1953.
So while fans may have to wait to see Markle and Harry's possible U.S. tour, at least they can check out all of the fun during their first overseas tour in the meantime.