Meghan Just Wore A *Stunning* Blue Floor-Length Gown In Fiji & I'm Honestly Shook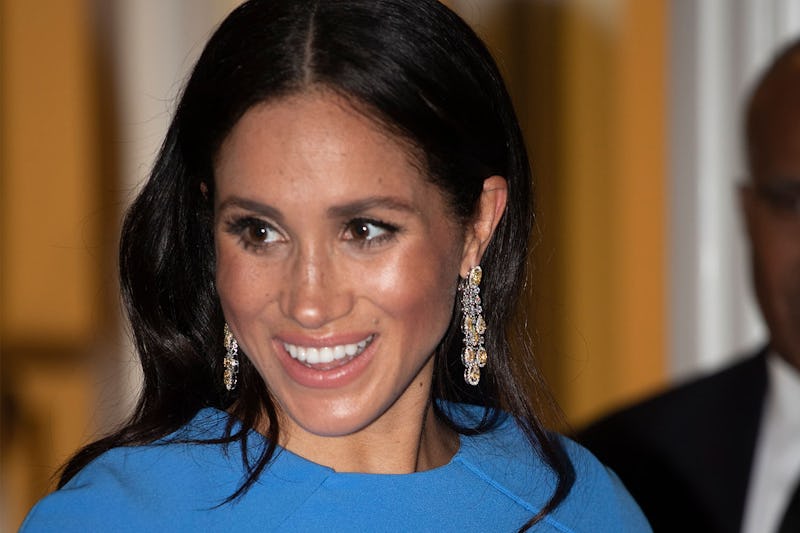 Pool/Getty Images Entertainment/Getty Images
It is far too early in the morning to be as shook as I am, but no woman or time zone waits for Meghan Markle's wardrobe. In case you've managed to miss the news cycle over the past week, the Duke and Duchess of Sussex are currently on a sixteen day royal tour and FIji is the latest country to welcome the pair. And Meghan Markle has not come to play with her recent fashion choices - pulling out an all white look (complete with a posh hat) and more recently, her state dinner look which is in the process of breaking the internet. Pictures of Meghan Markle's blue Fiji dress have just started emerging and I audibly gasped when they appeared on my Twitter feed.
I literally haven't been able to stop staring at the dress since I laid eyes on it. The long blue dress with a trailing cape detail is by a brand called Safiyaa according to Hello!'s royal correspondent. It's quintessential Markle: modern, minimal, and utterly sophisticated. My favourite photo of the night is this one below, where Prince Harry and Meghan Markle are coming down the stairs like they're heading to grad ball.
Look at that man's face. That is the face of a man who is stressed out at how beautiful the woman he's with is. And honestly, same.
The loose-flowing cape dress took maternity fashion to the next level, showcasing her bump which seems to have suddenly magnified overnight. The dress can still be found on the site and is called the Ginkgo Cape Dress by Safiyaa, priced at a hefty £1,095. There's also an embroidered version available, which features ginkgo leaf details and an extra £500 added to the bottom line.
Although the Duchess usually strays away from colour, preferring a more neutral wardrobe, her bold colour choice really stood out and with good reason. If you look closely at the colour of the Fijian flag, it closely resembles the striking shade of her dress and a royal correspondent for The Sun said "the 'Fijian blue' colour is a tribute to her hosts".
In the past, Meghan Markle has used her fashion choices to pay homage to the countries she's deeply linked to (Canada, the U.S. and now the UK) and has kept up the tradition with those that she's touring. While in Australia, she took the opportunity to promote local designers on a global platform by wearing an all white dress by Karen Gee for example and promptly broke the brand's website. Safiyaa however is a Blighty brand and her dress was designed by the founder Daniela Karmuts, according to Hello!'s correspondent.
She took a break from her trademark messy bun, opting instead for long wavy locks, and her dangling earrings certainly didn't escape my notice either. (How could they TBH? They're massive.) Kensington Palace has stayed deliberately vague about the origin of the earrings, but The Sun's correspondent took us one step closer: confirming that they had revealed they were "borrowed."
Although it hasn't been said if the jewels were borrowed from the Queen, it wouldn't be a massive surprise if they were. The Duchess has previously worn pieces from the royal collection, most famously on her wedding day when she wore Queen Mary's diamond bandeau tiara.
She's also been seen wearing pieces from Princess Diana's personal collection to pay homage to her late mother-in-law, including a pair of butterfly earrings earlier on the Australian leg of the tour and an aquamarine ring at her wedding reception.
Honestly, Meghan Markle's Fiji earrings look a little too current for the royal family, so I have an inkling that she's probably borrowed the earrings from a jewellery designer. Either way, it doesn't seem like Kensington Palace is going to be forthcoming about the deets.
Prince Harry scrubbed up well for the occasion as well, dressed in a sharp tux and bow tie. He also proudly displayed a series of medals, quite possibly relating to his time in the military and serving in Afghanistan.
We haven't cast James Bond yet, right? Is it too late to throw his name in the hat?