Meghan & Prince Harry's Fiji Trip Included A Mini Private Getaway & TBH, They Deserve It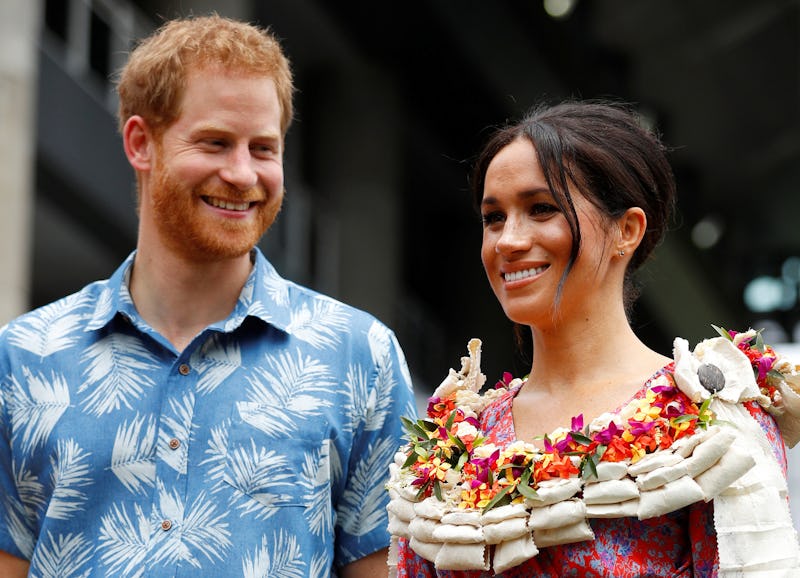 Pool/Getty Images Entertainment/Getty Images
Meghan Markle and Prince Harry's first official overseas tour has been filled with state dinners, walkabouts, and some truly stunning fashion. Thankfully, it's also included some much-need rest and relaxation, according to People. The publication noted that Markle and Prince Harry's Fiji trip included an overnight getaway. And based on the details about their reported stay, it sounds like a dream vacation.
The Telegraph reported that the Duke and Duchess of Sussex got in some private time during the Fiji leg of their trip following their engagements in Suva on Oct. 24. According to the publication, the royal couple was "hosted privately" at the five-star Vatuvara Private Islands resort.
Faiyaz Koya — Fiji's Minister for Industry, Trade and Tourism — spoke to The Telegraph about the couple's reported stay and offered some insight into just how fantastic the resort is. He said, "Vatuvara is one of those islands you will not forget. It showcases the Fijian spirit and what we have as Fijian people. It's absolutely beautiful. Stunning. They would have enjoyed themselves."
Just based on the photos from the Vatuvara website, Koya definitely isn't wrong in describing how beautiful it is. On their site, they even note how the resort has been described as "one of the world's most beautiful places." So, it definitely sounds as though this would have been the perfect place for Markle and Harry's private getaway.
Seeing as though the Duke and Duchess have been in almost non-stop work mode since beginning their overseas tour, it's nice to hear that they got the chance to have a low-key night during their trip. Before heading to Fiji, Markle and Harry already made their mark in Australia, where the prince opened the Invictus Games with a speech that included a sweet nod to the future royal baby.
Following the Australian leg, they traveled to Fiji, where their royally fun excursion continued. Not only did the couple reportedly get to spend the night in a stunning private villa, but they also took some time to take in some of the sites in the country, per Town & Country. They also engaged in one of the sweetest photo-ops ever, as they recreated Queen Elizabeth and Prince Philip's balcony greeting at the Grand Pacific Hotel.
The parents-to-be likely didn't have too much time to spend in Vatuvara, as they've already made their way to the Kingdom of Tonga. According to People, the Duke and Duchess of Sussex attended a formal, evening reception with King Tupou VI and Queen Nanasipau'u on Oct. 25. Once again, in a totally sweet move, Markle sought to honor Harry's late mother, Princess Diana, at the occasion with her choice of jewelry.
As the publication pointed out, she accessorized her look with an aquamarine ring that belonged to the princess. As you might recall, she previously honored Diana by wearing a pair of butterfly earrings while in Australia. They were actually a gift from Harry in honor of their baby news, which only adds another special layer to the tribute.
It's clear that Markle and Harry have had a lot on their docket since undertaking this overseas tour. So, it really is nice to hear that they reportedly got to have a little downtime, complete with some stunning views, during their stay in Fiji.