Meghan Markle Reportedly Said Being Pregnant Is Like Having Jet Lag & She's Not Wrong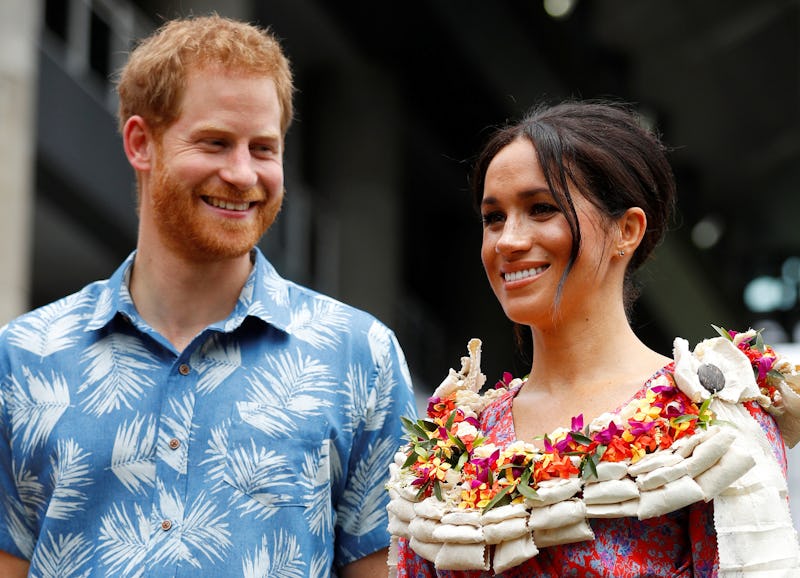 Pool/Getty Images Entertainment/Getty Images
In case you missed it, Meghan Markle, Duchess of Sussex, is pregnant. While it's not even been a full two weeks since the official announcement that a royal baby is on the way, it feels like a lifetime. And the royal couple hasn't exactly been taking a break either — since the announcement, Markle and her husband, Prince Harry, have embarked on a whirlwind tour of Australia, New Zealand, and the Pacific (with Markle even finding time to gift homemade baked goods along the way).
On Oct. 19, the fourth day of the tour, the royal couple visited Sydney, Australia's famed Bondi Beach, where the couple joined in on a discussion about mental health with OneWave, a community surfing group that deals with mental health issues. As Sky News reports, Charlotte Waverley, a local 35-year old woman, said that the Duchess chatted with Waverley about her experience with pregnancy so far.
"Meghan told me that pregnancy was like having jet lag," Waverley told Sky News. "She said she was up at 4:30 a.m. this morning doing yoga in her room as she couldn't sleep."
The 10 hour time difference between Sydney and the UK aside, it's actually very common for women to experience jet lag-like difficulty sleeping during pregnancy. Vanity Fair reported that Markle may be around 12 weeks into her pregnancy. According to Healthline, while pregnant women generally get more sleep in their first trimesters (up to 12 weeks), they also tend to experience a drop in the quality of their sleep during this time.
The phenomenon has long been an object of scientists' fascination. One study in 2000 found that, compared to pre-pregnancy sleep characteristics, pregnant women experienced significant changes in sleep patterns that were observable by 11 to 12 weeks' gestation. Though there was a significant increase in total sleep time, the researchers observed less deep sleep in pregnant subjects and more instances of awakening during sleep. Even by the third postnatal month, sleep efficiency remained significantly lower than the pre-pregnancy values (which makes total sense if you've ever met a baby).
Additionally, pregnant women can experience symptoms including increased likelihood of insomnia, awakenings mid-sleep, and parasomnias like restless legs syndrome. The disturbances are a natural result of the physiological and hormonal changes that go into creating another human being. And while women can experience insomnia during any point of pregnancy, it tends to occur more commonly in the first and third trimesters. There are myriad reasons for this: Stress, anxiety, nausea, and even the urge to urinate frequently (hello, nocturia).
While waking up and doing yoga in your room at 4:30 a.m. sounds extremely aspirational, Markle may be on to something with her solution to her sleep strife. Exercise, and yoga in particular, has been linked in helping improve sleep among people experiencing chronic insomnia. For pregnant women, a pilot study found that the practice of "mindful yoga" showed promise for women in their second trimester of pregnancy, diminishing the total number of awakenings at night and improving sleep efficiency overall. Another study found that in pregnant women with prenatal depression, the group that participated in 20-minute weekly tai chi or yoga sessions over the course of 12 weeks exhibited lower anxiety and sleep disturbance scores than the control group of women who did not partake in the exercise.
Whether Markle's case can be attributed to her pregnancy or actual jet lag (or a combo of both), here's hoping the Duchess finds some much-needed rest throughout the duration of her pregnancy.