Meghan Markle Wore A Piece Of Princess Diana's Jewelry For The First Time Since The Royal Wedding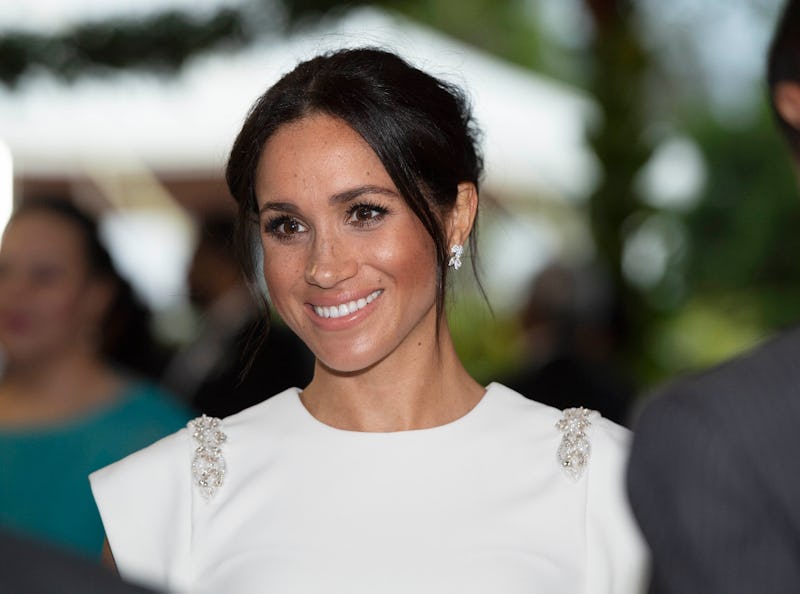 Pool/Getty Images Entertainment/Getty Images
Meghan Markle is an outfit repeater, but unlike Kate's accusation against Lizze McGuire, it's not a bad thing. In fact, her most reworn item is actually super sweet. Meghan Markle rewore Princess Diana's aquamarine ring while on a royal tour to Australia. The occasion marks the first time the Duchess of Sussex has worn the ring since her wedding reception, and it's actually not the first piece of Prince Harry's late mother's that she's worn on their trip together.
Last night, Markle and Prince Harry attended a white tie dinner in Tonga, and of course, they both looked flawless. According to Elle, Markle wore a white Theia gown with a column silhouette and paired the dress with her staple Aquazzura heels and a Givenchy bag. The most notable part of her ensemble, however, was her ring.
Markle choose to wear Princess Diana's aquamarine ring for the dinner in Tonga, and it's actually the first time that she's worn the piece since her wedding reception several months ago. The overall look was minimalist and classically glamorous, and the ring, given it's incredible size, was the perfect accesory for her otherwise somewhat understated look.
The ring, however, is not the first item of Princess Diana's that Markle has worn during her trip to Australia.
During Markle and husband Prince Harry's first day in Australia, the Duchess of Sussex wore a pair of earrings that belonged to Princess Diana as well. Markle wore Harry's late mother's butterfly earrings, but she opted not to pair them with the matching necklace.
While Markle has now worn two pieces from Princess Diana's collection during her trip to Australia, she actually seems to be a fan of family jewelry in general. Another discovery during the duchess's trip to Australia was the origination of a tennis bracelet she's been wearing.
As it turns out, Markle has worn the same tennis bracelet three times. She was first seen wearing it the night before her wedding. Then, she wore the bracelet to Prince Charles' birthday celebration, and finally, she wore it while in Australia. That bracelet? It's totally a gift from her father-in-law Prince Charles. So sweet, right?
The tennis bracelet is just one of the gifts that Markle has been given by Prince Harry's family. Markle, has, in fact, received gifts from none other than the Queen herself.
During Markle and the Queen's first solo outing together, Queen Elizabeth is rumored to have gifted the duchess a pair of pearl and diamond earrings from her very own jewelry collection. Some even noticed that the earrings also seemed to match the queen's larger sized pair. Talk about BFF goals, right?
When it comes to the royal family, it certainly seems that those who share jewelry together, stay together. From diamond and pearl gifts to paying homage to Prince Harry's late mother, Markle's jewelry choices aren't just stylish, they're sentimental. Too bad we can't all have access to royal jewels, but hey, it's just a perk of being a duchess.